All updates featuring
Ballet Stocks
New girl Anita is back already! Last time, I surprised her with the weight of the Heavy Custom SteelBound Stocks. But another (even more devious) FoToRo invention is of course the Ballet Stocks. They are just as heavy as the straight stocks, but they have an extreme curve, so the model's hands are way up in the air. Locked in a Carrara chastity belt and these fun stocks, Anita is completely helpless. Even when I threw her the key, she couldn't escape! But she tried!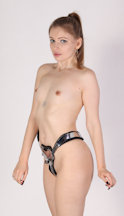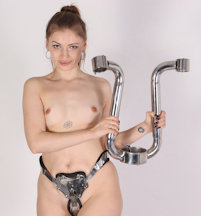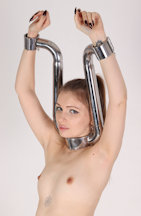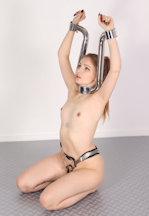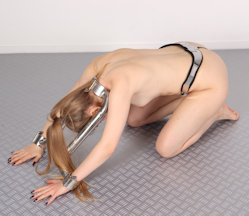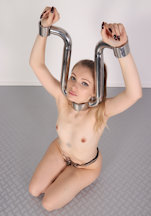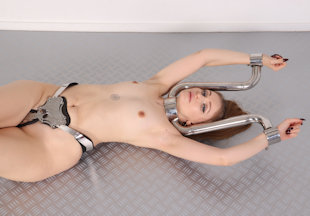 Ella is a submissive ballet dancer, and a very talented one! She has been dancing since she was able to walk. Ella walks on her toes pretty much ALL the time. That's dedication! Strangely enough, Ella is without a Master at this time, but I'm happy to take her in for a while and show her some of my restraints. Remember when I actually chained her to the wall in a full split? Yes, Ella might just be the sub everyone would love to own! Her insane skills mean anything is possible with her! When thinking about my restraints collection and Ella, there's only one custom item that comes to mind: the Ballet Stocks of course! It had to happen, and here it is: Ballet Sub Ella in the Ballet Stocks! Enjoy!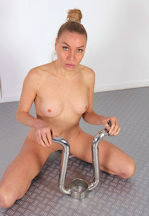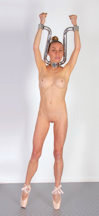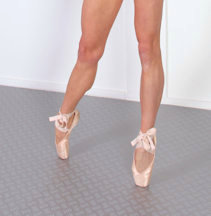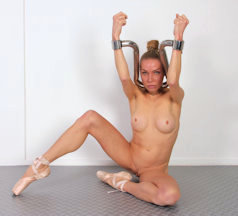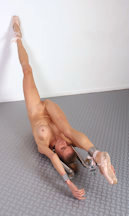 Well, Liz Rainbow does not like nipple clamps! She hates them! Which makes her a perfect candidate for our 2kg weight challenge. Can she move away with 2 kilograms of steel attached to her nipples? Probably not! But what if she just took off the nipple clamps? Well, we have a perfect device to prevent that: the Ballet Stocks (or Ape Hangers, or Overhead Stocks, we're still not sure about the name). Liz can't take off the clamps, and she can't run away. It's perfect metal bondage!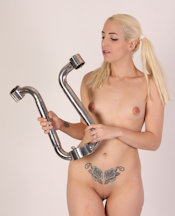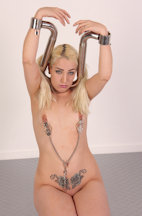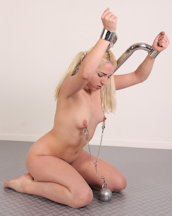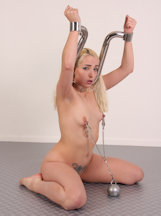 The Ballet Stocks are perfect for nipple clamps training! Cute Cherry English is very submissive, so there is no problem getting her to clamp her own nipples, but after a few seconds it really starts to pinch her and she wants to take them off. We quickly lock her in the Ballet Stocks, with her palms out for a nice 'ballet' pose, and she is suddenly totally helpless. There is no way she can reach her nipples. And with her palms out, there is not even any hope of escape even when the keys are placed right in front of her!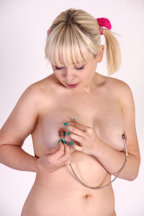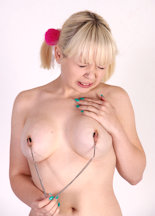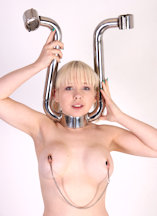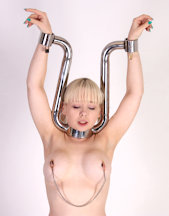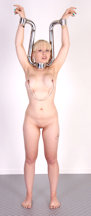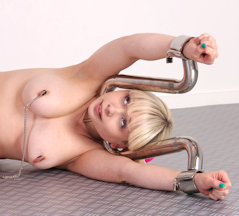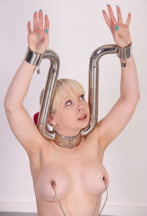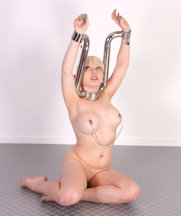 It's been a long time since we saw Aubrey. She was such a promising slave girl, but we never heard from her again. But don't worry, she is back now, and here to stay! She is even on our list of models who are available for custom shoots now! Turns out Aubrey actually loved her metal bondage appearance, and she wants more, much more. We locked her in the Ballet Stocks, naked and helpless, and threw the keys at her. Of course, the Ballet Stocks are inescapable, but Aubrey did not know that. She tried a lot of different positions before she finally had to give up!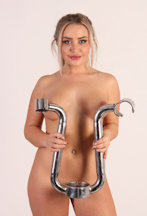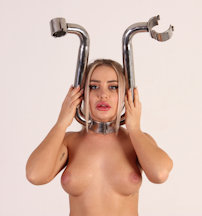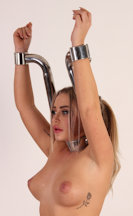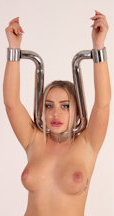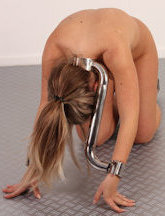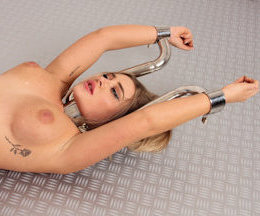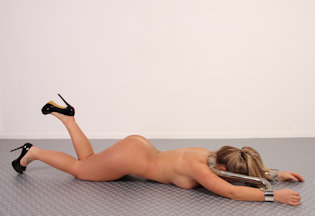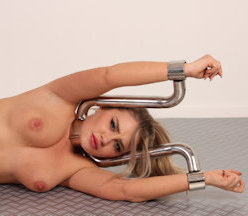 One of the world's most famous girls in one of our unique custom made pieces of heavy metal bondage gear! Just a stunning (and completely naked) Little Caprice trying out this bondage device. Hot girls in cold steel, that is our slogan. And it doesn't get much better than the super cute Caprice struggling, completely helpless with her arms up, in this heavy contraption. She didn't know whether to like it or hate it. But after a while she really got fed up with the position, and she tried getting the keys from the floor to plot her escape. Which is impossible of course, but it is so much fun to see her try!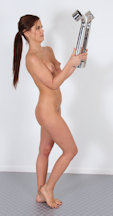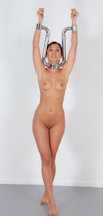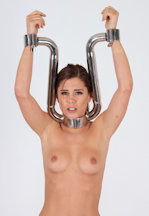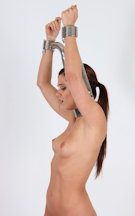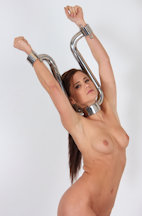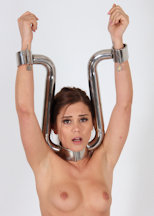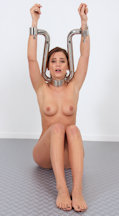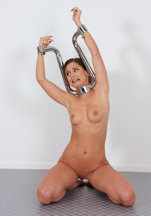 Tiffany has been with us for almost 7 years! She has willingly tested the craziest metal bondage devices and she has been in chastity belts for long periods of time. We love her down to earth personality, she knows she will get tested when she comes over, and she doesn't mind! Today we put her in two of our most extreme creations: the super heavy chastity belt (with chain back) and the Ballet Stocks! The total weight of the items would be hard for Tiffany to lift, but once she is locked into them the weight becomes a little bit easier to bear. But don't be mistaken: the Ballet Stocks are hard! They can wear a girl out very quickly! Let's see how Tiffany gets on with our unique contraption today!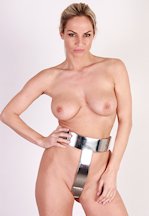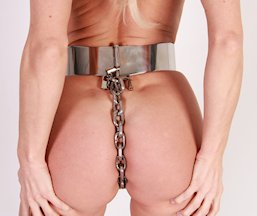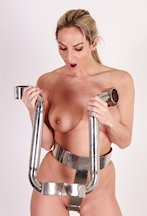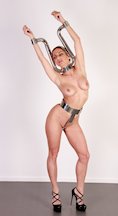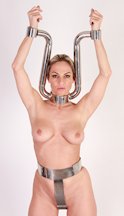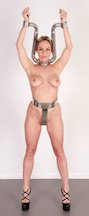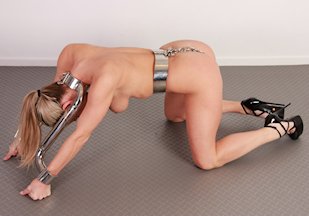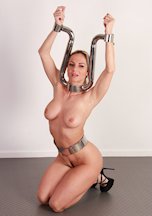 Please welcome the incredible Sophia Smith to MetalBondage.com!! We are so proud to have her (in metal)! Sophia likes a good bit of bondage, she told us. And by that she means rope. But we don't do rope. We do very heavy metal devices. And we make sure the models don't get too naughty by locking them into tight metal chastity belts. Sophia was in her FancySteel chastity belt within seconds. And the Ballet Stocks are an even better tool to stop her from touching herself. She was determined to escape from this seriously heavy device that made her keep her hands raised high above her head. Sophia is so awesome, we could watch her struggle all day long!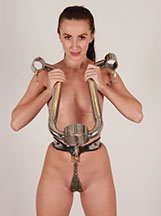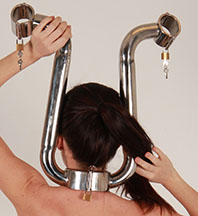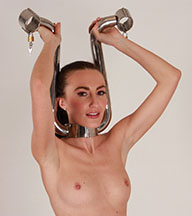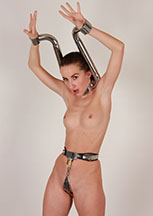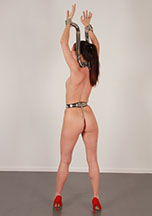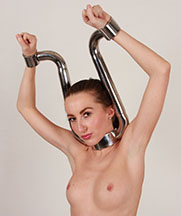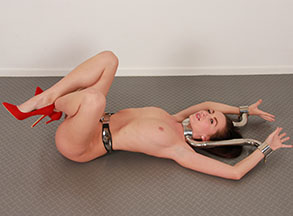 Elise Graves is back for another challenge!! She hates clover clamps, so that is a great starting point for today! We have The perfect device to prevent her from removing these harsh clamps. The Ballet Stocks are a variation on our heavy stocks that lock the wrists high above a girl's head. It is seriously heavy, but Elise still manages to struggle, get upside down, lie down, and she even gets back up again. But there is simply no way she can reach the nipple clamps, the swinging chain hurting with every move! Awesome struggle by one of the net's toughest bondage girls!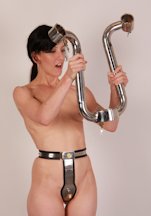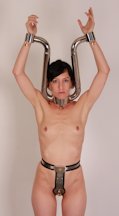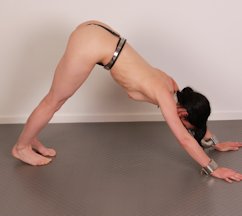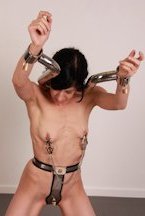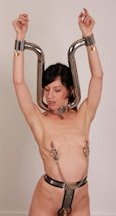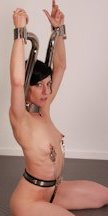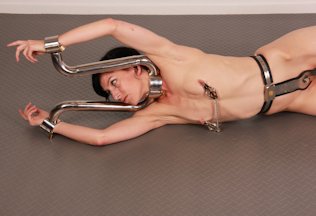 Even Germany's biggest bondage star, Yvette Costeau, was getting curious about 'this metal bondage website'. We are very proud to have her, she doesn't do many shoots other than her own! This is one of the toughest girls around, so we decided to show her our custom made Ballet Stocks. Yvette was intrigued, with all of her experience she had not seen anything like this before. We quickly locked her into it, and it was a very tight fit! It's a hard position, but Yvette liked it, until we nipple clamped her… because that's just the most frustrating thing to do to a girl in Ballet Stocks! Turns out Yvette does not like nipple clamps at all! Well, tough luck, try to get them off yourself! And stop swearing in German ;-)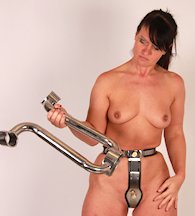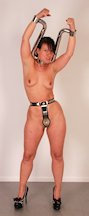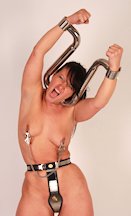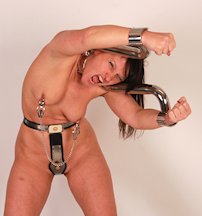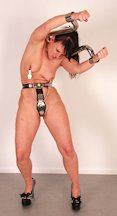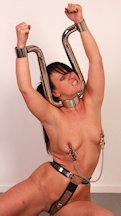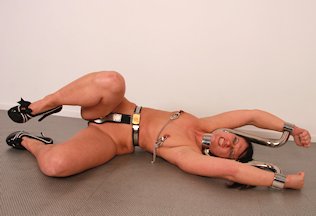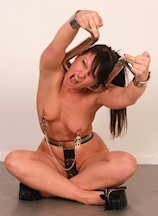 You know, we still haven't figured out what to call this heavy bondage device. After its first appearance, we received a lot of suggestions, but 'Ballet Stocks' really still sounds the best. Some members thought it looks a little like the model is cheering, but as the long-braided Pling finds out, it is not really a hurray experience to be locked in this device! We designed this for inescapable long term wear, it took many tries to get it just right, but it is still incredibly heavy and awkward! We love that! And yes, believe it or not, Pling loves these kinds of things too ;-)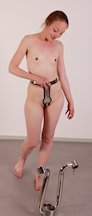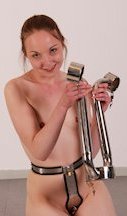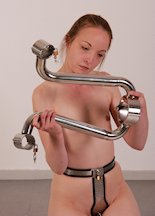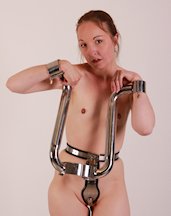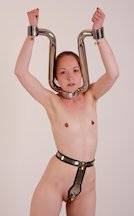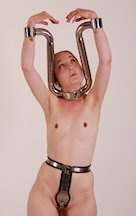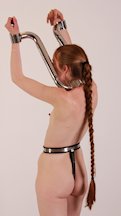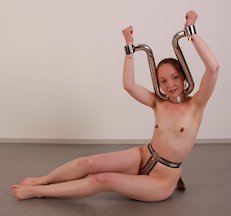 We are on a constant quest to put the most beautiful girls in the most insane metal contraptions we can think of! And we are not even close to running out of ideas, which is bad news for our models… Today we are very proud to introduce a bondage device you definitely never have seen before: the heavy Ballet Stocks! It is a curved version of our custom metal stocks that have already plagued many models. This version is even more extreme, forcing the wearer in a classic ballet pose, completely defenseless. Satin Bloom, with her super body, is the perfect victim to try this device. You will be amazed at the moves she will show you!
By the way, we are not very sure about the name for this device. We considered 'the curved stocks' and even 'ape hangers', but if you can think of a better name, please leave a comment here!