All updates featuring
Medusa
Fit and strong Medusa laughed at the small Posture Trainer. Indeed, it's small compared to my other training devices, but it is still inescapable and very restricting! Even Medusa wouldn't be able to break it. She didn't believe me, so here we go: the fierce Latina girl was locked in the device for a good while. I threw the key on the floor, but she couldn't even reach it. Also, because she laughed at me, I used the HUGEST padlock I could find for her waist belt. Just to feel better about myself. And I did, sitting back, watching Medusa struggle in the Posture Trainer! She learned a lesson today!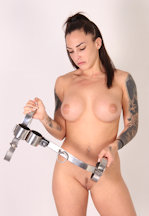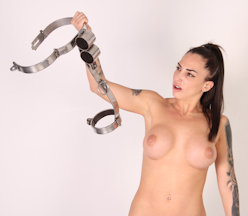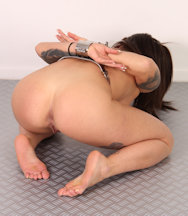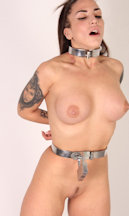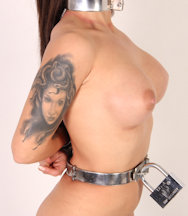 Medusa is back and she is still very crazy! In a good way! She loves all of my gear, and she wanted to have a go on the One Bar Prison to see if she could escape. In her tallest heels, Medusa was soon impaled on the steel 3-ball dildo. Of course, there was no way she could lift herself off this device, so she was stuck. Medusa loved it! It really turned her on, as you can see. I locked her in the Steel Upper Body Harness, so I could restrain her hands behind her back. It was an awesome look. Such a sexy girl stuck on a steel dildo, enjoying herself a lot! Don't miss this!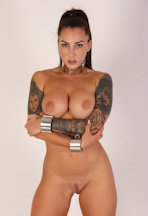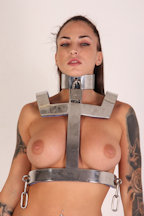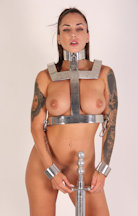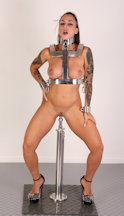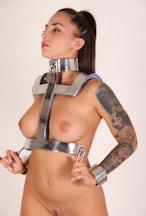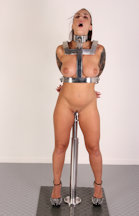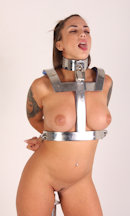 This new girl Medusa is amazing! She's up for anything, she said. Well, that was great timing because I just designed a frame for my fucking machine she was going to have to test! Locking her wrists and ankles to the sides, the frame put Medusa in the perfect position for the fucking machine. She really liked it, judging by the sound of her moans. But it got really interesting when I locked her collar to the frame, now putting her in a head-down ass-up position. I turned up the speed and just watched! Great show! I need to get Medusa back for some more tests!