All updates featuring
Posture Trainer
Rachel Adams always suffers so beautifully! She is a tough one, living the life of a true bondage model. Rachel gets tied up and gagged every day, and she never stops! Such dedication and toughness is rare. I decided to test her with the heavy posture trainer, locking her wrists behind her. A large ballgag is a must for Rachel Adams of course! Then I clamped her nipples to a 2 kilogram weight (even more than that, because I used a metal cuff as well), and she was left there. Suffering, moaning, drooling. It's Rachel Adams! She is incredible!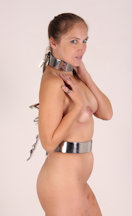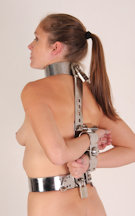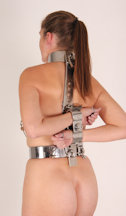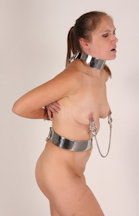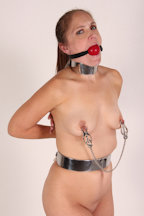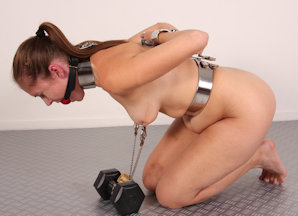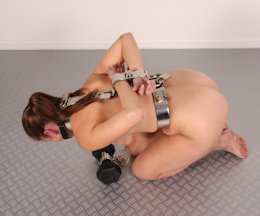 Tiffany was doing her makeup in the bedroom when she suddenly discovered the Posture Trainer I had hidden away. Well, I did that on purpose of course, because Tiffany is curious enough to ask if she can try it. She was locked into this rigid device before she knew it! It's a brilliant design. Tiffany enjoyed it for about two seconds and then wanted to be let out. I told her the key was on the table, and wished her the best of luck! Poor Tiffany!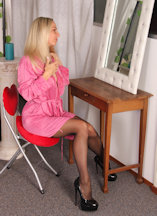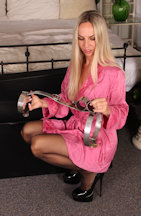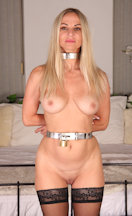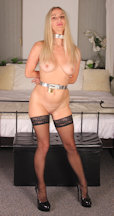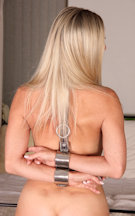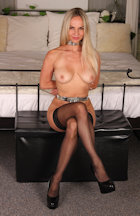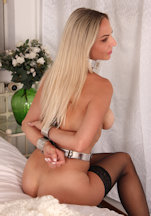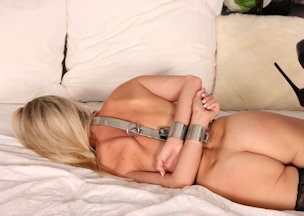 Arabella doesn't like her boob bands. I always lock her boobs in steel, and she is getting annoyed by this. The boob bands are tight and uncomfortable. She tries pulling on the padlocks, but without a key, the tight metal bands aren't coming off. But to stop her from prying at the locks, I decided to lock her in a posture trainer as well. Now she really is the perfect secretary! Locked boobs, exposed, and helpless. I even left all of the keys on her office chair, but unfortunately this predicament is very inescapable!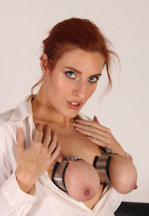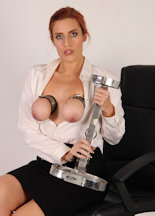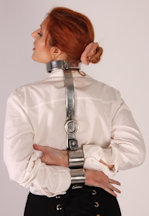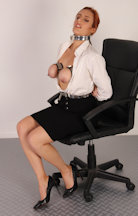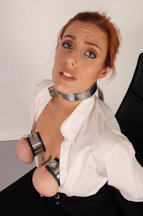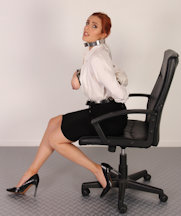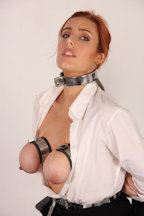 Fit and strong Medusa laughed at the small Posture Trainer. Indeed, it's small compared to my other training devices, but it is still inescapable and very restricting! Even Medusa wouldn't be able to break it. She didn't believe me, so here we go: the fierce Latina girl was locked in the device for a good while. I threw the key on the floor, but she couldn't even reach it. Also, because she laughed at me, I used the HUGEST padlock I could find for her waist belt. Just to feel better about myself. And I did, sitting back, watching Medusa struggle in the Posture Trainer! She learned a lesson today!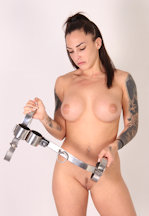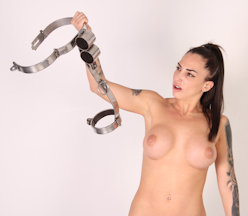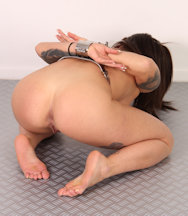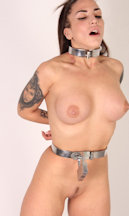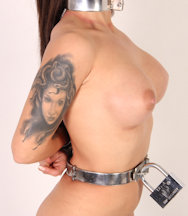 Rosie Mot is such a spoiled lady. She is used to getting whatever she wants and she never ever stops talking. Dressed in the finest lingerie, she scoffs at the new small Posture Trainer. The waist belt is as big as her head, will she actually fit into this? Once fitted, she complains about how rigid it is. Well, yes, it is a Posture Trainer! After her hands are locked in too, we open up her lingerie to expose her boobs. There's nothing she can do about it. Rosie Mot is on display. In a very tight awkward Posture Trainer. Yes, that's how it should be. Time to teach her a lesson about submission and vulnerability!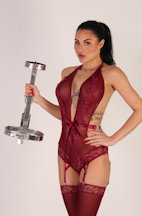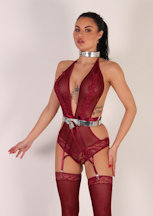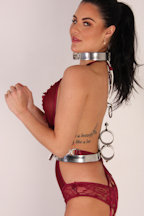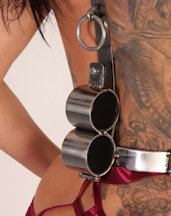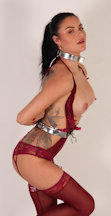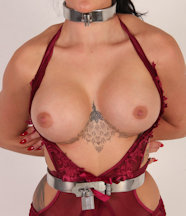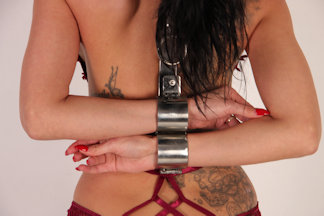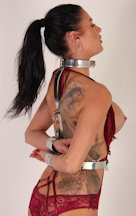 The full Posture Trainer with all options (including chastity belt) weighs about 11 kilos! We have to suspend it from the ceiling to lock a girl in it! The awesomely gorgeous Birdy Dee from Scotland wanted to give it a go! It is the heaviest and most rigid device we have, but Birdy sure loves a challenge! Sure enough, after locking her into this device and removing the support chain, she soon wanted to get out. "It's so heavy!", she moaned. Aw, poor Birdy! We gave her the many keys and tools necesarry to unlock this device, just to see her struggle even more… no chance of escape!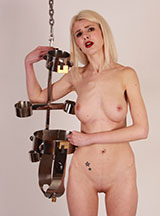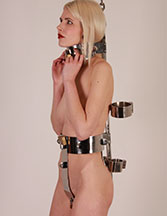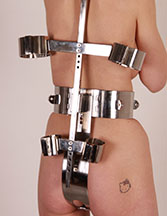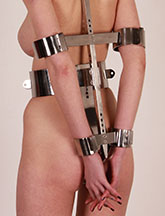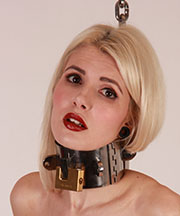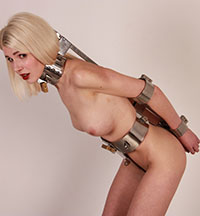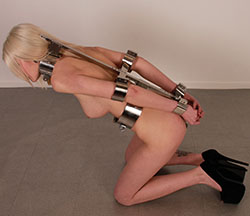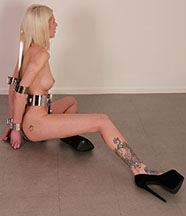 Wow, it has been a long time since we featured our Posture Trainer! Because it is such a heavy device (almost 10 kilograms), it is very tough to be locked in it! Very tough! So we found our most reluctant model ever and tried it on her to get the best reaction!! Natalia Forrest is perfect for this! She always knows how to express her feelings very well, and she is not feeling very comfortable, to say the least!! This version of the device is even heavier and tighter, since we added the chastity belt module to it! Natalia can barely move! Even so, this is not the heaviest or toughest version of this device. We could always add the solid collar spikes, which would make this device weigh over 11 kilos!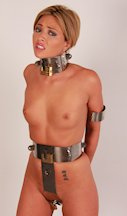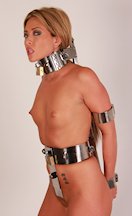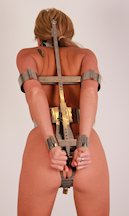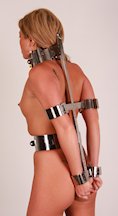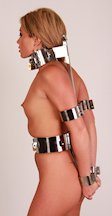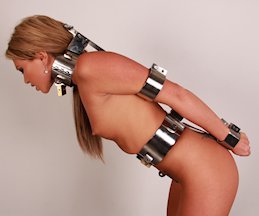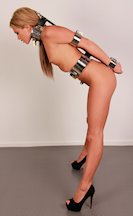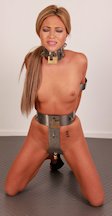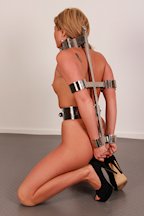 Gather round! We have created another awesome device, it is mind blowing! After months of testing and adjusting, we are proud to present: the Posture Trainer! This seriously heavy device features a tall posture collar connected to a wide waist belt. It is also fitted with upper arm cuffs, and wrist cuffs. Everything is adjustable but completely rigid. The device weighs in at almost 10 kilograms, so we suspended it from a frame to lock our gorgeous Nicole into it. She is completely powerless, her upper body and arms are in total rigid metal bondage. Every part of her upper body is fixated. We then proceed to unhook Nicole from the frame, leaving her completely helpless with all the weight and rigidness locked onto her! This is a must-see update! Don't miss it!