All updates featuring
Steel Posture Collar
The very lively and fun Olga Cabaeva wanted to try the pussy weight lifting challenge! She reckoned she could do better than everyone else, because she has some well trained muscles in unexpected places! The problem is, there is not much to hang on too. The ultra smooth egg is very hard to keep inside, even with a small weight hanging from it. First tip: do not use lube! The egg will become too slippery. Olga did really well with our weights set. The weights are 250 grams, 500 grams, 1 kilo, and 2 kilos, which can make for all kinds of weight combinations in between as well by combining them. But no one ever pussy lifted the 2 kilos. Can Olga do it? She got really horny from all the lifting, so the egg got very very slippery!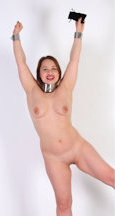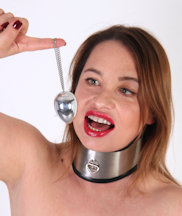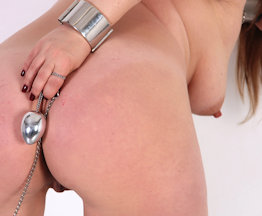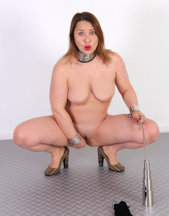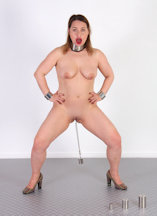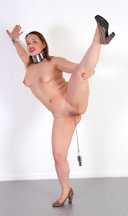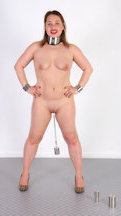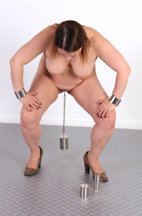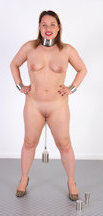 New model Lidia is 2 meters tall wearing these platform high heels! Towering Lidia is very new to bondage. In fact, she has never experienced anything like this shoot. We locked her in a white chastity belt, and she was quite nervous about what was going to happen. We tried a few collars on her and she eventually ended up in a very heavy collar, with a spreader bar keeping her wrists far apart. Even with the key, she couldn't escape this. Welcome, beautiful Lidia, this is your introduction to Metal Bondage!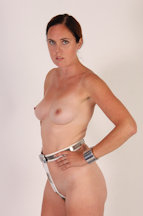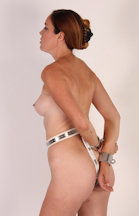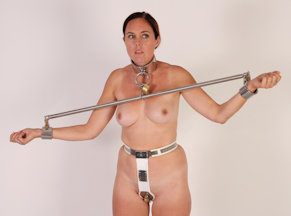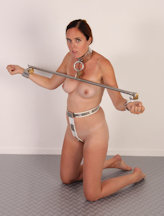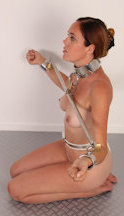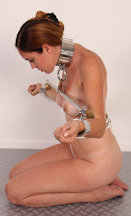 Katie Thornton! Locking her into a big steel posture collar would probably be enough already, because there is plenty to look at if Katie is our slave girl for the afternoon! But we wanted to gag her again, because she does not like that, and that makes us want to ballgag her even more. How to prevent Katie from removing her ballgag? Well, we have enough gear to stop her from doing so! Steel mitts would do it, because she can't use her fingers, but some girls can even remove their gag with the little loops on the mitts. So we had to build a small spreader from our modular Connect-A-Model system to make this bondage extra secure! As expected, Katie wasn't very happy…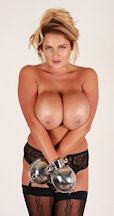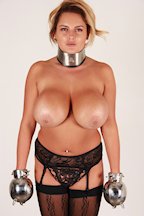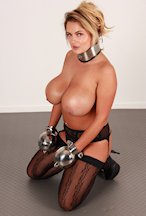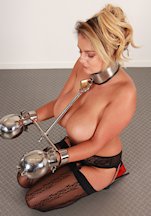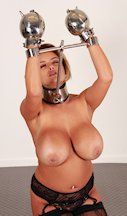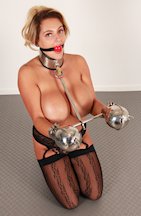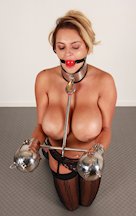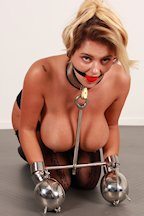 We received an email from a fan / photographer who has always been crazy about our update MB060 – Jenny having fun in our RigidSpreader. He asked if it would be possible to shoot with Jenny and the RigidSpreader, as a tribute to the past! Sure, we still have Jenny somewhere in our basements after more than 5 years… Seriously though, we managed to track her down, she still looks good and she was still interested! A little older, Jenny found herself in the good old RigidSpreader again (and a huge posture collar). Aah good old times! If you are a photographer who wants to recreate any of our sets with our models, please let us know!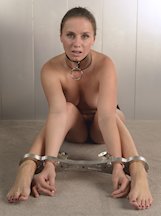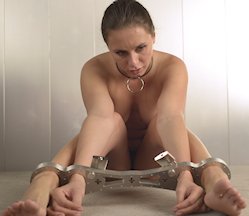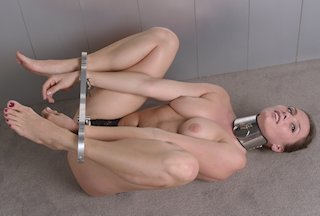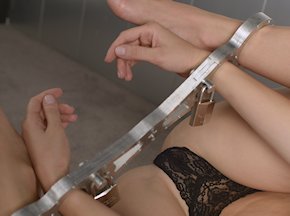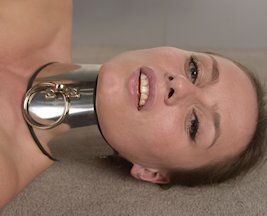 Adrienne is back, and we have some great plans for her! She is a tough one, which means we can test some new things on her before trying them on more delicate models! We don't know if Adrienne is happy to be used as a test subject, especially in this case, because she will be in a very hard position for quite some time! We lock her neck into a rigid steel posture collar, and we use chains to make a nice little bra harness. Then we tell her to lie down on her stomach for a very hard immobilizing hogtie! Why is this hard? Well, she can not move because of the ceiling chain, her chain-bound boobs are squashed, and it is hard to breathe in this rigid collar. Adrienne tried turning slightly to one side to relieve pressure on her boobs, but it was almost impossible for her to move! Great predicament!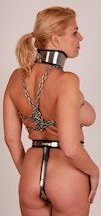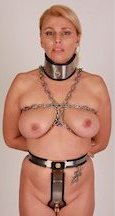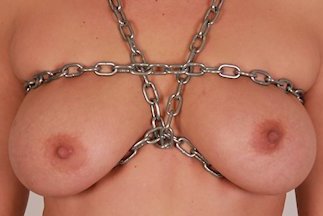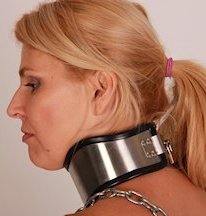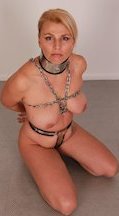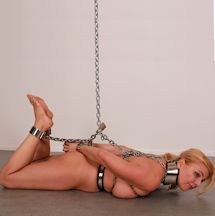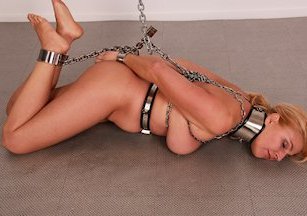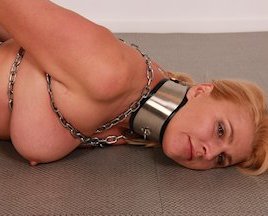 The wonderful Leyla Gold is well on her way to becoming a good metal bondage pet slave. She was belted last month and learned to take nipple clamps on her huge boobs. Now it is time to show her the right position for a slave girl: kneeling. So how do we prevent her from standing up, or complaining? Simple. We cuff her ankles together and we stretch her arms up to a frame with chains. There is simply no way she can stand up, remove her gag or any other restraints. A very effective training! Will Leyla like this? Probably not, especially after about half an hour…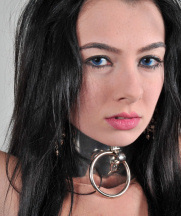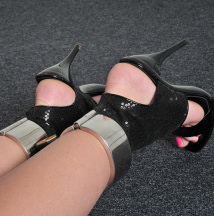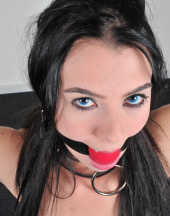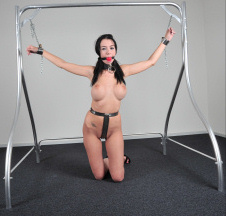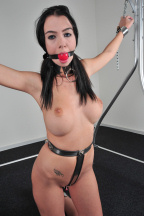 Even sweet Tanya will not escape our rule: third shoot equals chastity belt! Wide eyed Tanya does not seem to need any time to get used to wearing a chastity belt. She is a natural! We add a big steel posture collar and a locking ball gag to keep her occupied. Tanya has the best gag mouth of all our models, her lips are perfectly shaped to enclose a ball gag. She looks sooo beautiful with a gag, those big eyes pleading. Still, eventually we give her the key to the gag, can she work out how to unlock it?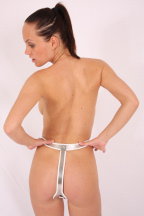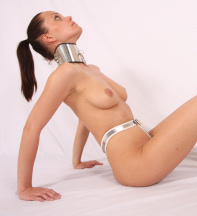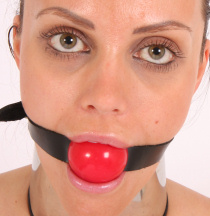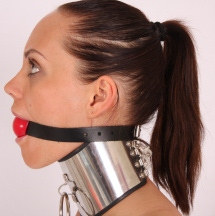 Poor little pet slave Janna is still a little shy. We decide to leave her alone for a while, to get used to her new life in metal bondage. She is in a tight chastity belt and a steel cable chastity bra. A tall posture collar and a tight ballgag make sure she doesn't forget her position as a pet slave. We have to lock her wrists to her belt of course, so she can't take off her gag. The bondage prevents her from getting comfortable, but she still tries, a little scared and hesitant. It's so much fun to just sit back and watch this girl come to terms with her metal chastity bondage!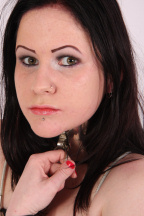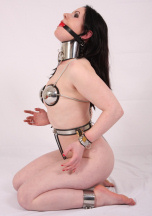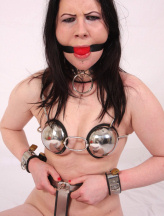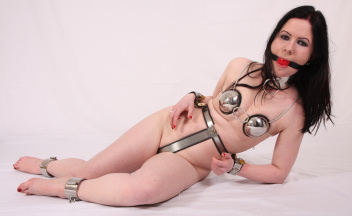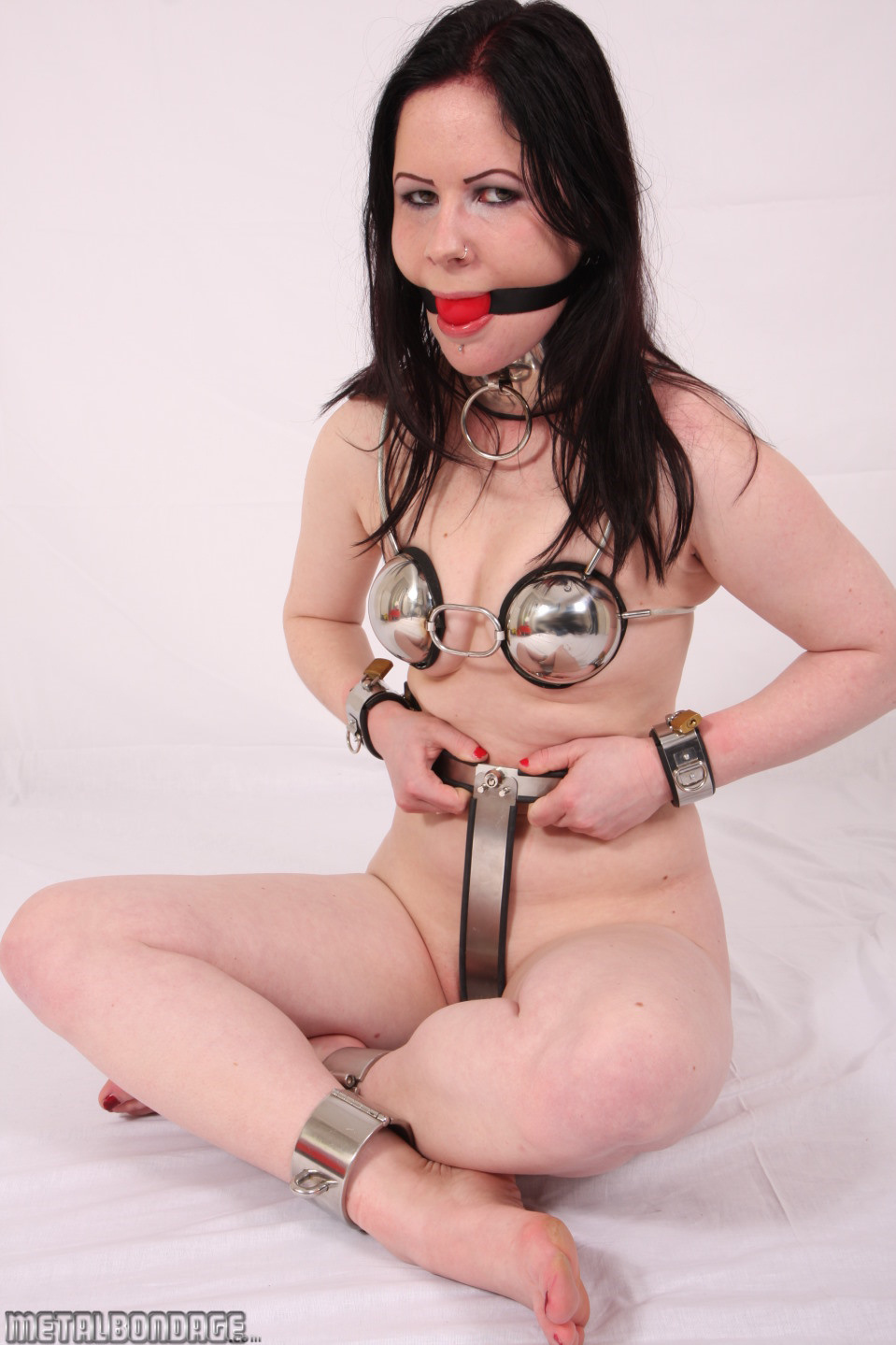 Hmm, this is strange… Gina (from www.boundlife.com) brought her own harness ring gag, but it turns out she does not like to be gagged with a ring gag. It makes her drool a lot, she says. Well then, why bring it? It will remain a mystery to us. Let's just see how far Gina will get when we give her to keys to her restraints, drooling or not!