All updates featuring
Power Chain (12 kg)
My newest model is Anna Lemon! She is the smallest model ever to appear on this website, she is SO tiny! That gave me an idea: locking the 12 kilogram (26.5lbs) Power Chain to her wrists! She wouldn't be able to lift the entire chain, just a little piece of it. Anna had never been locked in this much steel before. I think all of the steel combined is almost as heavy as Anna! She tried moving around a little, but it was way too heavy for her. Then I locked the chain to her collar, and it was even harder for her to move! I think tiny girls and heavy steel is a great combination!! I am going to keep her around for a while, so if you have any custom requests for this beauty, just let me know!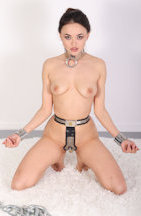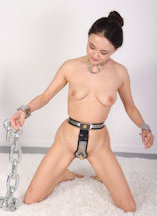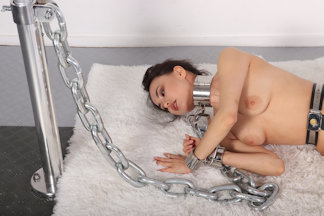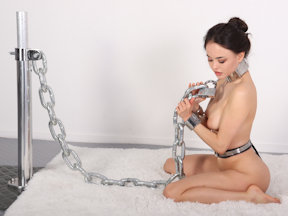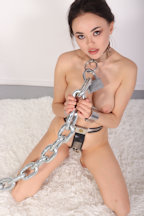 Pure and delicate Ivy Red is such a stunning beauty. She is almost fragile, so tender and elegant. That's why I wanted to lock her into a super heavy and tall steel collar, and attach her with a HUGE padlock to a 12 kilogram chain that is bolted to the floor. Ivy wouldn't even be able to lift the entire chain. It is such a nice contrast between the vulnerable grace of Ivy and the cold ultra heavy steel on her neck. I just love overdoing things! Enjoy this wonderful picture set and video! Ivy Red is a local girl, available for custom shoots!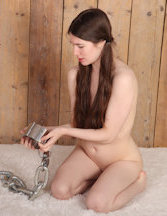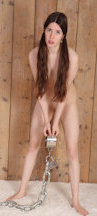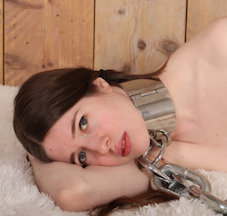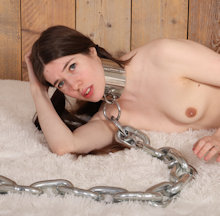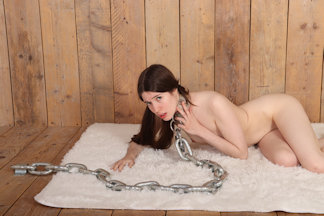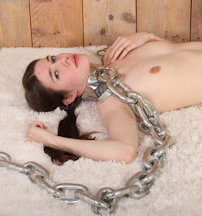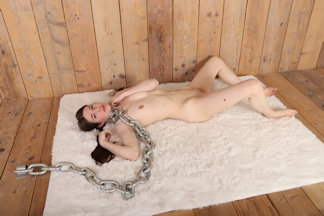 Super tiny Lina Roselina is 1.50m tall weighing about 40 kilograms. This gave me a nice predicament idea: what if I would handcuff TWO 12 kilo chains to her wrists and put the key high above her? She would have to lift 24 kilos to reach the handcuff key! There's no way Lina can lift this much steel, so it was very frustrating for her to see the key dangling from the ceiling. So close! Lina tried with all her might, but the further she lifts the chains off the floor, the heavier they get. It was a perfect predicament!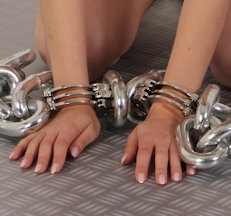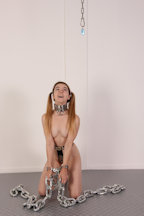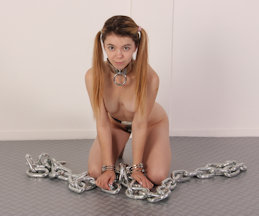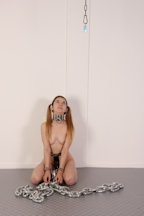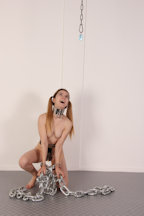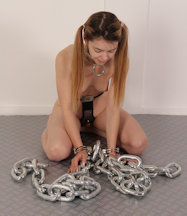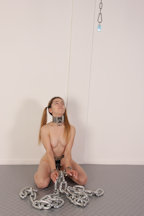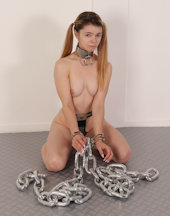 Dina Ket asked if she could see our studio. Of course! Anyone can come visit! Curious and excited, Dina was led into a room where she found a heavy chain bolted to the floor. A collar was locked to the other side of the chain with the largest padlock she had ever seen. She tried lifting the chain, but it was incredibly heavy. It is a fitness Power Chain, weighing in at a massive 12 kilograms (without the heavy padlock and collar). Tiny Dina only weighs 45 kilos herself! She shuddered at the thought of being locked into this extremely heavy setup. Obviously, that is exactly what happened to her. Suddenly, all of Dina's clothes were gone, and she was locked into the heavy collar attached to the 12 kilogram Power Chain! Oh no!!