All updates featuring
Ultra Heavy Collar
Katia is a tall elegant Russian super model, straight out of a Bond movie! The way she moves, the ways she presents herself… just amazing. She is definitely the type of girl you would never expect to see locked in an ultra heavy collar. But as Katia was doing her thing in the bedroom, checking her makeup and her lingerie, she eventually fell asleep on the bed. Bad idea! She woke up in a chastity belt, wrist cuffs, and the ultra heavy collar chained to the four corners of the bed. And even then she managed to remain super elegant and stunning. She is definitely not a submissive, so she was a bit pissed off, but there was no escape for this Bondgirl!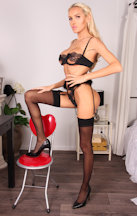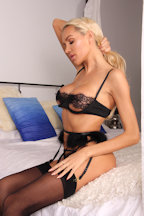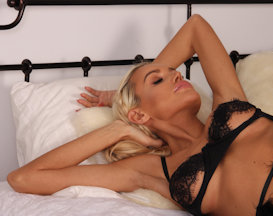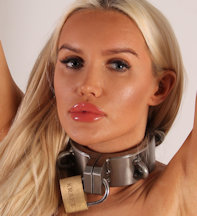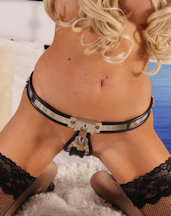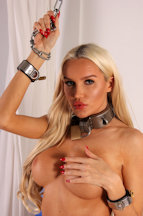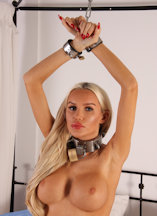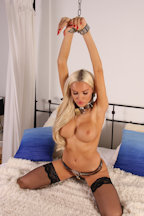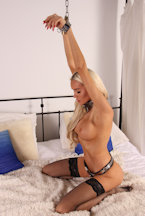 We love contrasts! So we took the tiniest model (the gracefully cute Melissa) and locked her into our heaviest collar, a 3 kilogram piece milled out of a solid block of steel (not bent steel like other collars). To take the weight off a little, we were so kind as to chain the four attachment points to some steel posts. We are super nice to Melissa today, we did not even restrain any arms or legs! Why not? Well it is more frustrating to be so free yet to be held in the perfect center of this open prison, only by the neck and some truly serious chains. Nothing to do for the next 3 hours, the chastity belt will take care of that! Have fun Melissa!!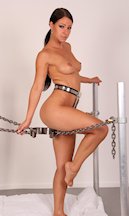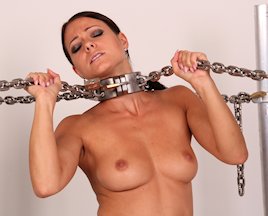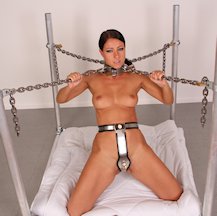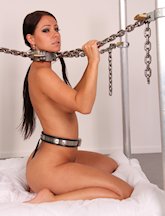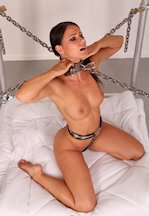 Little Gina seemed like a perfect victim to test this ultra heavy collar. Unlike other collars, that are bent and hammered into shape during production, this one is cut from a single block of steel. It weighs almost 2 kilos and it has four convenient attachment points. We locked it using a nut and bolt, and to make sure Gina can't reach that bolt we put her in a very long wrist spreader. Frustrating!!