All updates featuring
Small Padded Wrist Cuffs
Wow, Tiffany is back yet again! She has been on the website for over 12 years and she still looks hot as ever! Remember when she tried the Stainless Steel High Heels? She found out I now have even more challenging shoes: the Stainless Steel Ballet Heels, and she wanted to give them a try! Locked in a chastity belt, cuffs, and collar (of course), the awesome Tiffany locks the ballet boots on her feet. They are padlocked and they can not come off without a key. She tried to stand up, and even walk a few steps in these brutal heels! What a great first attempt, Tiffany definitely is a ballet boot talent!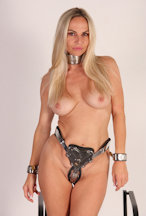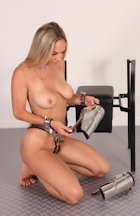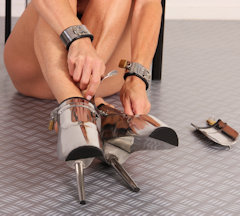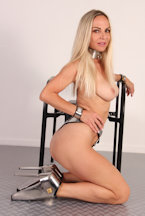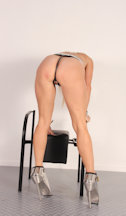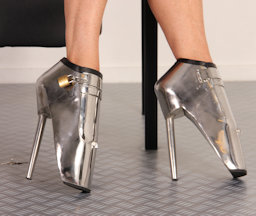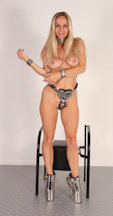 What if a One Bar Prison could move up and down? I just had to try it! Combining the One Bar Prison with a Fucking Machine makes a very fun challenge for new girl Nina Grace. She is standing in extreme Pleaser Domina heels, so she can't lift herself up, she is already on her toes. The dildo can move freely inside her, up and down, but it is still holding Nina in place. This turned out to be a rather difficult situation for her, as she got more and more aroused, but she still needed to focus on standing straight. Don't try this at home!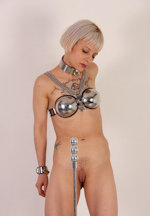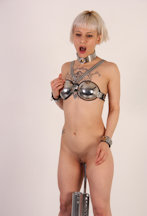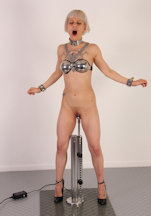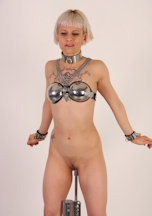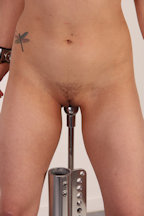 Katia is a tall elegant Russian super model, straight out of a Bond movie! The way she moves, the ways she presents herself… just amazing. She is definitely the type of girl you would never expect to see locked in an ultra heavy collar. But as Katia was doing her thing in the bedroom, checking her makeup and her lingerie, she eventually fell asleep on the bed. Bad idea! She woke up in a chastity belt, wrist cuffs, and the ultra heavy collar chained to the four corners of the bed. And even then she managed to remain super elegant and stunning. She is definitely not a submissive, so she was a bit pissed off, but there was no escape for this Bondgirl!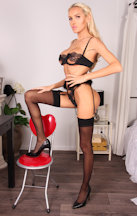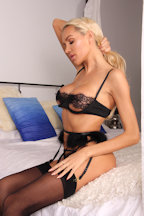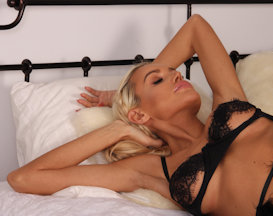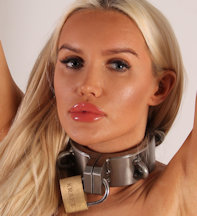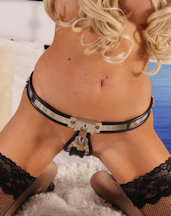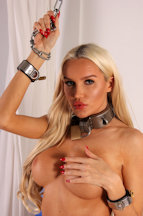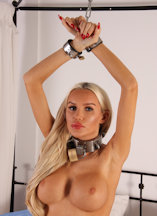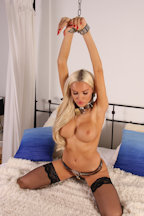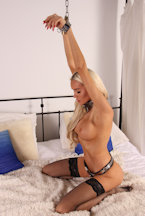 We made custom fitted boob bands for our pet slave Arabella! They are extremely tight, she keeps trying to get them off, but it's impossible without the key. She will be allowed out of her cage, on a leash, and she can have a little drink from her bowl. Arabella's eyes are begging us to unlock her metal boob bands, but we are not going to. She will have to get used to these tight cuffs on her chest. After all, they look awesome on her, don't you agree? Tight is right! Arabella will learn, she's a good pet.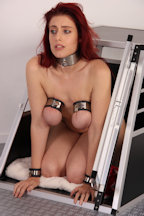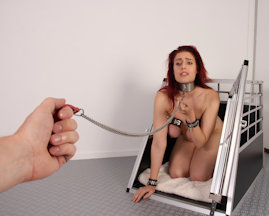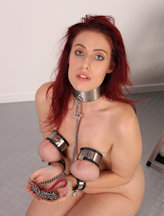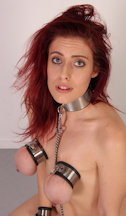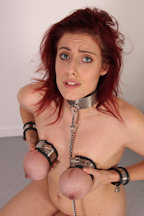 We gave new girl Clara three neck cuffs. She was a little confused, as she only has 1 neck, but she soon worked out where the other two should go. They were attached to the wall by a chain, so she would be stuck by only her boobs for this afternoon. It can be quite frustrating having big boobs that can be cuffed. Models sometimes feel it is not fair they get some challenges that other models can't do. Clara has always been happy with her big breasts, but not today, she would need a key to be released, where other models would just have walked away. Life is not fair!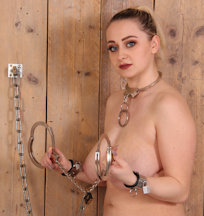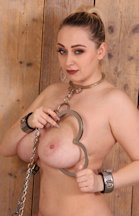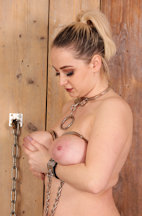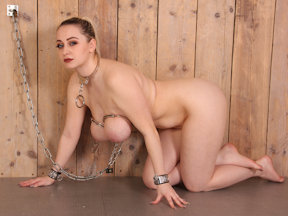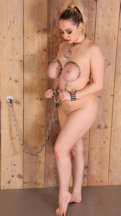 Having a Sybian machine in the studio attracts all kinds of people! Young Mira wrote us if she could go for a little ride on it. Just a tiny ride, nothing else. She is so cute! Of course, this is MetalBondage.com, so we locked some cuffs and a collar onto her. And she was not allowed to ride the Sybian unless we could lock her wrists to the wall. Mira quickly figured out that it wasn't going to be her who would be in charge of the controls. This brave young girl did it anyway, and the end of the video definitely gives away what her body thought of this ride on the strongest vibrator in the world!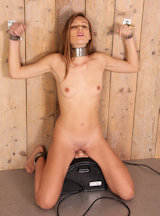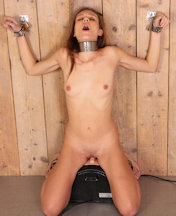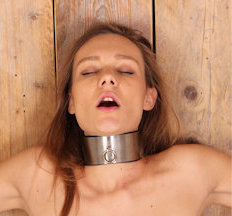 New gear time!! First of all, we are proud to present the Rattlefree Collar! It is an improvement on our standard Padded Collars. By using a big D-ring at the front and a double locking post at the back, there's no more rattling! In some situations, that is a good thing! But the biggest reveal today is definitely the Carrara Locking Mask! What a beautiful piece of gear, made by Carrara Designs! It is a fully adjustable mask, and it locks into place, so our poor test subject Melisa Mendini can't take it off. She can still talk though, she just can't eat (or do naughty things with her mouth). The mouth piece has a separate padlock so she can be fed without taking off the mask! And the chin rest can be raised by turning a screw, to close her mouth if we are tired of hearing her talk. Gorgeous girl in gorgeous gear! Don't miss the picture set and video!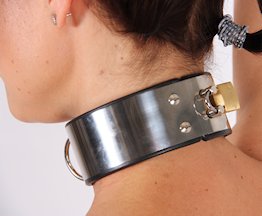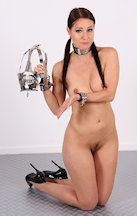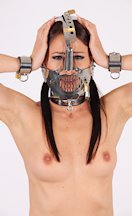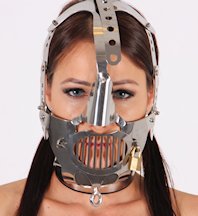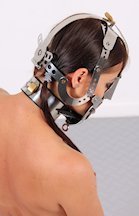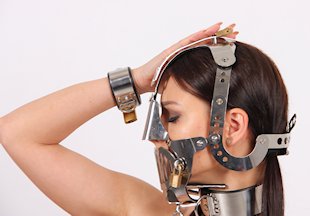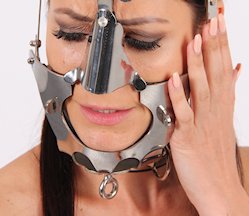 Training Jenni C and Melissa is always hard. Still, there is some progress! When they recently visited me for some shoots, they already assumed they would be locked in chastity belts all the time (they stayed for 4 days, locked in their belts). You can read more about this here on ChastityBabes.com. But I wanted to add something more. A bit of bondage, so they had to cooperate more, which would take their minds off the chastity belts. I connected their necks using the Connect-A-Model System (TM), which is pretty heavy metal bondage. It is also very rigid, meaning they had to move at the same time, and this is especially funny since Melissa is a little shorter than Jenni!! This is how you make friends! They can't get away from each other!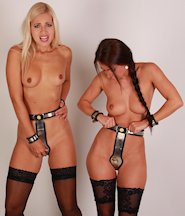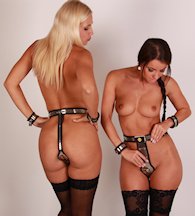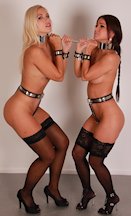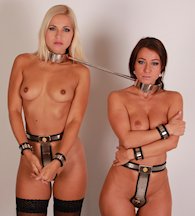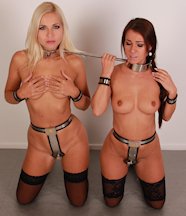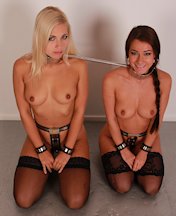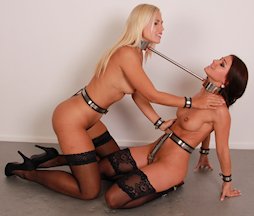 And now… cute little AnnaBelle Lee will show you how it's done! Haha, this tiny girl really loves the feel of heavy metal, as we found out a few months ago. This time she is enjoying herself with a piece of equipment that is super heavy, especially for AnnaBelle. She squeals for joy as she is showing us how to lock on this huge diaper shaped piece of steel onto her waist and crotch. Pulling the chains tight, she locks all padlocks into place and then goes on to pose for us in a playful manner. She tries touching herself, but there is simply no way!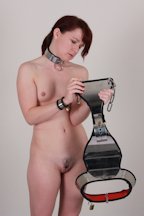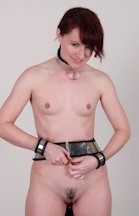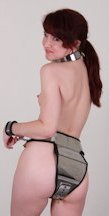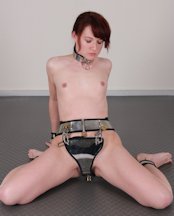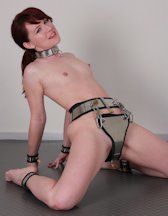 She has been voted 'most popular pet slave' on this website. By you, our visitors and members. She has been coming back again and again. We have sparked her interest in bondage and chastity. The lovely Jenni C now deserves her own custom made chastity belt! She has been wearing one of our chain style belts until now, but this belt (HER belt) is more rigid and more secure. Most importantly, it has been made to fit Jenni perfectly. A proud Jenni shows you her chastity belt today. She is still tugging and prying at the belt (like she always does), but this one is super tight, with detachable secondary shield and anal hole for long term wear. Jenni C has choosen this path in her life, there is no turning back now… Congratulations!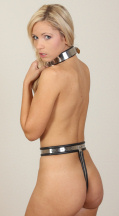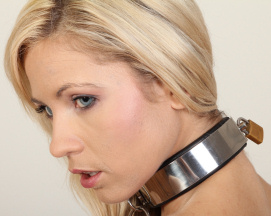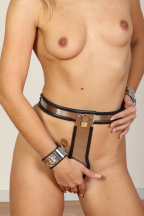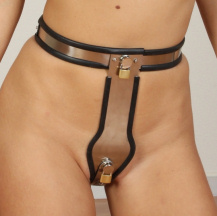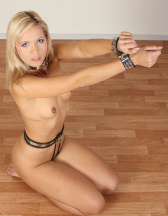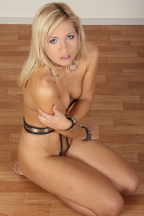 Poor little pet slave Janna is still a little shy. We decide to leave her alone for a while, to get used to her new life in metal bondage. She is in a tight chastity belt and a steel cable chastity bra. A tall posture collar and a tight ballgag make sure she doesn't forget her position as a pet slave. We have to lock her wrists to her belt of course, so she can't take off her gag. The bondage prevents her from getting comfortable, but she still tries, a little scared and hesitant. It's so much fun to just sit back and watch this girl come to terms with her metal chastity bondage!