All updates featuring
Melissa
New gear time!! First of all, we are proud to present the Rattlefree Collar! It is an improvement on our standard Padded Collars. By using a big D-ring at the front and a double locking post at the back, there's no more rattling! In some situations, that is a good thing! But the biggest reveal today is definitely the Carrara Locking Mask! What a beautiful piece of gear, made by Carrara Designs! It is a fully adjustable mask, and it locks into place, so our poor test subject Melisa Mendini can't take it off. She can still talk though, she just can't eat (or do naughty things with her mouth). The mouth piece has a separate padlock so she can be fed without taking off the mask! And the chin rest can be raised by turning a screw, to close her mouth if we are tired of hearing her talk. Gorgeous girl in gorgeous gear! Don't miss the picture set and video!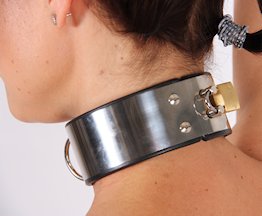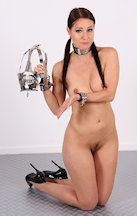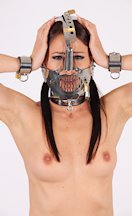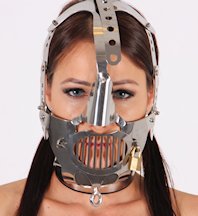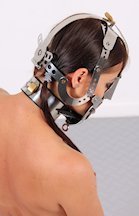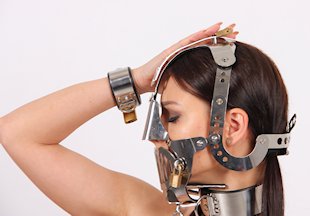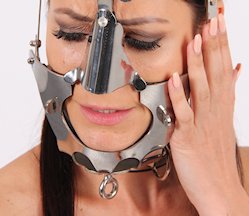 This is fun! We found some high tension springs and we immediately thought they would make a great predicament bondage. So we grabbed our tiny friend Melisa Mendini and we put her into a metal hogtie. Two springs were connected to her wrists and two springs to her ankles. Now, one spring is already a lot of tension, but two springs are definitely too much for cute Melisa to hold down. She tries to lower her wrists and ankles by pulling the springs down, but she can only hold them for a second, after which her arms and legs are raised automatically. Melisa doesn't really like the arched hogtie, so she tries to pull on her wrists and ankles again and again to get a little relief. But her strength is fading quickly and the springs are winning! It's beautiful to watch her get tired (and pulled back up)! Don't miss this!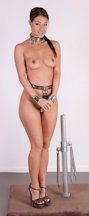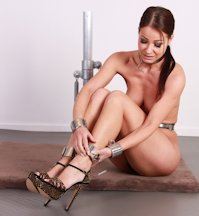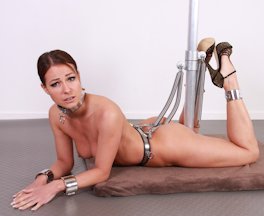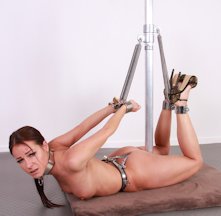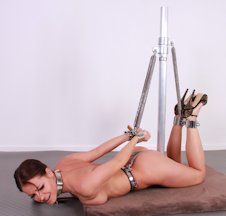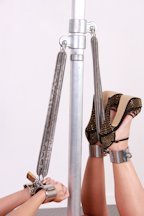 You have seen the RigidStock TL, it is quite common (but expensive). But did you know there was a unique version created that is triple the thickness and weight? There is only one on the planet and we got our hands on it to shoot with our beautiful babes. A few years ago, we already did a few updates with this device, but when the tiny gorgeous Melisa Mendini visited us, we just couldn't resist. How great would she look in these ultra heavy stocks? Well, see for yourself! She could barely lift them, and once she was locked into them, she had trouble maintaining her balance and had to rest one arm on the floor to support herself.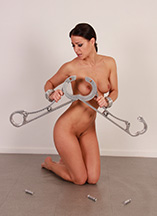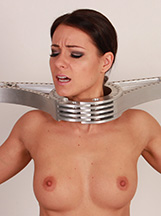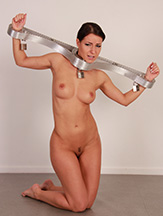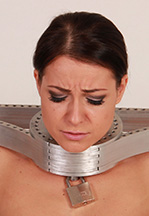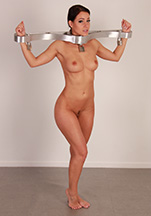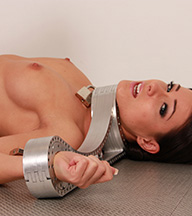 Can you believe we never locked our tiny little Melissa Mendini in a RigidStock! She never experienced having her hands and neck in a device that leaves her defenseless and vulnerable in the boob area. It is an outrage! Let's fix this oversight quickly, this gorgeous girl should be given the opportunity to experience this device! Melissa (again in a chastity belt, she knows she will always be locked in when she comes over) was not so eager to try the RigidStock, she even had trouble lifting it. But once she was in it, she got a little bit more comfortable. She looks so hot in Metal Bondage! We gave her the keys just to tease her and kept her in the device for about an hour. Beautiful!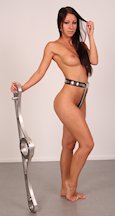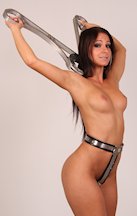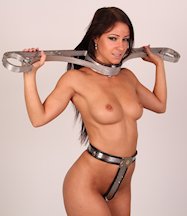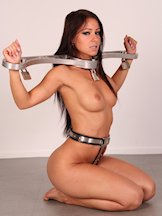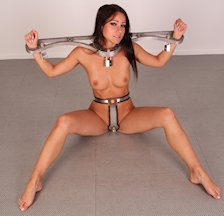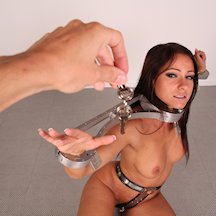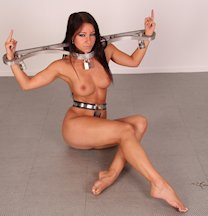 Cute bombshell Melissa returns to test our newest piece of equipment: the Gimp Cage! As always, she is in a chastity belt, and this time she is even locked in a chastity bra as well! Melissa is used to that, so that's no problem. She was really intrigued by the cage! It is very small, but Melissa manages to get inside, her head sticking through the top bars, the rest of her trapped inside. We even handcuff her wrists to the cage, so she is really stuck. The cage closes with some hex screws, so Melissa will need a handcuff key and a hex key to get out. She works very hard to free herself again… only to realise she is still in full chastity :) For which she gives us the finger… of course.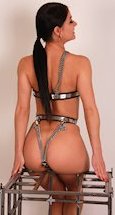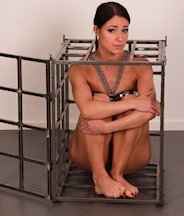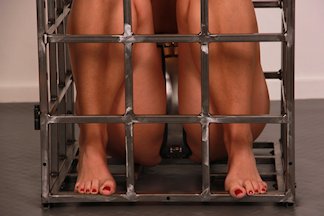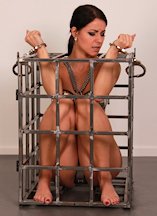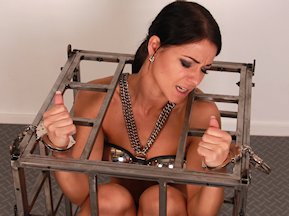 Training Jenni C and Melissa is always hard. Still, there is some progress! When they recently visited me for some shoots, they already assumed they would be locked in chastity belts all the time (they stayed for 4 days, locked in their belts). You can read more about this here on ChastityBabes.com. But I wanted to add something more. A bit of bondage, so they had to cooperate more, which would take their minds off the chastity belts. I connected their necks using the Connect-A-Model System (TM), which is pretty heavy metal bondage. It is also very rigid, meaning they had to move at the same time, and this is especially funny since Melissa is a little shorter than Jenni!! This is how you make friends! They can't get away from each other!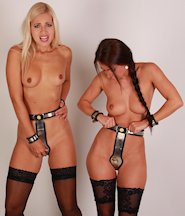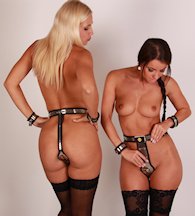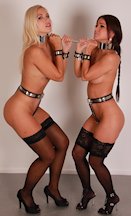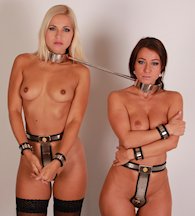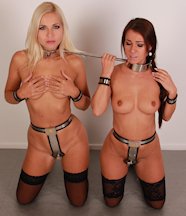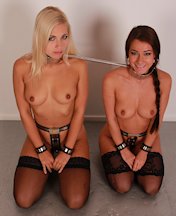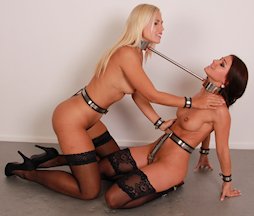 We don't do loose metal on this website. We make sure we have all cuffs, collars, and waist bands in a wide variety of sizes, so we can always shoot with tight metal! Even when we have a tiny girl like Melissa Mendini, we have gear that will fit her perfectly. This girl is so small, the combined weight of the metal and chains is over a quarter of her own body weight! Try that yourself! It really is a lot of metal for such a petite girl! Melissa is quite used to being locked in metal now, she has done a lot of shoots for us. It is still such a thrill to see this elegant beauty in steel!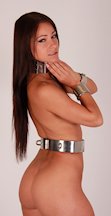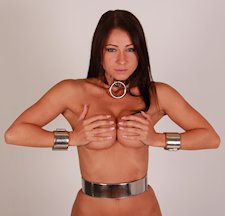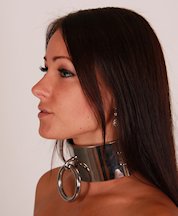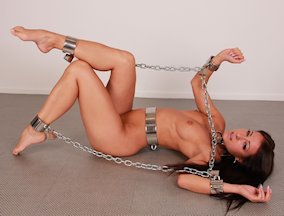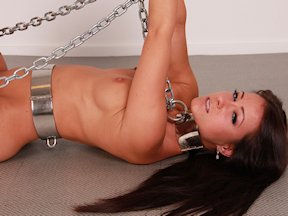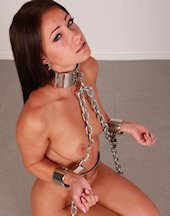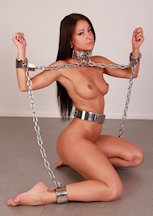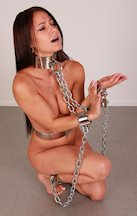 250 updates! To celebrate, let's try to fit two of our most popular models in the metal bondage frame! We are going to need a LOT of metal to connect Jenni C and Melissa to this frame… and to each other. Exactly the way we like to see two hot naked girls! Before connecting them to the frame, Jenni and Melissa are locked into 6 point heavy restraints: wrists, ankles, neck, and waist. The huge collars look so awesome on these stunning girls, wearing nothing but heels and stockings! After chaining them both to the frame, we let them struggle for a while, taking pictures and video… we can relax, they are not going anywhere, so let's enjoy and celebrate 250 updates, almost 5 years of girls in heavy metal bondage!
Join now to download EVERYTHING we ever did for only 1 month's fee! Now that's cheap!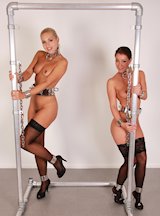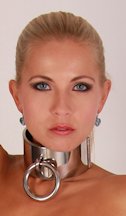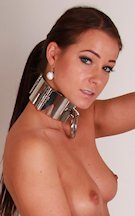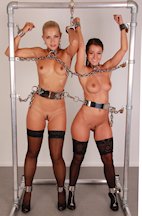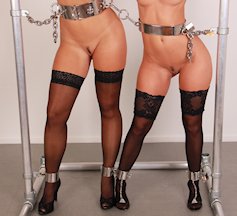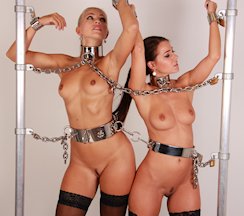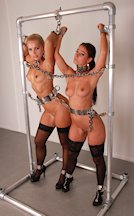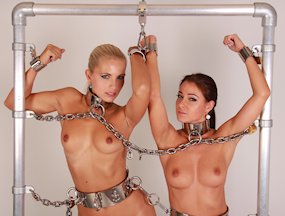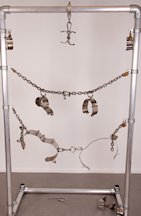 We love contrasts! So we took the tiniest model (the gracefully cute Melissa) and locked her into our heaviest collar, a 3 kilogram piece milled out of a solid block of steel (not bent steel like other collars). To take the weight off a little, we were so kind as to chain the four attachment points to some steel posts. We are super nice to Melissa today, we did not even restrain any arms or legs! Why not? Well it is more frustrating to be so free yet to be held in the perfect center of this open prison, only by the neck and some truly serious chains. Nothing to do for the next 3 hours, the chastity belt will take care of that! Have fun Melissa!!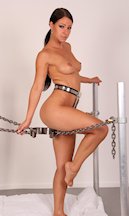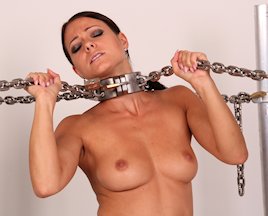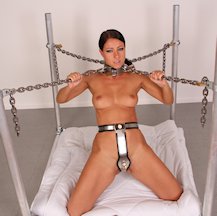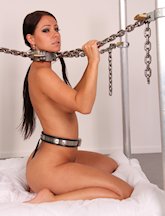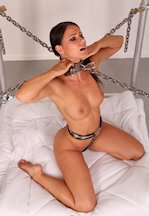 Beautiful Melissa will now try our maid training exercise! She is a natural submissive, but she still has to learn to walk around with the metal serving tray strapped to her belly and neck. Kneeling down, and getting back up again, without spilling anything, that is the hard part. The coffee cups are empty for Melissa's first time, so she does not accidentally burn herself. It turns out that was an unnecessary precaution: Melissa is a perfect maid! She can walk, kneel, and serve the coffee without spilling a drop. She is very obedient and careful, and she sounds so very sweet the way she says 'Your coffee, Madam' to our mistress. You passed, Melissa!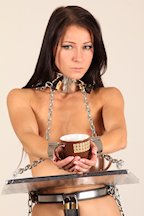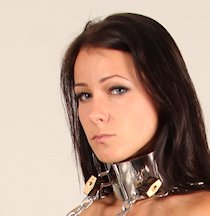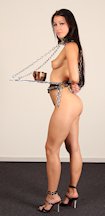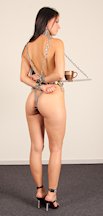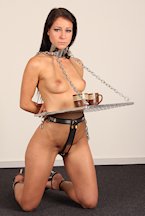 Poor Melissa!! We custom built this new metal torture bondage device quite some time ago, but until now none of our models fit into the Steel Armbinder. We need a small girl with the perfect flexibility, very thin upper arms, very small wrists, the right distance between wrists and upper arms, and the list goes on. We thought we were never going to use this device, but brave Melissa gave it a try and it worked! One of the most cruel devices we have, the position is really hard, and even painful. There is absolutely no hope for escape. Sorry Melissa, you always seem to get the extreme stuff that no one else can do!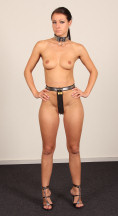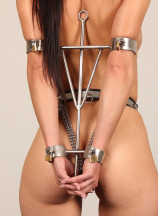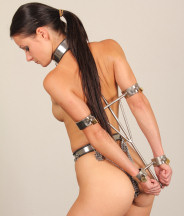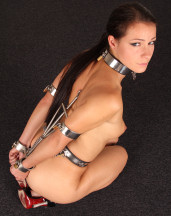 Pretty little miss Melissa seemed like a perfect victim to further test our modular Connect-A-Model system. She is now tightly belted, so she is on her way to become a good MetalBondage slave girl. Melissa is a natural submissive (we call her 'Submissa'), she loves being told what to do. So we created a kind of stock out of our modular bars and cuffs and made her a short ankle spreader. This Connect-A-Model system reminds us of toys we used to have, only now we get to play with metal restraints and the most beautiful girls on the planet! It turns out Melissa needs some more training, as she tries to escape the devices we built for her, but okay… that is fun to watch!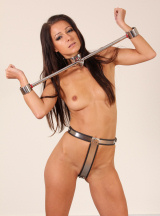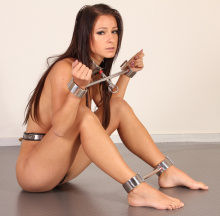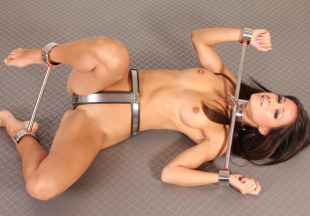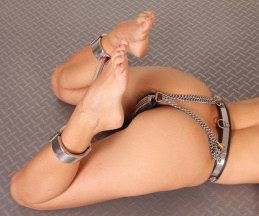 We have belted Melissa, and it is only her second shoot! Locked in heavy collar and wrist cuffs, Melissa patiently waits what's in store for her today. It turns out to be one of the most devious contraptions so far. Her collar is bolted to a metal pipe, forcing Melissa to kneel. Her wrists are connected to 2 pieces of heavy pipe, making a nice Y-frame bondage. Here is the catch: because Melissa's neck is locked to the upright post, she can not reach far enough to rest both of the heavy pipes on the floor. She will have to alternate, lifting one arm up to give the other arm some rest on the floor. It is a real heavy workout, and her arms started to give out after only 10 minutes. But we needed at least half an hour more to complete this shoot…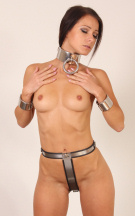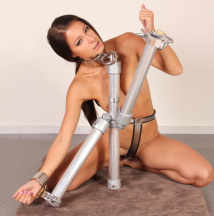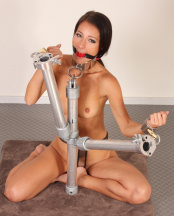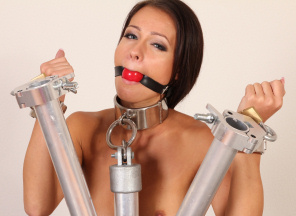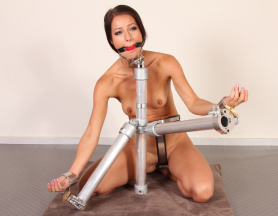 Another new model at MetalBondage.com! The very funny and stunningly beautiful Melissa joins our ranks! Funny? Well, just watch the escape attempt in the video clip, you have never seen such a smile in bondage! Especially when she finds out the RigidFiddle lock is out of reach, a wonderful moment! We are sure we can get this little vixen into a chastity belt, it would look so hot on her, but for her first shoot you will have to enjoy her in RigidCuffs, not a bad thing at all, this beauty should be locked in metal for the rest of her life! It looks so great on her!