All updates featuring
Custom SteelBound Wrist Spreader
Cute blonde Misha has been in metal bondage many times before. Today, she brought her friend Bridgette to be locked in steel for the first time in her life! Exciting! We decided to have this belted duo on the double kneeling post, to see if they were submissive enough to actually padlock their own collars to the steel bar. In their chain style chastity belts, locked collars, and wrist spreader bars, they were probably feeling quite sub already, as Misha showed her friend how to lock their O-rings to the metal pipes. Kneeling next to each other, they waited for their next instructions. Very good! Bridgette is a nice addition to our model collection!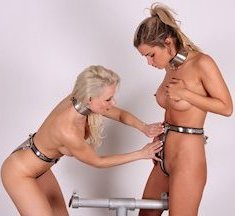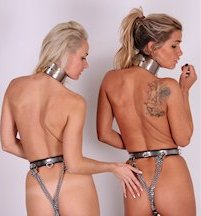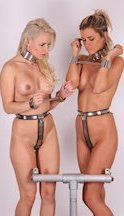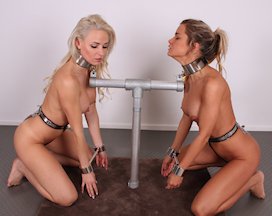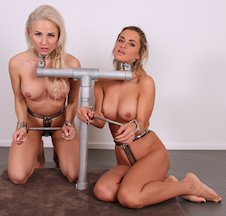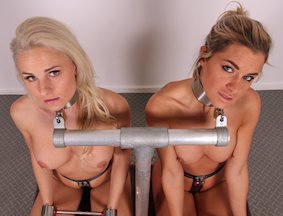 Please welcome the curious Melinda to MetalBondage.com! She is a super tough girl, up for a challenge! Ah, so let's test her elbow and shoulder flexibility: her elbows don't touch yet, because she is quite muscular, but we will get there. This position will be very hard for Melinda. Naked, in a collar and waist belt, her arms will be pulled back and her wrist will be spread apart. This makes sure the elbow cuffs won't go anywhere, and it makes the position even harder on the arms. A few light nipple clamps to distract her a little, and we can sit back to watch a beautiful struggle!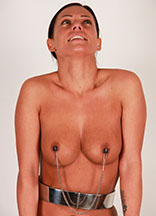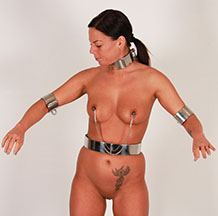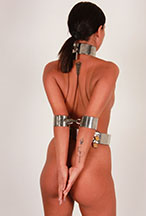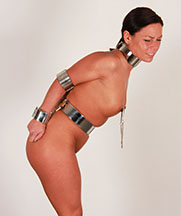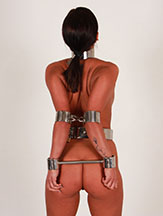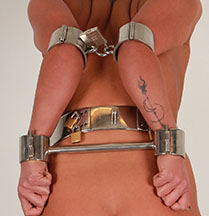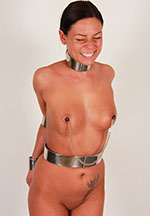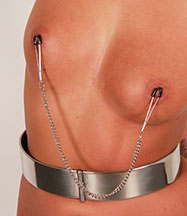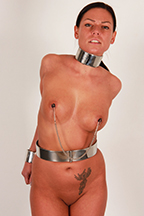 Jenni C is back! We tried to put her into a chastity belt, but she refused. Something to do with her being one of the top glamour models on the internet today and what-might-people-say. Hmm… so we have to take it a little easier on her, gently getting her into that chastity belt, bringing her closer to accepting it every shoot. A tight solid metal waist belt is a good start! And lots of other pieces of heavy metal and chain might also help to ease the transition into a MetalBondage.com pet slave. Jenni C as a slave girl, who hasn't dreamed of that? There's also some hands-on collaring in the video, a much requested scene! Let's hope Jenni will be back to take it a little further!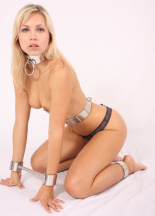 Apparently there is something very annoying about being chained to the ceiling in ballet boots while ballgagged :-) But the most frustrating thing has to be that wrist spreader with a fixed welded bar! Indy does not seem to like it, as she moans and growls to the camera. We don't understand, what's not to like about always having your wrists exactly at the same distance from each other?