All updates featuring
Misha
Cute blonde Misha has been in metal bondage many times before. Today, she brought her friend Bridgette to be locked in steel for the first time in her life! Exciting! We decided to have this belted duo on the double kneeling post, to see if they were submissive enough to actually padlock their own collars to the steel bar. In their chain style chastity belts, locked collars, and wrist spreader bars, they were probably feeling quite sub already, as Misha showed her friend how to lock their O-rings to the metal pipes. Kneeling next to each other, they waited for their next instructions. Very good! Bridgette is a nice addition to our model collection!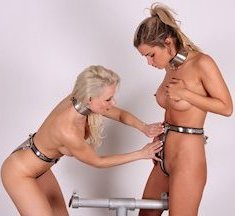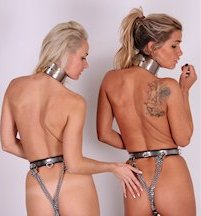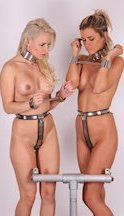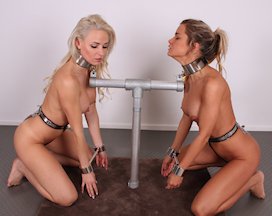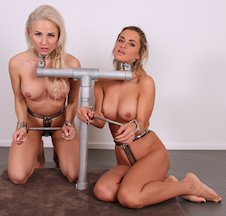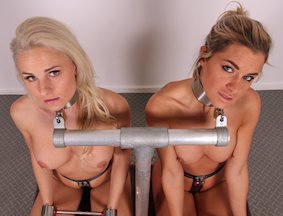 Misha is back! Locked in her super tight NeoSteel belt, she is curious about what's in store for her. A strange bar has been bolted to the floor and Misha can't figure out how that's going to be her bondage for the day. But she soon finds out that a strategically placed RigidFiddle (arms under the bar) can make her completely helpless and stuck. She tries to get up, but we soon lock her ankles in the RigidSpreader so she her movement is very limited. We put the keys on the floor, but there's no way Misha can even get to the keys. It was a very frustrating afternoon for Misha!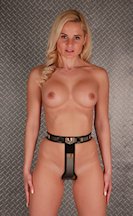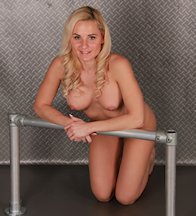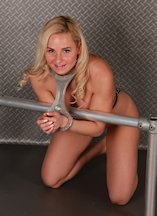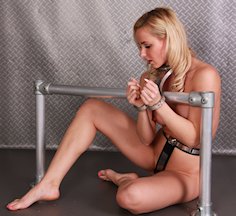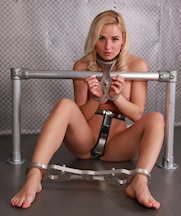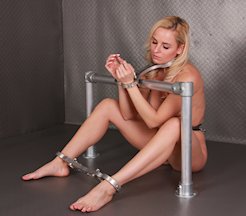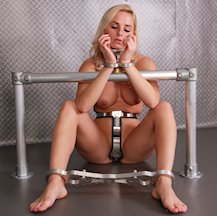 Misha! The fitness babe who loves (and hates) chastity belts! She just looks incredible in her tight NeoSteel belt, her muscular body is just asking to be restrained in lots of sturdy metal! We have an extreme position for her today: her arms are completely immobilized in a reverse prayer! Her biceps are straining against the elbow cuffs, and the chain prevents her from even moving an inch. Her arms are perfectly pinned behind her back with no movement at all. We can even see her fingertips over her shoulders, it is that tight! When we throw the keys on the floor, Misha can't even reach them. She is helpless in this extreme heavy metal bondage position!