All updates featuring
Carie
Carie is very much into bondage modelling nowadays. Since we introduced her to bondage, she has been emailing to other websites, asking for more modelling jobs. She even started doing some light bondage in her private life! But today there is no light bondage for poor Carie. Locked in her chastity belt, Carie is going to have to endure our ultra heavy custom stocks for quite a while. And as much as she likes bondage modelling, after 45 minutes this thing gets very annoying!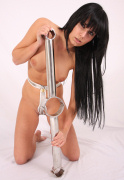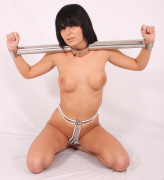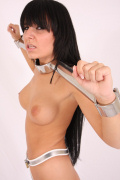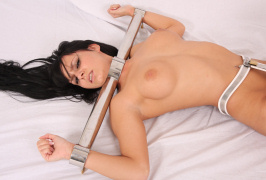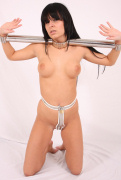 Carie is one of the most disobedient pet slaves ever! Which makes her fun to shoot and train, of course. We already chastity belted her in her last shoot, so it's time to stop her struggling and complaining. The metal pipes are back, and since we like to tease Carie, we use snap hooks instead of padlocks to attach her wrists and neck to the cross. She can not reach them anyway. A ball gag keeps her nice and quiet… or so we think… Carie has a little surprise in store for us!!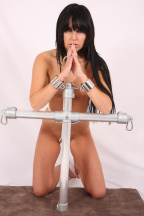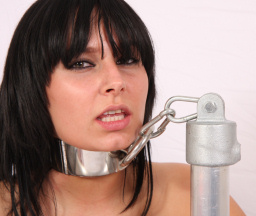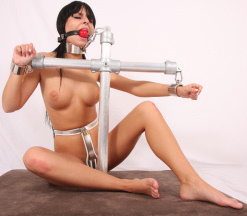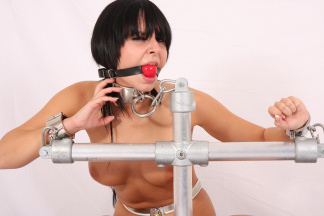 Carie asked if she could come back for a third time. What? A beautiful shy girl reporting for bondage? Well, okay, on one condition, from now on the chastity belt will be a part of the shoots. It turns out, Carie does not like having her private parts locked away, so we kept her hands out of the way by attaching her wrist cuffs to the giraffe collar by short spreader bars. The bars can only move up and down, if you remember from previous updates, so Carie is left quite vulnerable in the chest area. After some struggling, we challenged Carie to an escape, watch the video to see if she did it! We have to warn you, this is one very clever girl!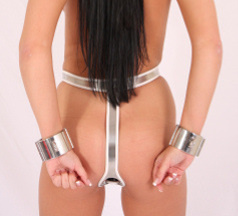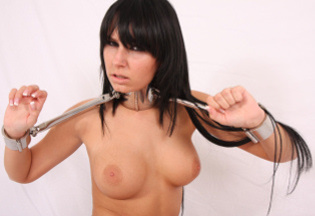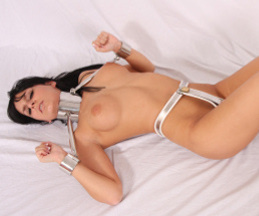 Carie is here for her second time, even though she is a little afraid the easy stuff is over. Last time she could roll around, be silly and have fun. This time she will be stuck in our heavy cage with no room for movement. We make her head poke out of the cage's small built-in locking collar. Young Carie starts to complain right away. It is too awkward to be sitting like this. So we just ballgag her. And lock her wrists to the upper corners of the cage. Carie moans and mumbles… she is very uncomfortable. A perfect moment to lean back and start recording some video. Come on Carie, the keys are right in front of you!! Hehehe…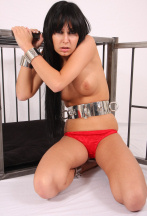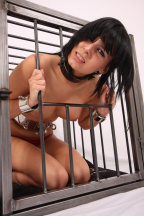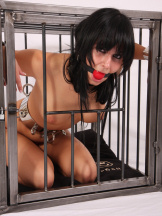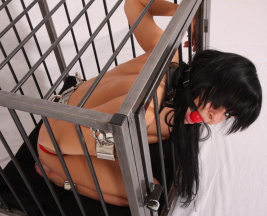 Please welcome raven haired Carie to MetalBondage.com! As with most new models, we take it easy on her. Just getting her used to wearing heavy metal, so she will know what to expect next time… or so she thinks… Carie is collared in our custom made heavy collar, but we have some brand new toys for her too: a pair of tight cuffs with a fixed heavy chain and a nice long spreader bar for her ankles. Carie feels right at home here at MetalBondage.com, although she does not believe her bondage is inescapable. Oh well… let her try… she will calm down eventually!