All updates featuring
Dani Divine
The spectacular Dani Divine is back! Wearing one of her many amazing outfits (and towering heels), she seems ready for a new challenge. We add a tight collar and heavy wrists cuffs, because we think it makes her outfit look even better. Dani liked it and she posed like it was a fashion shoot. Until we added the custom made Upper Body Harness to her collar with a huge padlock… now Dani was getting a bit worried, especially when we crossed her wrists behind her back and chained them to the steel harness. She was helpless now, even with the key right in front of her there was no way to escape this metal contraption. A stunning girl helpless in metal, don't miss it!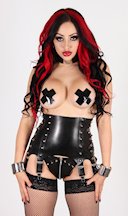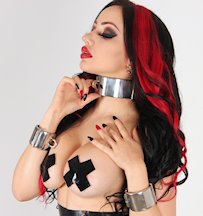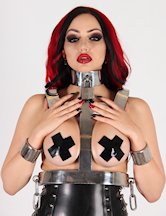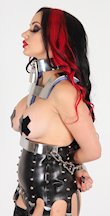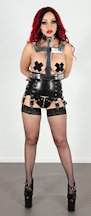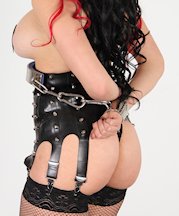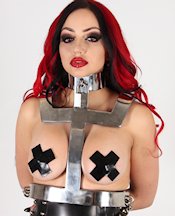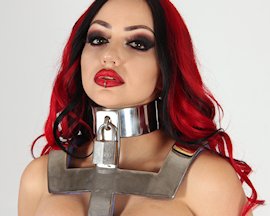 Dani Divine is back! She really wanted to pose in her new latex dress, but we thought that wasn't nearly kinky enough. There needs to be metal! And helpless girls (especially since Dani usually is very dominant)! A nice small size RigidStock TL was a great new experience for this latex goddess. Completely helpless with her hands up, Dani was confused at first, then confident she could get out, and then submissive when she realized she would need a little help with those keys. If you are a Dani Divine fan, or a RigidStocks fan, you really don't want to miss this update. Latex and metal – such a great combination!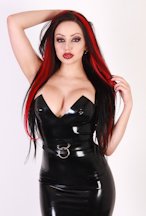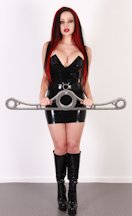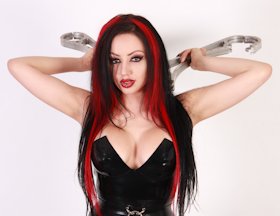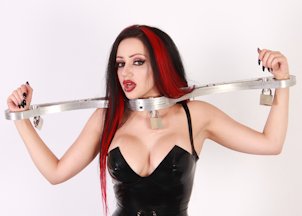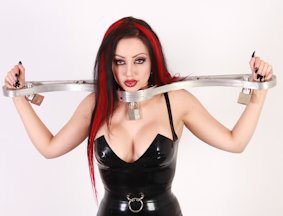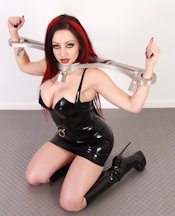 Yes, you are reading that right: we have Dani Divine! The goddess of latex and famous fire and burlesque performer, here on MetalBondage.com, locked in some seriously heavy metal restraints. Dani Divine as you have never seen her: as a slave girl, chained to the wall by a heavy collar! Her waspy corset waist locked in a heavy chain, her wrists locked to her sides. There are no keys in her reach, so all she can do is wait to be released. In the meantime, we can get a good look at this ultimate slave girl! I bet many of you would love to own a Dani Divine sub! She is so gorgeous!