All updates featuring
Upper Body Harness
Medusa is back and she is still very crazy! In a good way! She loves all of my gear, and she wanted to have a go on the One Bar Prison to see if she could escape. In her tallest heels, Medusa was soon impaled on the steel 3-ball dildo. Of course, there was no way she could lift herself off this device, so she was stuck. Medusa loved it! It really turned her on, as you can see. I locked her in the Steel Upper Body Harness, so I could restrain her hands behind her back. It was an awesome look. Such a sexy girl stuck on a steel dildo, enjoying herself a lot! Don't miss this!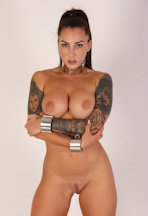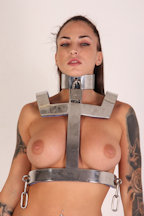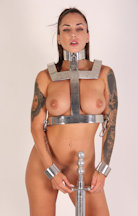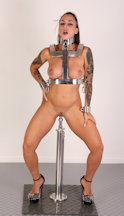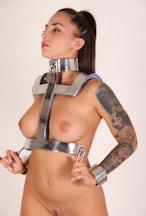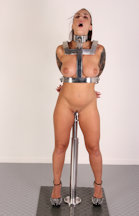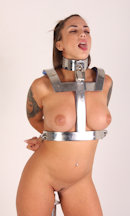 The spectacular Dani Divine is back! Wearing one of her many amazing outfits (and towering heels), she seems ready for a new challenge. We add a tight collar and heavy wrists cuffs, because we think it makes her outfit look even better. Dani liked it and she posed like it was a fashion shoot. Until we added the custom made Upper Body Harness to her collar with a huge padlock… now Dani was getting a bit worried, especially when we crossed her wrists behind her back and chained them to the steel harness. She was helpless now, even with the key right in front of her there was no way to escape this metal contraption. A stunning girl helpless in metal, don't miss it!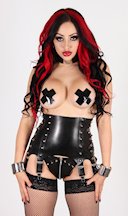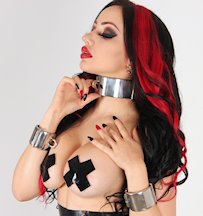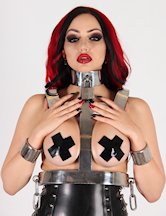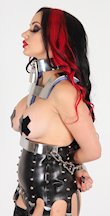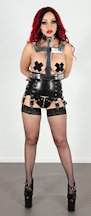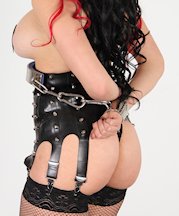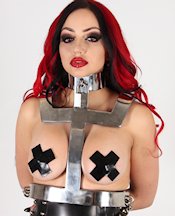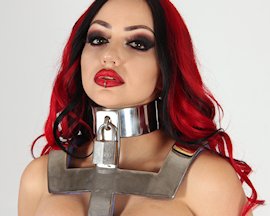 We only tried our custom upper body harness once, so it was about time to test it a little more, with our favorite reluctant test subject Natalia Forrest! The metal brace padlocks onto one of our heavy metal collars, and strangely enough the back of the device is completely open! Unlike last time, we crossed the model's arms behind her back, making it one of the most insanely tight metal bondage devices we have! It is like a reverse metal straitjacket, only a lot less forgiving. Natalia could not move her arms at all, her upper body was completely immobilised. We felt so confident we even tossed her the keys! Natalia, as usual, could not really appreciate this kind of humor and she kept protesting and complaining all through the shoot. Don't you just love her? :)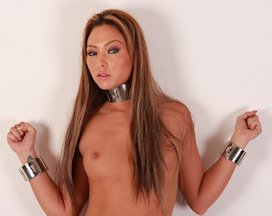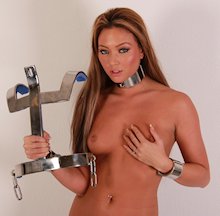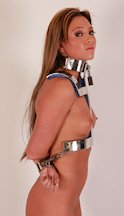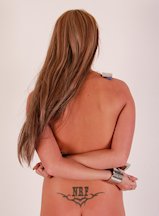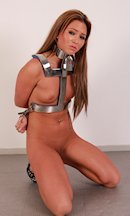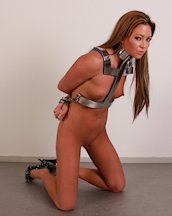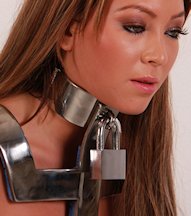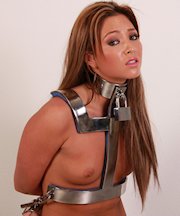 Inspired by some member requests, we built another crazy contraption that is more restrictive than it looks! This heavy steel upper body harness is held in place only by the (equally heavy) tight locking collar. A huge padlock makes sure the harness will not come off. Amazingly, this harness is completely open on the back side, but because of the collar construction there is no way to get it off. Two convenenient attachment points on the harness can be used to cuff a girl's wrists to her sides, or even better, arms crossed, like a straitjacket! Tiffany is the lucky girl to try this one out, and she is definitely not happy about the weight of this thing!!