All updates featuring
Hailey
Our blonde slave girl Hailey just keeps coming back for more. We are sure our members don't mind, she is a very popular girl! By now, Hailey is used to being locked in a chastity belt, so we have to think of something more difficult for her. The RigidStock is a very harsh device, especially when you are in a chastity belt, because it makes you sit on the most uncomfortable part of the belt. Most girls try to roll over on their back but not everyone can do that, it really hurts. To make this worse, Hailey can not turn or lift her head, the extreme muzzle posture collar effectively locking her face to her neck. Poor Hailey, metal bound for your enjoyment!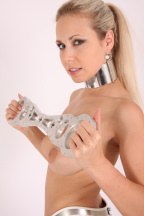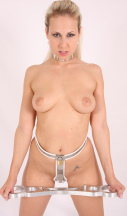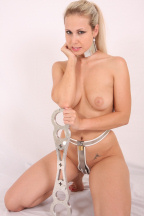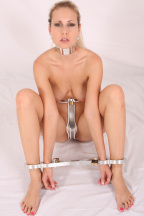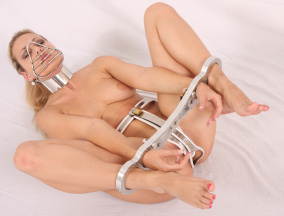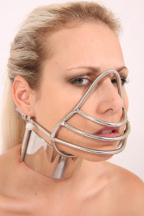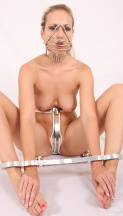 Hailey is definitely our most submissive pet slave. She really enjoys the heavy bondage and especially her chastity belt. Her friend Zoe has never been locked in a chastity belt before. This week, we decided to invite them both back and train them together. We locked huge steel collars on their necks, connected by a heavy chain. It turns out Zoe is enjoying this as much as Hailey is! The girls explore their bondage, their chastity belts, and each other in this steaming hot update. Prodding fingers examine the belts, touch the collars, pull on the locks. Hailey and Zoe softly comfort each other, visibly excited to feel the cold metal on their body. Remember our slogan: hot girls in cold steel!!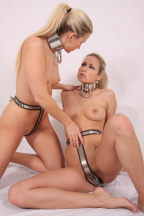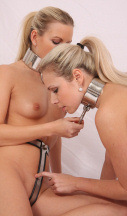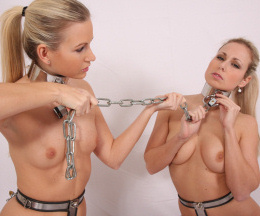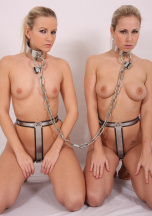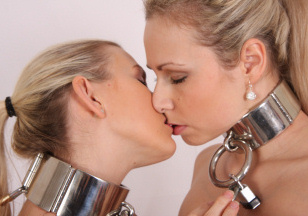 Poor Hailey. Our faithful blonde pet slave always seems to be the first one to test our new stuff. This week Hailey demonstrates our brand new Connect-A-Model™ metal bondage system. It consists of wrist cuffs, ankle cuffs, collars, spreader bars, cross bars, loops, and many other components. You can recognize this system by its red connectors. This system allows us to put restraints and bars together in endless configurations! We made Hailey a nice fiddle and a spreader bar for her legs. We love this new stuff, it's the ultimate adult toy, playing with metal and models… We will explain and show more about this system very soon! Stay tuned!!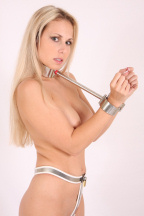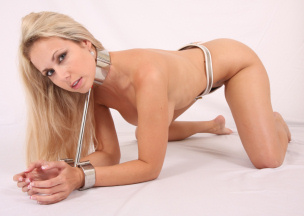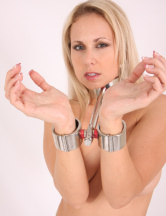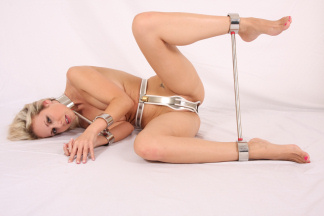 We have fitted our blonde pet slave Hailey with a brand new chastity belt! We are not sure if she likes this one better, but we certainly do! It does not have chains in the back, it is a more solid design. It is also ergonomical at the waist line, and it has nice white lining. Let's see Hailey strip for us and show us her new belt! We think she has come really far in her training, without any commands Hailey takes off all her clothes and connects her neck to our slave pole. She also attaches one wrist herself, and she only needs help with her other wrist (of course). Good Hailey! Now stay…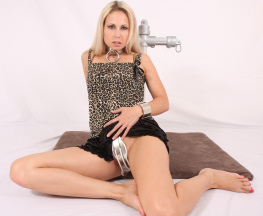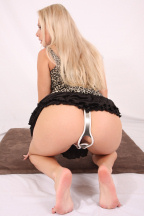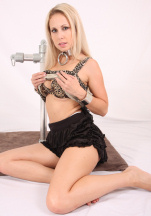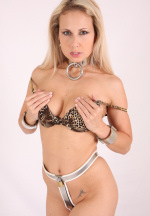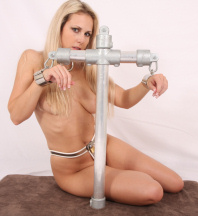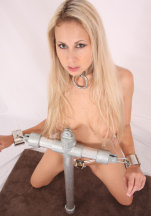 We have built another replica of a medieval restraining device!! This time it is the 'iron crown', which keeps the prisoner's hands in a very awkward position, rigidly attached to her collar. You can also imagine this leaves our slave girl Hailey quite vulnerable and unprotected in certain areas. There is really nothing she can do to stop you from touching her. Fortunately for her she is wearing a chastity belt :-) The new iron crown is locked by three padlocks, so we thought we would throw Hailey the keys, see if she can escape this device. It turned out to be very hard work!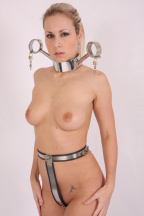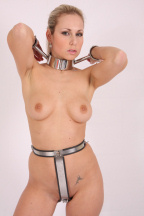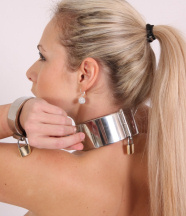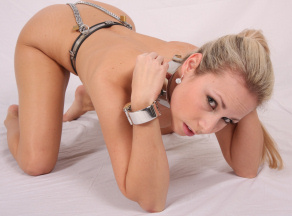 When we asked Hailey to do another session, she asked us if she could bring a friend. We didn't expect someone like Zoe showing up! She is a model too, but she only wanted to watch Hailey's shoot. After some convincing, and seeing Hailey in a RigidFiddle, she agreed to try it too! They are really close friends, which makes for some great interaction and cooperation in this update. They were going to need that, because we locked their wrists into each other's fiddle! It's an incredibly restrictive position for two girls! You really have to see the video of how the girls cope with this one!!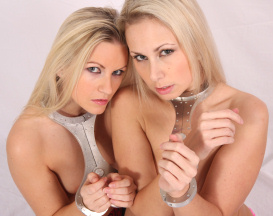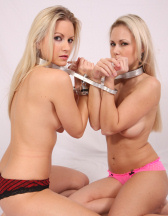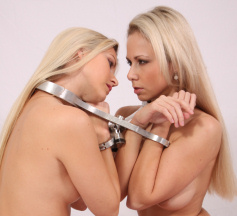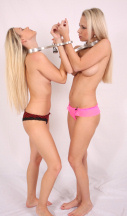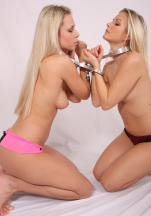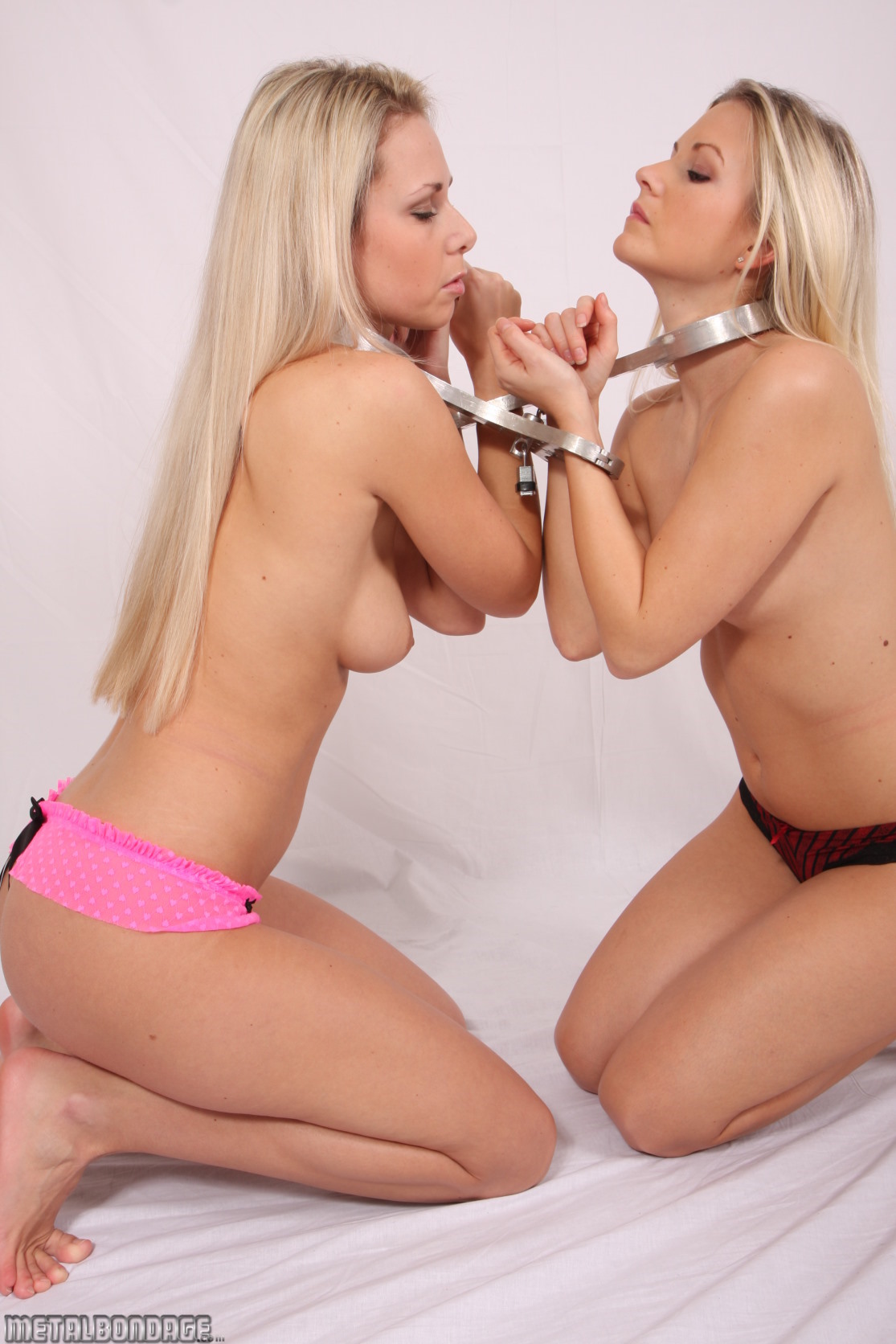 So we guess you liked Hailey last month! Let's see if Hailey likes you too, when we fulfill a popular member request of putting her into the very heavy custom made stocks. This time we put the locks on the backside for a nice and clean look. If you don't believe this bondage item is truly as heavy as we say it is, just watch the video of Hailey moving about. She has to support herself every few seconds, resting the bar on her knees or awkwardly trying to lie down and get up again. A hot girl totally helpless in metal! To anwer that question: yes, we think Hailey liked it ;-)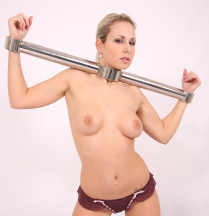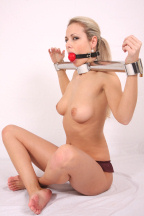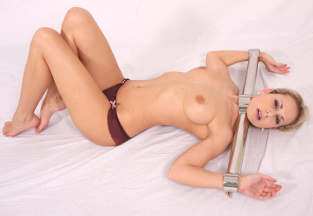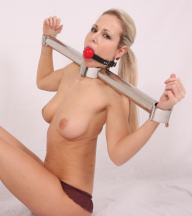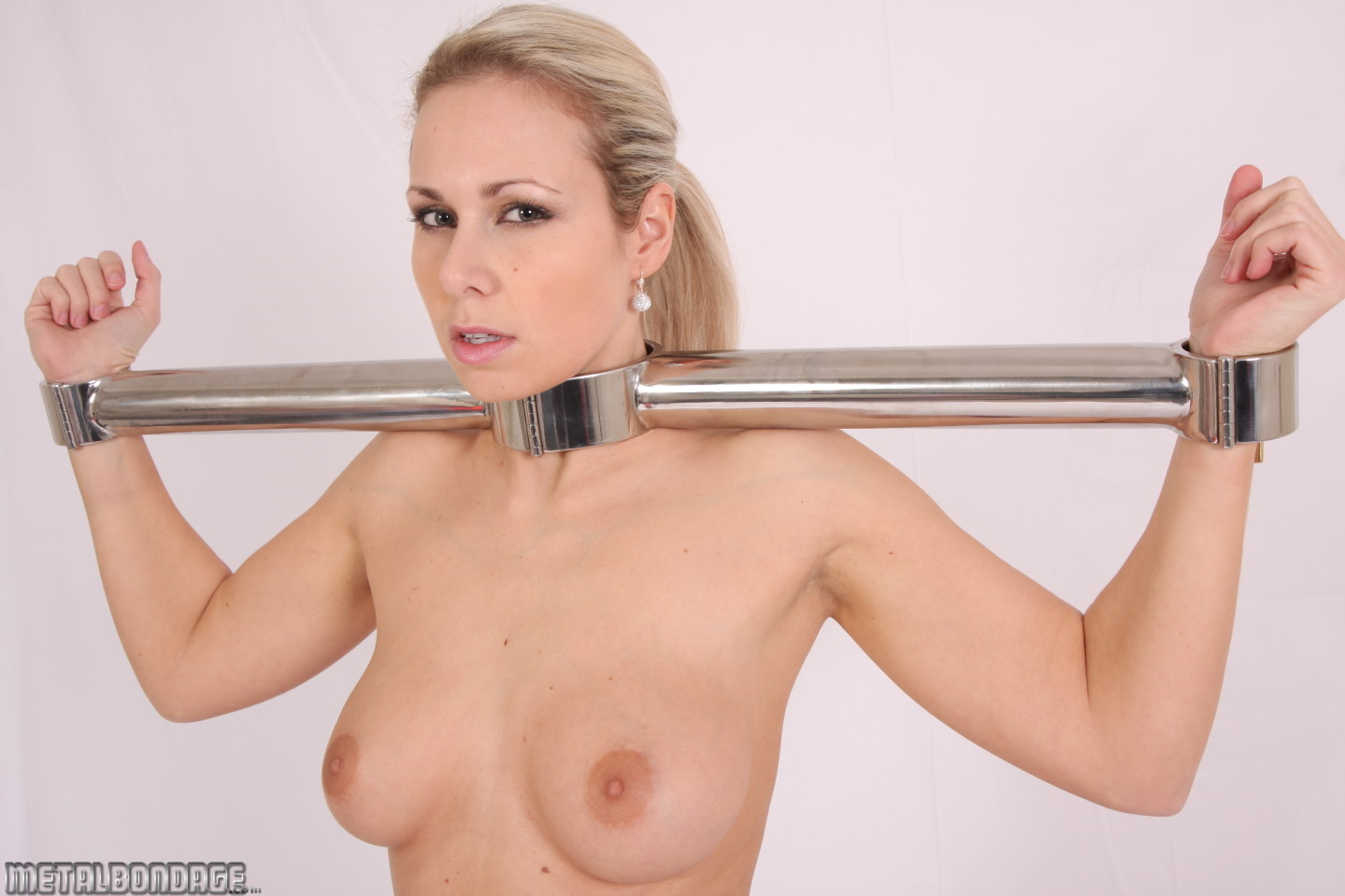 Beautiful new slave girl Hailey is cuffed in our newest set of heavy restraints. The belt is just unbelievable, very heavy, with many attachment points! The cuffs have a new locking system, which can only be opened with a special tool. They close and open very quickly, but without the tool Hailey is powerless. Finally we give her the tool to unlock her cuffs, but the belt and the collar are padlocked on her, so fortunately she can't take those off!