All updates featuring
Custom Muzzle Posture Collar
Britney is a tall exotic dancer, she never stops moving! Her incredible body consists mainly of endless arms and legs, with amazing flexibility. Time to challenge Britney! We lock her into our Custom Muzzle Posture Collar, and a tight metal waist belt. Her hair is up in a bun, and we lock a cuff around it. It's a new experience for us and for Britney, who is suddenly quite limited in her dancing. We add another hair cuff, and lock her arms in the very small steel armbinder. Britney's hair is now chained to the ceiling! She struggles and tries to pull, but she can't quite free herself. Hair cuffing is fun, we are going to develop something special for this soon!!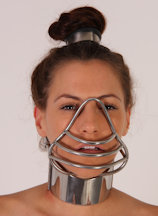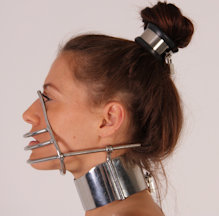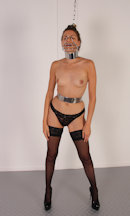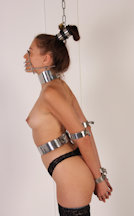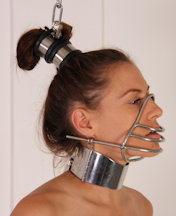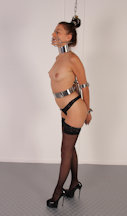 Only two girls have been locked in our Steel Armbinder before! It is very tiny, and you need a girl with slender upper arms and wrists! We found this new model Becky, and she just is amazingly flexible, with endless legs and long elegant arms! She was very eager to try all of our devices, so let's just start with the Custom Muzzle Posture Collar and Steel Armbinder. A chastity belt of course, because she would be a bit naked without one. Will she be able to get anywhere if we throw her the keys? Probably not, but we love to see her try!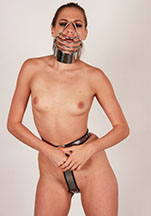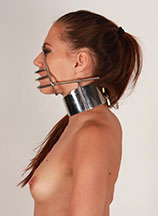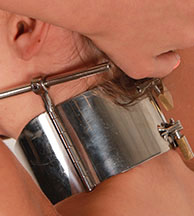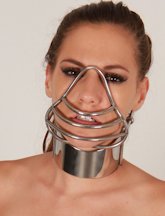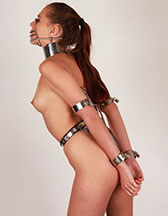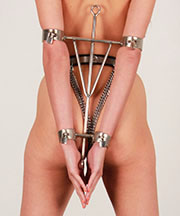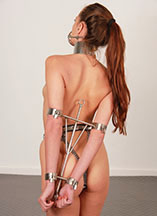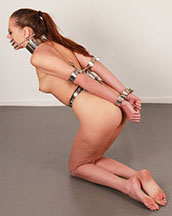 Ariel Anderssen is very tall in real life, she's probably our tallest model! Of course, that also means that all of our metal gear is going to be a tight squeeze for her. Still, she insists on trying everything we have, so let's continue Ariel's exploration through the MetalBondage.com inventory! We locked a very nude Ariel in our custom muzzle gag collar. It is a perfect (but tight) fit on her. It is padlocked in the back with two little locks and the steel muzzle fits her face like it was made for her! We gave her a little distraction by locking her into a RigidSpreader so she can struggle and roll around for us to watch! Beautiful tight metal on this incredibly tough and sweet bondage star!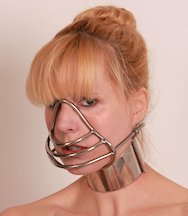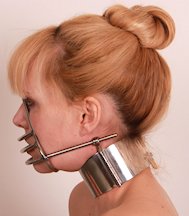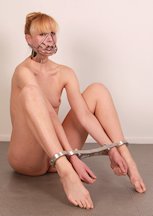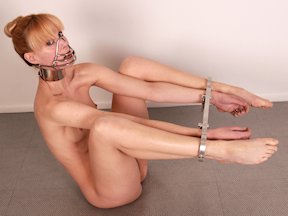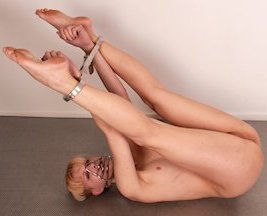 New girl Satin Bloom is smoking hot! Great body and a beautiful face, so we just had to convince her to model for us! Satin is not so sure about all this, however, as you can tell by her expression. It is her first shoot, so she does not have to be belted yet, but we have a good challenge for her: escaping the RigidSpreader by herself. If she can not do it and needs to ask for help, the posture collar with integrated muzzle is not coming off for another hour. Satin thinks she can outsmart us by palming the key after we unlock a padlock for her. But that key does not work on her muzzle collar ;-)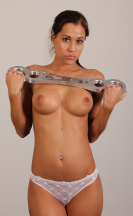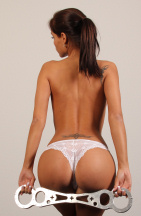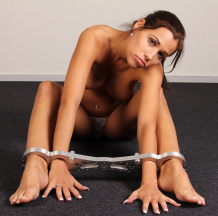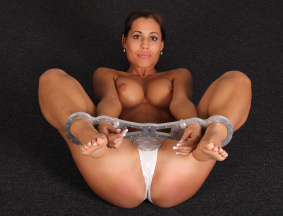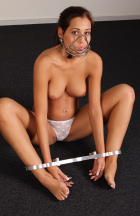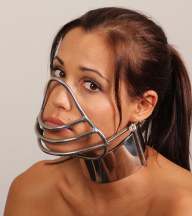 Our blonde slave girl Hailey just keeps coming back for more. We are sure our members don't mind, she is a very popular girl! By now, Hailey is used to being locked in a chastity belt, so we have to think of something more difficult for her. The RigidStock is a very harsh device, especially when you are in a chastity belt, because it makes you sit on the most uncomfortable part of the belt. Most girls try to roll over on their back but not everyone can do that, it really hurts. To make this worse, Hailey can not turn or lift her head, the extreme muzzle posture collar effectively locking her face to her neck. Poor Hailey, metal bound for your enjoyment!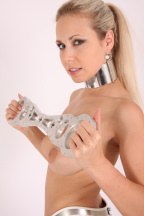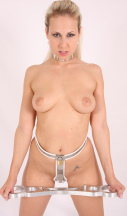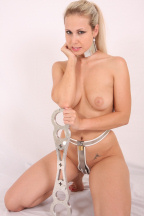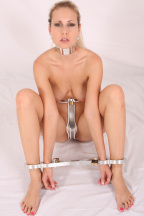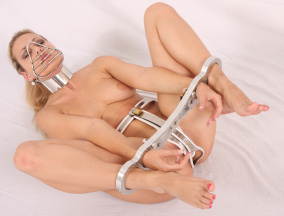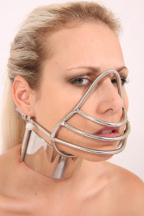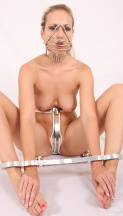 This week's update raises the age old question: how annoying is it to be locked in a (perfectly fitting) chastity belt, while wearing an padlocked metal collar with integrated muzzle, and having your wrists clamped to a piece of heavy pipe? Okay maybe that question is not age old… but Romy knows the answer! She is used to her chastity belt, it's tight but she can handle that. The muzzle is slightly more annoying, since the rigid attachment to her collar prevents her from turning her head. But Romy is frustrated most by that stupid piece of pipe, the wrist clamps swivel and they are not even locked, but still she can't get out!! Romy is so cute when she's angry ;-)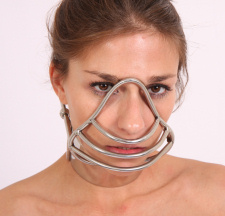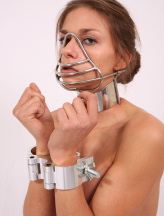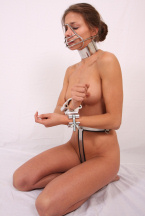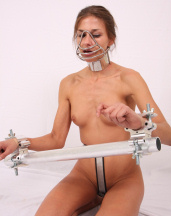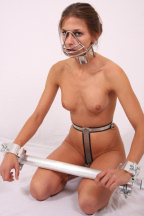 Natalie is here to show you our latest piece of metal bondage gear: a locking metal collar with integrated muzzle. The muzzle is custom made to fit our bondage models and it can be tightened (pushed back) so it always fits the model's face perfectly. The collar is a tight posture collar with very secure locking. The video demonstrates applying this new device, while Natalie is weighed down by a heavy pipe framework in a vulnerable metal bondage position.