All updates featuring
Julia
Who can resist 18-year old little Julia! Locked collar, chastity belt, cute gap between her teeth… so young and so curious! Remember her awesome introduction to Metal Bondage? Curiosity brought her back to try a new challenge, one that restricts her even more!
We locked her in the RigidSpreader, padlocks on the insides, away from her little prying fingers. Still, Julia was incredibly determined to escape. She even said 'don't help me, don't help me!', when she seemed unable to open the padlocks. Even before we gave her the keys she was testing the spreader's rigidness, falling onto her back and onto her side to test all of the positions that she could assume. That would have left her wide open, but fortunately she was wearing a tight chastity belt, so she was safe.
After an epic struggle, Julia actually managed to escape from this predicament! How awesome is that! And when we finally took off the chastity belt, it was dripping wet! Now here's a girl who loves metal bondage!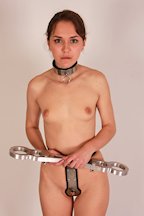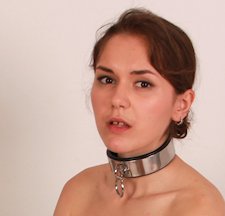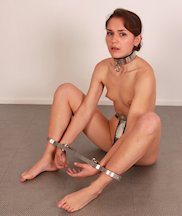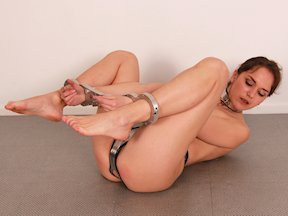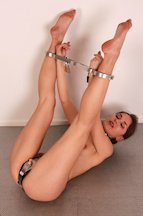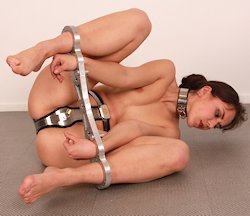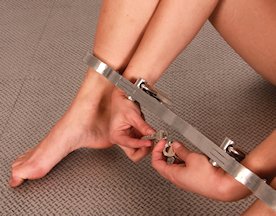 Please welcome the cute young Julia to our website! She is a little shy, hesitantly asking if she could try metal bondage… Of course! We wasted no time locking her into a chasity belt and bra, and wow does she look great in that gear! We cuffed her hands behand her back with heavy manacles and showed her a metal pole with a single neck cuff dangling from it. Julia was curious and afraid. As soon as we locked the neck cuff onto her, she understood what her challenge would be. The cuff was sliding ever so gently down the pole, and if she let it go, she would have to go down with it. Eventually, Julia's neck reached the floor. Surely she was completely helpless now? Or was she? This girl is so talented!!