All updates featuring
Neck Cuff
We gave new girl Clara three neck cuffs. She was a little confused, as she only has 1 neck, but she soon worked out where the other two should go. They were attached to the wall by a chain, so she would be stuck by only her boobs for this afternoon. It can be quite frustrating having big boobs that can be cuffed. Models sometimes feel it is not fair they get some challenges that other models can't do. Clara has always been happy with her big breasts, but not today, she would need a key to be released, where other models would just have walked away. Life is not fair!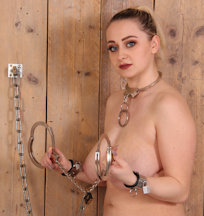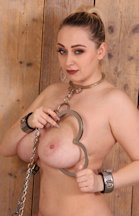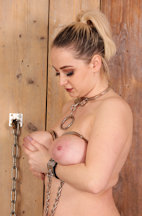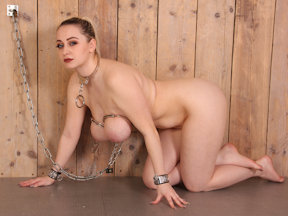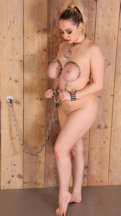 Remember Crystl and Lynn, two gorgeous lovers / dancers / models? They are back! Locked in their chastity belts, these graceful girls will lock on FIVE pairs of neck cuffs today. This is a lot bigger challenge than you might think, since Crystl has had some very bad experiences in the past that are triggered by anything that goes around her neck. We would not advise anyone to try this but Lynn wants to help her terrified girlfriend through this. So they are going to try it anyway. They have each other for comfort, it is beautiful and very intimate to watch!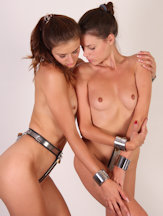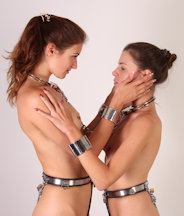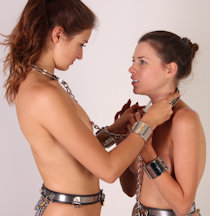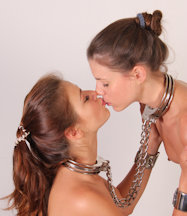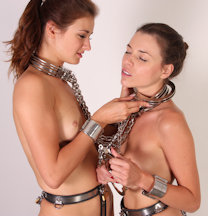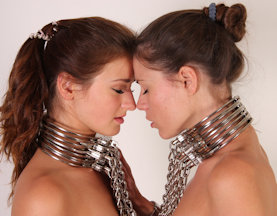 During the most recent Amsterdam Fashion Week, we saw so many international tall and gorgeous models coming to our capital. 'There MUST be one that wants to shoot with us!', we thought. So we went on a search, asking all these stunning girls to come over but most were too busy or not interested. Until we met the fabulous Victoriya from the Ukraine. A classic beauty and experienced runway model, Victoriya was exactly the girl we wanted to book for this submissive shoot. Wouldn't it be great to have this tall fashion model undress and lock herself to the wall with a neck cuff? Folding her arms behind her back, Victoriya made our dream come true: we created an international fashion model pet girl, if only for a few hours…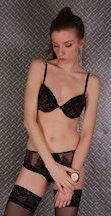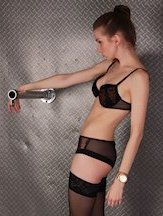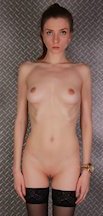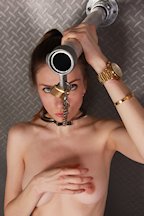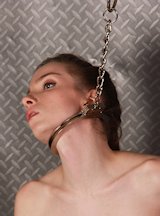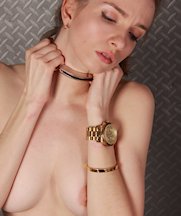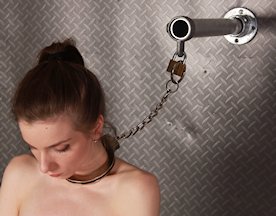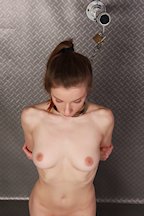 Please welcome the cute young Julia to our website! She is a little shy, hesitantly asking if she could try metal bondage… Of course! We wasted no time locking her into a chasity belt and bra, and wow does she look great in that gear! We cuffed her hands behand her back with heavy manacles and showed her a metal pole with a single neck cuff dangling from it. Julia was curious and afraid. As soon as we locked the neck cuff onto her, she understood what her challenge would be. The cuff was sliding ever so gently down the pole, and if she let it go, she would have to go down with it. Eventually, Julia's neck reached the floor. Surely she was completely helpless now? Or was she? This girl is so talented!!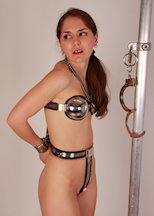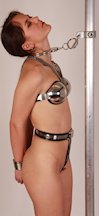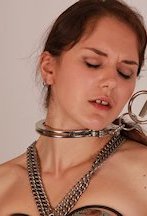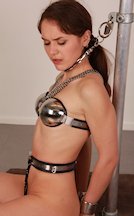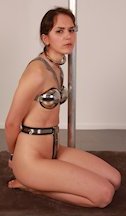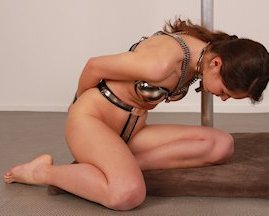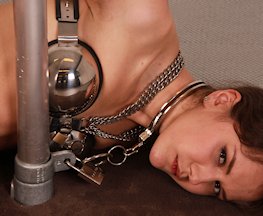 Tiffany and Vera are close friends, and both are very new to bondage. So let's do a fun set that won't scare these beautiful models! A box of neck cuffs should provide some nice entertainment. Just watch Tiffany (blonde) and Vera (brunette) gently neck cuffing each other, lifting their hair to expose their necks, stacking those neck cuffs higher and higher! At five each, the lead rings are locked together, creating some of the best MB imagery yet! And the good news is: next time they want to try something harder! We can't wait! Send in your member requests!