All updates featuring
Lady Lyne
Yes, this is the original Pichard Cage from House of Gord! I am so honored to be able to shoot with this device, think of the famous models who have been in this cage! Lady Lyne was a bit too curious about it for her own good, so she got locked into the cage wearing a heavy metal collar (which made it harder) and thick metal wrist cuffs. The position is incredibly hard. The arms over the bar require constant balancing in a very cramped space, but that's really difficult to do with a big dildo holding you in place. Lady Lyne was exhausted after this shoot!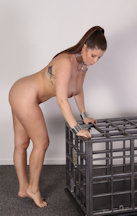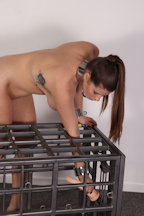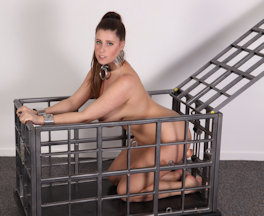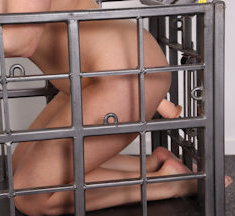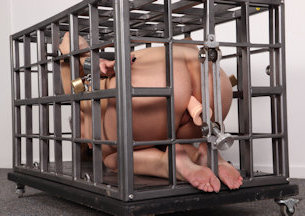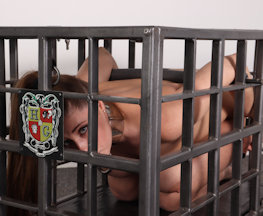 Lady Lyne! She was so curious about the One Bar Prison when she heard it is impossible to escape. For those who don't know how it works: a girl gets impaled with a metal dildo on an adjustable pole until her legs are fully straight. She is wearing high heels (important), and because of the high heels she can not lift herself up further, she is already on her toes. The pole is locked in place with a hex screw. I even left the key on the floor next to Lady Lyne, and she REALLY tried to escape. She tried lifting her butt, stand on one leg, bending over to get the key, nothing worked. She was impaled and stuck! Without my help she would still be there today.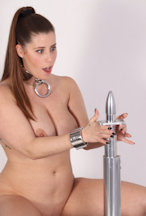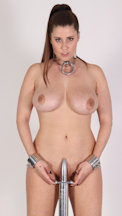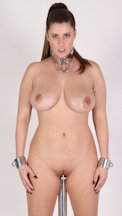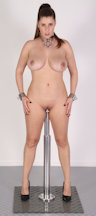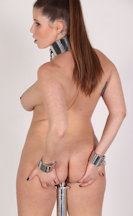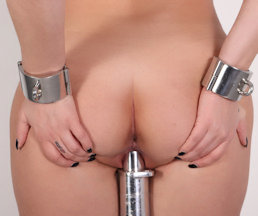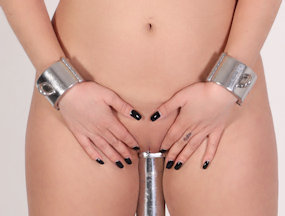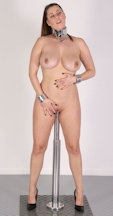 Please welcome Lady Lyne to MetalBondage.com! Her beautiful body just demands metal devices! We might have the perfect contraption for her first time here: the Steel Hobble Dress. It is just her size! Lyne's large boobs stick out through the openings and her butt is exposed. This is a very heavy and very restrictive device. You can't sit down, and with your hands locked to the sides, you can't even reach the key that is on the floor, as Lyne soon finds out. Perfect metal bondage struggling!