All updates featuring
Steel Hobble Dress
Latex Rapture wanted to try the Steel Hobble Dress! In fact, she want to try all of my gear, so we will be busy for a long time. The dress is perfect on her, with her large boob sticking out. It is very restrictive, you can only stand in this dress (it is impossible to kneel or lie down), and walking can only be done in small steps. With a heavy collar and cuffs, it is the perfect party outfit! I can even lock her wrists to the sides of the dress to make her completely vulnerable and helpless. She loved it!
Did you know I am organizing a Doll Day with Latex Rapture in my studio on July 22nd? It's a unique opportunity for a peek behind the scenes of MetalBondage.com. Check out https://fetlife.com/events/1331933 for more information!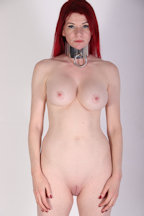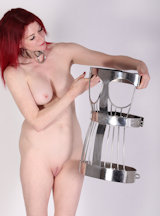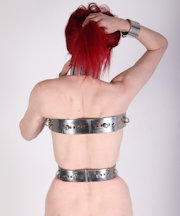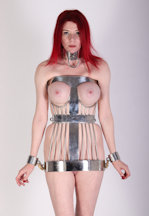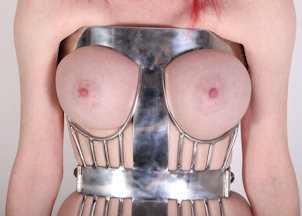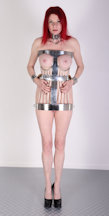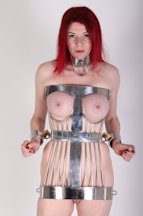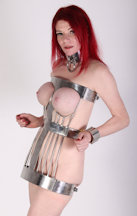 Please welcome Lady Lyne to MetalBondage.com! Her beautiful body just demands metal devices! We might have the perfect contraption for her first time here: the Steel Hobble Dress. It is just her size! Lyne's large boobs stick out through the openings and her butt is exposed. This is a very heavy and very restrictive device. You can't sit down, and with your hands locked to the sides, you can't even reach the key that is on the floor, as Lyne soon finds out. Perfect metal bondage struggling!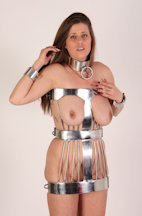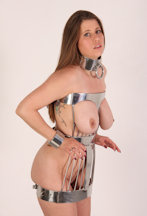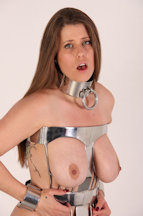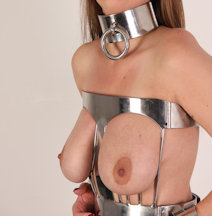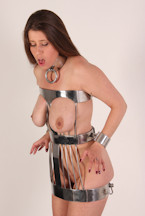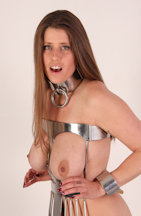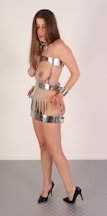 We have had this metal Head Ball in the studio for a while but we never used it. Bad Dolly said she wanted to try it, she was probably the first girl who wasn't scared by the idea of having a locked metal ball on her head. It is a very claustrophobic experience, and you become really aware of yourself, your breathing, the darkness… Bad Dolly was also locked in the Steel Hobble Dress with her wrists cuffed to the sides, and this dress makes it impossible to sit down or even kneel. So in the end, she was reduced to almost a statue, standing around with her boobs sticking out, completely defenseless and unsure about what would happen next. Bad Dolly is such a brave girl!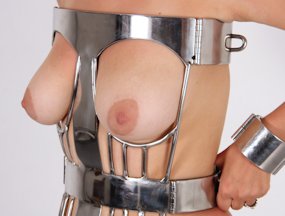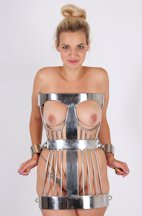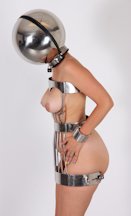 Tiny big boobed Cory Spice is back! New black hairstyle, but same submissive little bombshell! Of course she is locked in a chastity belt… and a very heavy tight steel collar. But the biggest challenges is on the floor next to her: the incredibly heavy steel hobble dress! We just know that this device is the perfect size for Cory! She can barely lift it, but with some help she manages to get locked into the dress. It's perfect! She can not even bend or kneel! And with the chastity belt AND this dress, Cobie is ultra secure!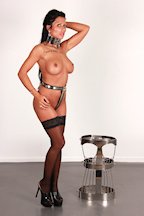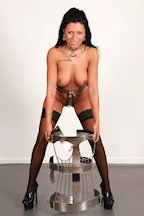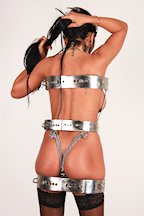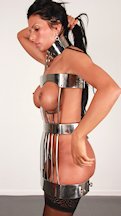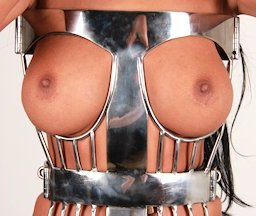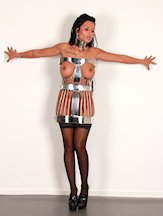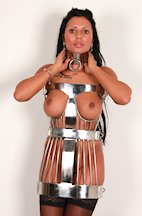 It's been a long time since we dug out our custom built Steel Hobble Dress! It is an insane creation, super heavy, and a torment in itself! All in all, a perfect piece of equipment for our lovely victim Sarah Jain! This US swimsuit model usually expects something easy when shooting with us, but ends up in the heaviest and most impossible bondage situations, just because her struggling and complaining is so great to watch! She was not happy at all when she was locked in this dress for much longer than she anticipated. It is impossible to sit or kneel, so all Sarah Jain could do was pose for us. And complain of course.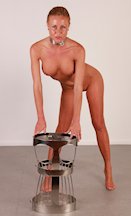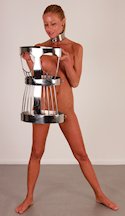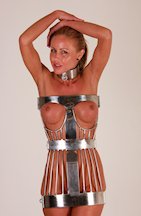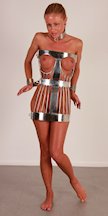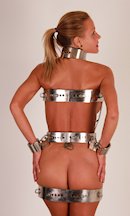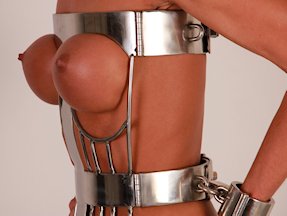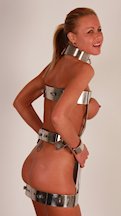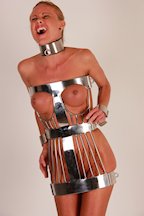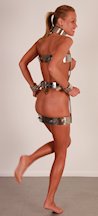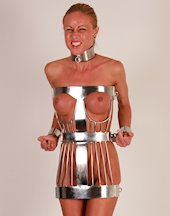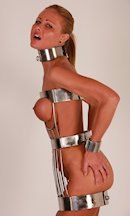 The Red Lady returns! Even though she says metal bondage is beneath her, she keeps coming back for more! Maybe she secretly likes our heavy gear? That's what we tried to find out in today's update! Looking at Roswell Ivory's curves, we realised she might be a perfect fit for our Steel Hobble Dress. The dress is super heavy, and once it is bolted on, it is primarily held up by the waist belt, the smallest part. It looked incredible on Roswell, her boobs are just the right size for the dress. Of course, she complained about having to hold up the dress to relieve pressure on the top of her boobs, so we helped her by padlocking her wrists to her waist, so she could support the weight whenever she liked. There are some incredible pictures and a video for you to study the fit of the dress on Roswell's body! Don't miss this one!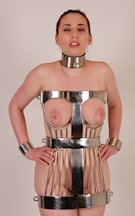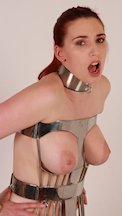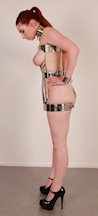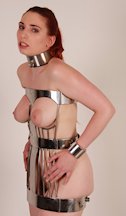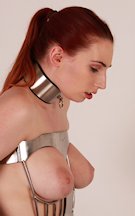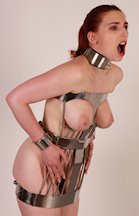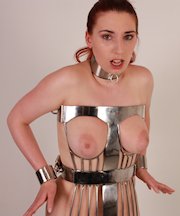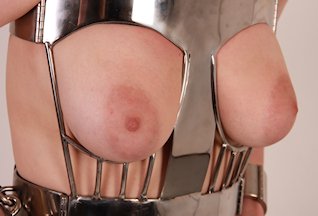 Satin Bloom! Big perfect boobs with nipples that have never been clamped. No wonder you requested this training for this beautiful MetalBondage slave girl. Everyone wants to see Satin nipple clamped… everyone but one person: Satin Bloom herself. She is not too happy about this, although she was curious. But after feeling the viciousness of these clover clamps (on her finger) she wanted to back out of this shoot. We told her she would not feel these nasty clamps as much if they are left on for a longer period of time. But it seems we forgot to mention that taking them off hurts even more ;-)
Oh, and our custom built heavy steel hobble dress looks so good bolted onto Satin Bloom!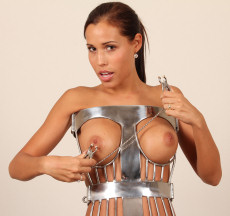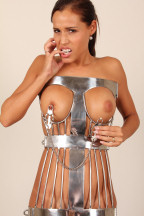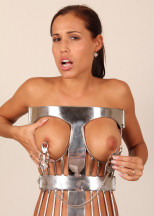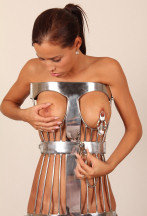 Today, we are very proud to present two new things to play with! The first one is our new pet slave Adrienne, she is a fitness and boxing model, strong and very fit! Although she can kick some serious ass, she much rather prefers to be submissive in her private life. She loves bondage and especially metal gear! So we show her our new heavy steel hobble dress, and Adrienne was blown away by it, she just HAD to try it! In this shoot, we show you all details of this new devious device, carefully locking it onto Adrienne's body. In this dress, a slave girl can not sit down or even kneel. Walking is hard. There are six attachment points to attach wrist cuffs in interesting positions, and it just looks stunning!! You won't see this anywhere else!