All updates featuring
Laetitia
Mischievous Laetitia has been on our website for over 3 years, she is a great pet to test some metal contraptions with! This time she asked us: 'can I bring my friend?', showing us a picture of a hot blonde named Candy. Why, of course! But since this isn't Laetitia's first time, she knew she had to be belted and that meant Candy would be belted on her first appearance! That's quite a punishment for these girls who love to play with each other! And to make things worse, we separate them by a neck spreader bar, cuffing their hands behind their backs. This duo is way too intimate, and they will have to be trained a lot more!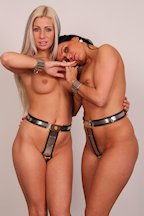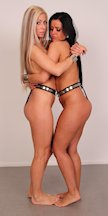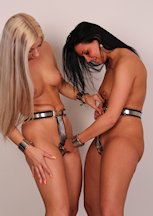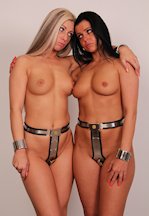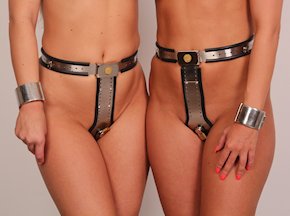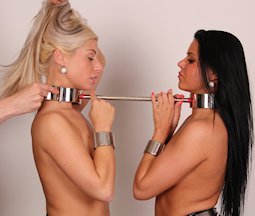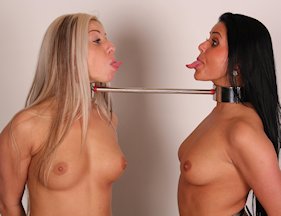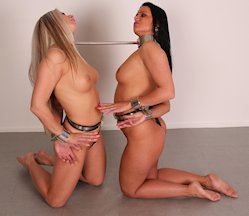 Laetitia, our young pet slave who (up till now) thought every shoot was very funny. Maybe because we did not put her into something really heavy yet? We constructed a huge anchor out of heavy steel pipes to test Laetitia's strength and obedience. Fully cuffed and collared (and belted of course, it is her third shoot), Laetitia tries to lift the anchor. She can barely lift it off the floor. So far, so good. We attach her five steel restraints to the anchor, but the anchor is so heavy that it is pushing her over backwards. We decide to give her some more movement by adding a little chain to the collar. Now it is perfect! Have fun, little Laetitia!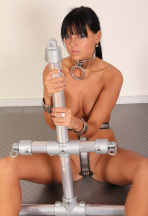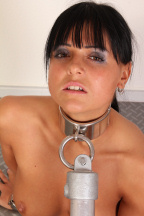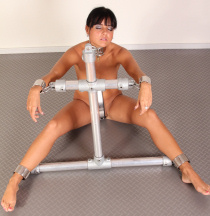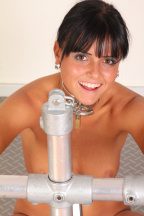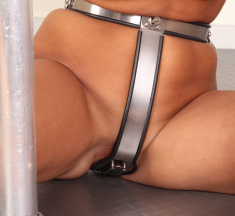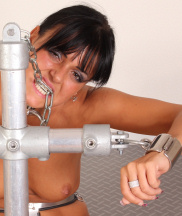 We have wondered for a long time: 'What if we could build our own chastity belt, MetalBondage style, what would it look like?'. Well, today you can finally see the answer to this question! It is the most fearsome, sturdy, protective, and heavy chastity belt ever. Young pet slave Laetitia is the first of our girls to try it out. Surprisingly enough, she thinks it is great fun, calling it a 'big metal diaper'. She is dancing around, smiling, shaking her ass, occassionally calling out silly obvious things like 'but how can I have sex in this thing?!'. Check out the long behind-the-scenes video of this very cheerful photo shoot! Laetitia is so much fun!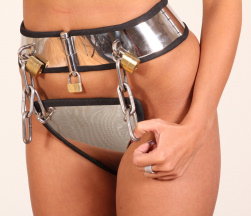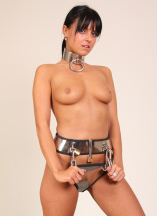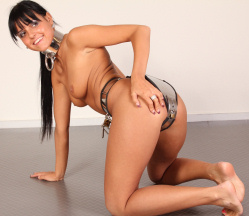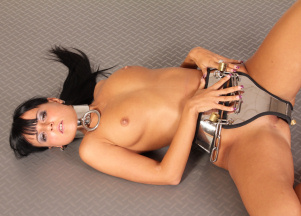 Aaah, a new girl! Let's be gentle again, no extreme stuff, so she will be back ;-) Young Laetitia thinks the RigidFiddle 'oo' is very funny. And we can't help it, we have to smile seeing her play around with this bondage device. Laetitia is cute and confident! We waste no time locking her neck and wrists in, on video as requested by many of you. After some posing and waiting, however, Laetitia's smile slowly fades away. You can see she has had enough. We tell her that she has to unlock it herself or she will not get out. Hmm, from funny to angry in just one hour! We hope Laetitia still likes us, because we would love to take things a little further with her!