All updates featuring
Chastity Belt – Custom SteelBound
This famous cute babe is always horny. If you don't believe that, just google her! She is literally touching herself all the time. But not today! Caprice is locked in a super heavy and tight custom made chastity belt. She can't even get a finger between the belt and her skin. Still, we think this is not secure enough for her, so we locked her hands in steel mitts. Very frustrated, Caprice still tries to touch herself, but all she can do is bang her mitts against her belt. There will be absolutely no sensation for her, she can't even feel anything. This might seem a little extreme, but trust us, it is the only way to stop Caprice from being a naughty girl all the time.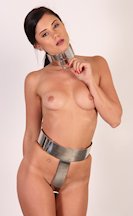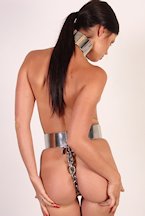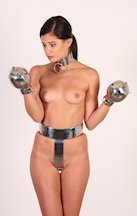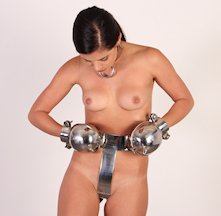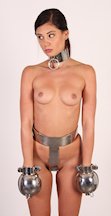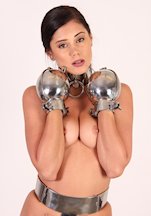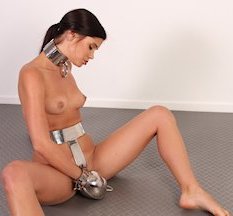 Tiffany has been with us for almost 7 years! She has willingly tested the craziest metal bondage devices and she has been in chastity belts for long periods of time. We love her down to earth personality, she knows she will get tested when she comes over, and she doesn't mind! Today we put her in two of our most extreme creations: the super heavy chastity belt (with chain back) and the Ballet Stocks! The total weight of the items would be hard for Tiffany to lift, but once she is locked into them the weight becomes a little bit easier to bear. But don't be mistaken: the Ballet Stocks are hard! They can wear a girl out very quickly! Let's see how Tiffany gets on with our unique contraption today!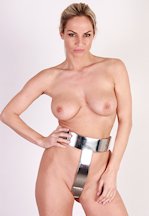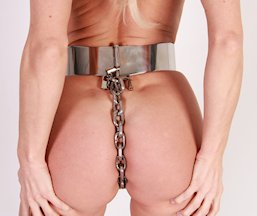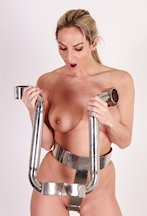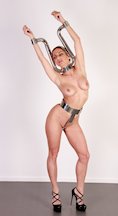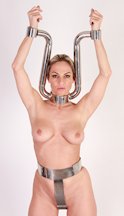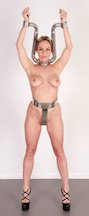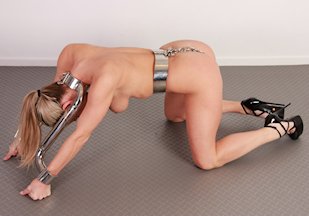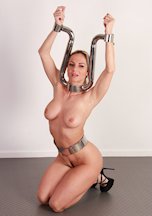 Heavy breathing in heavy metal gear. Poor Birdy Dee has lots and lots of unforgiving metal locked onto her. It is a predicament in itself, as time goes by she is struggling more and more against the weight of her restraints. The heavy chastity belt is cinching her waist super tight, and her wrists cuffs are locked to the sides of the waist belt. She can not lie down, because the Sleepless Collar prevents her head from touching the floor. She can not stand up, because her ankles are padlocked together. Birdy is getting so out of breath, we finally decide to give her the keys to the wrist padlocks. Even more evil, because after a long struggle to unlock herself, she still can not get any rest with the belt and collar still locked on! Birdy was totally spent after this ordeal, she is such a tough girl!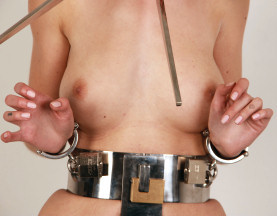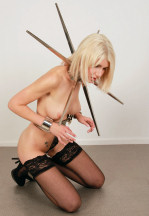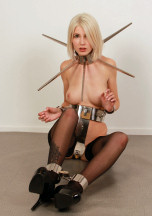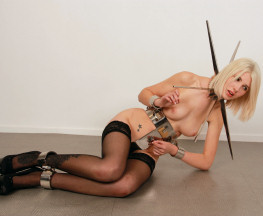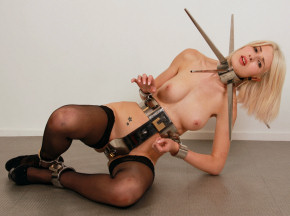 Today, we proudly introduce our new heavy chastity belt! This custom built unique piece of metal bondage gear has many features, like: tight fitting super broad waist band, 5 attachment points (3 in the back, and 2 in the front, anal opening, lockable hinged vaginal slot opening, and a high security block padlock. Bolt cutters are useless here. Lose the key and you are in it for life! Who better to test new things on than our very own reluctant bondage test model: the gorgeous Natalia Forrest from England! Natalia doesn't like heavy things, and she had enough of chastity belts, so she is perfect! We tell her to lock herself into the tight belt, and she does, although not without complaining. To tease her a little more, we give her the key to the little secondary shield padlock, which opens the vaginal slot that isn't even big enough to put a finger through! Let's keep her in this for a while!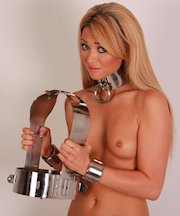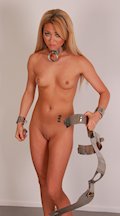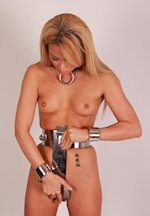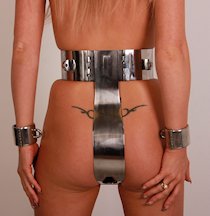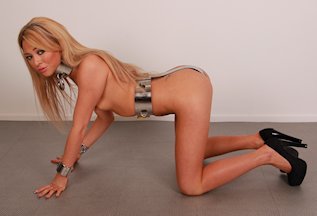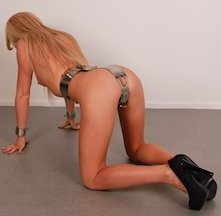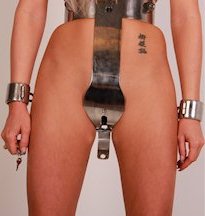 We came up with this nice variation just to make life hard on Jenni C. Don't get us wrong, she is lovely, but it is just so much fun to see her get frustrated with some heavy steel predicament! This pipe cross is seriously heavy, and it is hinged at the base, so it doesn't stay up by itself. We attach our gorgeous blonde to this contraption by her heavy neck collar and wrists, and watch her struggle to keep the weight up, off her neck. Jenni is also tightly locked in one of our custom made heavy steel chastity belts, but she doesn't really care about that at this point! She is losing this struggle and soon she will be pleading to be released from this heavy tilting cross!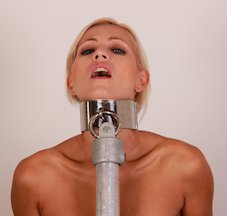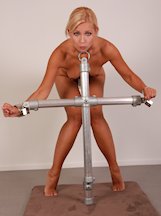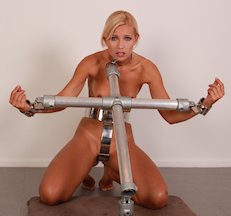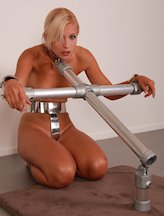 We love Jenni C! She keeps coming back for more bondage, even though she knows it is always going to be a very hard afternoon for her. The blonde hair, blue eyes, perfect ass girl is curiously attracted to being restrained, you can find her on bondage websites from all over the world now! But no website will put her into the heaviest custom steel gear like we do. Even the chains are seriously heavy. Jenni C looks wonderful in our chastity belt, her wrists chained to her collar. All the gear weighs down on her, with the collar, cuffs, and chains combined weighing well over 4 kilos, so it is just a matter of time before the fun turns into an endurance challenge!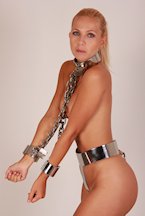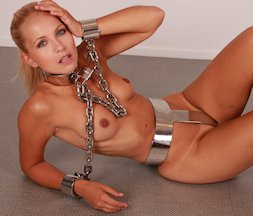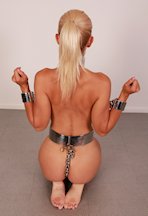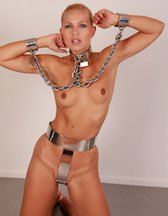 Natalia Forrest needs so much training… she is a spoiled English girl, complaining about even the easiest bondage. Granted, this time we made things a little hard for her. She is locked into the very heavy solid chastity belt, a big cold chain running down her ass. It is very tight on her. The giraffe collar might be a bit too tall for her, but we lock it on anyway. Natalia complains about not being able to breathe, she wants out, and she simply does not stop screaming. We have a very simply solution for that. It is called a ring gag. It worked, and it is a great way to get a good look at Natalia's heavy gold double tongue piercing ;-)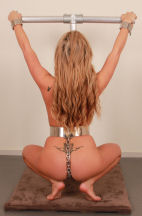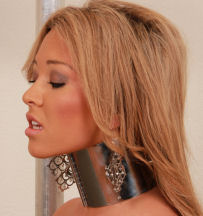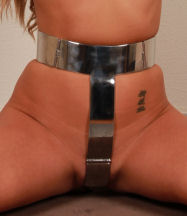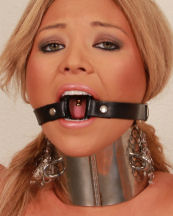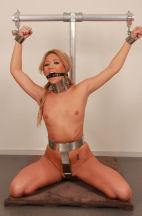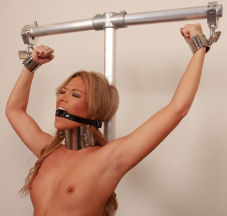 And now… cute little AnnaBelle Lee will show you how it's done! Haha, this tiny girl really loves the feel of heavy metal, as we found out a few months ago. This time she is enjoying herself with a piece of equipment that is super heavy, especially for AnnaBelle. She squeals for joy as she is showing us how to lock on this huge diaper shaped piece of steel onto her waist and crotch. Pulling the chains tight, she locks all padlocks into place and then goes on to pose for us in a playful manner. She tries touching herself, but there is simply no way!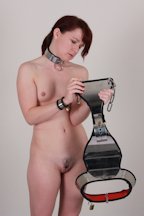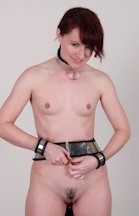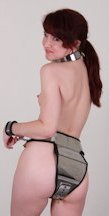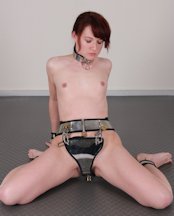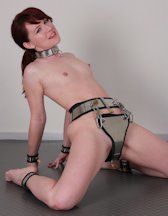 We are very glad to have found Satin Bloom. She could be the world's most perfect pet. Not only does she have a killer body and gaggable face, she is also very submissive, flexible, and not afraid to try heavy metal bondage. Our latest design is a serious chastity belt. Seriously heavy that is. Wide metal waistband (dropped for a perfect fit), heavy steel crotch protector, and a thick metal ass chain. Three padlock clicks and you are in big trouble. The only thing left was to find a model that would be a perfect fit for this new belt. Well… we found her!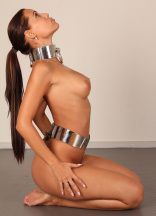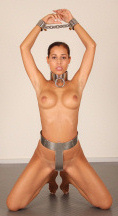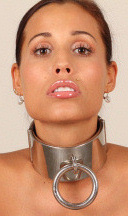 Yasmine returns! A Greek beauty that is simply every Master's dream. Yasmine needs no collar, she does not even need restraints, she is a pure submissive in her mind. Tell her to kneel, and she will kneel. Let her touch metal bondage gear and she goes into her own world. So much elegance and obedience, it is almost too much. Watch Yasmine get excited after we locked her into our heavy custom metal chastity belt, also dubbed 'metal diaper' by our members. Medieval perfection!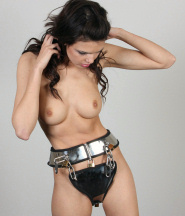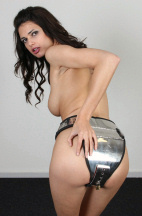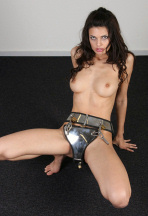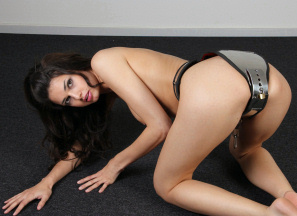 We have wondered for a long time: 'What if we could build our own chastity belt, MetalBondage style, what would it look like?'. Well, today you can finally see the answer to this question! It is the most fearsome, sturdy, protective, and heavy chastity belt ever. Young pet slave Laetitia is the first of our girls to try it out. Surprisingly enough, she thinks it is great fun, calling it a 'big metal diaper'. She is dancing around, smiling, shaking her ass, occassionally calling out silly obvious things like 'but how can I have sex in this thing?!'. Check out the long behind-the-scenes video of this very cheerful photo shoot! Laetitia is so much fun!