All updates featuring
Lauren Crist
The gorgeous Lauren Crist came back! She was always here with a friend, first with Victoria Sweet, and then with Celeste. Now she was brave enough to come by herself. This tall stunning babe has a perfect body, so we got out a device we haven't used in a long time: the Wheel of Steel! It will prevent her from standing up straight, so she will have to stick her butt out at all times. Very sexy and also very frustrating. Lauren did not really know what to do, but the Wheel was locked on so she could only try to get as comfortable as possible. Not very easy!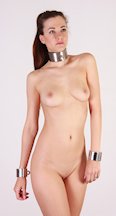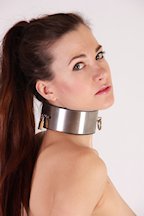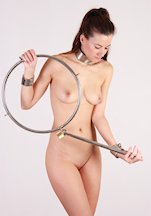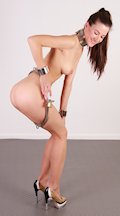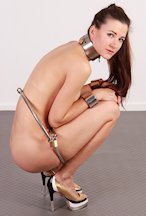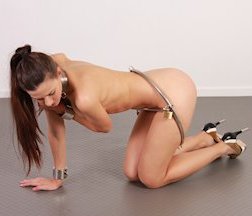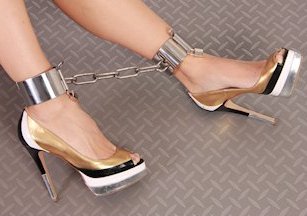 It's been a while since we had two girls! It can be so much fun to make them cooperate to escape their metal predicaments. The gorgeous Lauren Crist brought her friend Celeste, and we had them nude and locked in metal before they knew it. Tight padded collars, heavy waist belts, and heavy steel cuffs. They didn't know what would happen to them, but they figured it out when we locked them in a steel hug, one girl's wrist cuffs to the back of the other's belt. The keys were on the floor, but they couldn't even reach the floor with their fingers, they would have to cooperate and coordinate to escape these restraints! Fun to watch!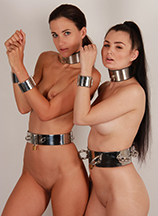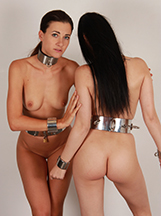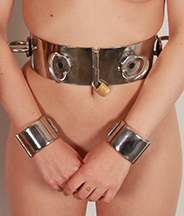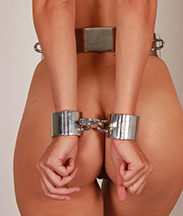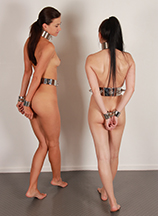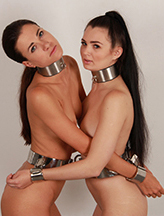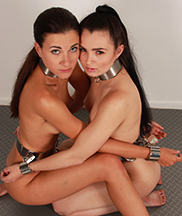 After a long absence, Victoria Sweet is back!! And she still looks hot and innocent as ever! Well, as we know, she is probably the most agressive struggler on this website, she is not very Sweet at all! She asked if she could bring her good friend Lauren Crist for support, and we said 'why not!'. As soon as we got those two girls completely naked, we could see those perfect young bodies had to be locked in some metal! RigidCuffs of course! A RigidFiddle for our new girl Lauren, and for our agressive experienced girl Victoria: the RigidStocks! It was fun to see them move around in those awesome restraints, and to toss them the keys (all different locks and keys of course), to see if they could even figure out how to cooperate to escape!!