All updates featuring
Victoria Sweet
After a long absence, Victoria Sweet is back!! And she still looks hot and innocent as ever! Well, as we know, she is probably the most agressive struggler on this website, she is not very Sweet at all! She asked if she could bring her good friend Lauren Crist for support, and we said 'why not!'. As soon as we got those two girls completely naked, we could see those perfect young bodies had to be locked in some metal! RigidCuffs of course! A RigidFiddle for our new girl Lauren, and for our agressive experienced girl Victoria: the RigidStocks! It was fun to see them move around in those awesome restraints, and to toss them the keys (all different locks and keys of course), to see if they could even figure out how to cooperate to escape!!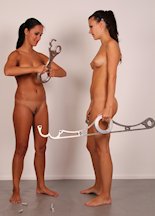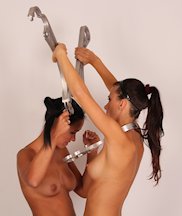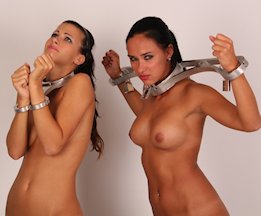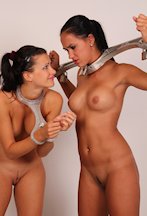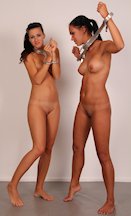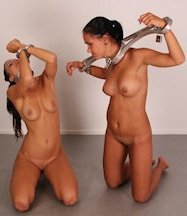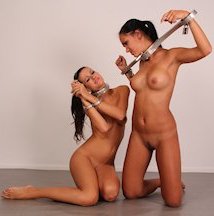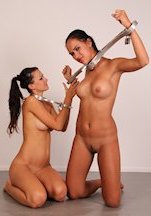 Now here's a sight to behold: Victoria Sweet in a tight heavy metal collar and chastity belt! It is quite hard to work with her, because she is very agressive. We tried to come up with a pipe construction that would keep restrain Victoria in a way that is uncomfortable enough to make calm down a little. We bent her over a horizontal pipe and then locked a pipe from the base right up to her collar. With her wrists cuffed out of the way, the only thing she could do is bend over awkwardly… if her chastity belt wasn't in the way. The collar pipe is heavy, and it is not fixed, so Victoria has to do her best to keep her head up or be pulled forward by her neck! This worked out well… but she still gave us the finger :)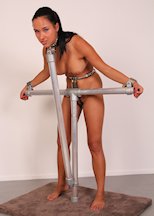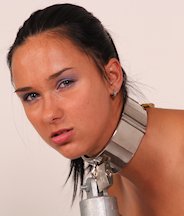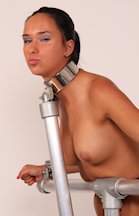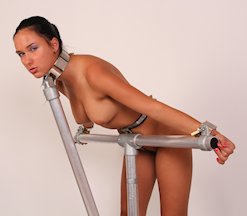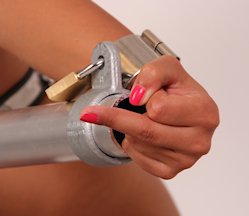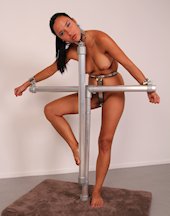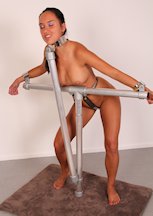 Victoria Sweet came back! We created a new bondage talent! This young girl was scared and even angry in her first shoots, but now she came back because she was still curious about our other bondage gear. From previous experience, we know we have to restrain this girl really well: she is a struggler! Let's see if we can chain her up so well that she can hardly struggle at all! We use our heaviest chains and restraints to lock her nude body to our metal frame: wrists, ankles, waist, and thighs! We put a lot of tension on her waist so she will stay nice and centered! She is not going anywhere!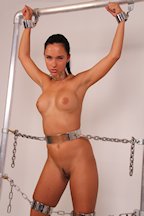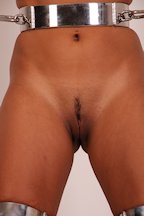 We witnessed it last time: Victoria Sweet is not sweet at all! She gets very angry when she is locked in tight metal restraints. Members loved that! So here she is again, now in a full restraint set, wrists locked to her waist, collared, and her ankles spread. This girl has a perfect body, she is young, energetic, and eager to get out of her bondage. So we give her some means to escape, just to see her reaction!! And next time: no escape and chastity belt. She will not like that at all!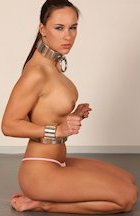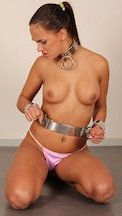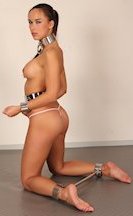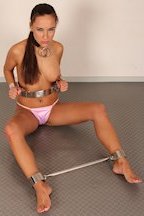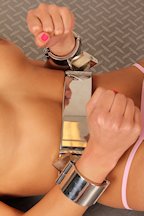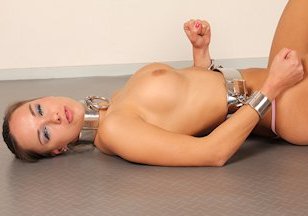 This new girl calls herself Victoria Sweet. And she looks the part, young, innocent, and a tight hot body! But it turns out she is not so sweet at all! She is protesting and debating every little thing, so we decided to punish her by locking her in a chastity belt from her very first shoot. We don't normally do this, but for Victoria, there was no other option. We keep her hands rigidly locked in front of her by using a RigidFiddle model 8, and by keeping her locked like this for at least one hour we try to make clear to her that she needs to calm down. Wow… that didn't work :)