All updates featuring
Penelope
It is still hard to teach our girls to stop trying to get out of a chastity belt. A belt is made for 24/7 wear, but most of our girls don't even like it for a few minutes. Fortunately, we have some great metal gear to stop the girls from tugging at their belts. The Iron Crown is probably the most perfect device for chastity belt training. This replica of an age old design keeps the wrists locked to a collar in a very rigid and vulnarable way. Our tallest girl Penelope is definitely not happy in this position, but we think she should be glad she is wearing a chastity belt! Who knows what may happen to her when the Iron Crown leaves all her sensitive areas fully exposed!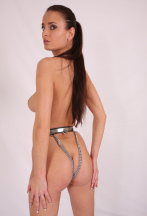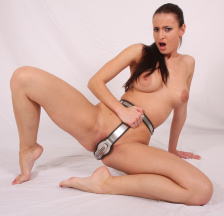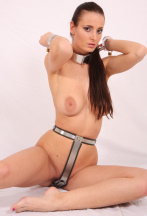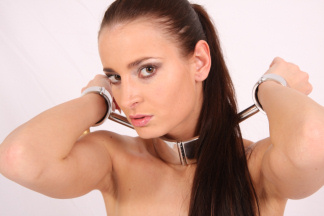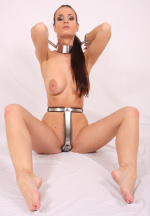 It's the super tall Penelope again! The extreme giraffe collar (on screen collaring in video) is not much of a problem for her elegant neck. So we try our latest custom item: a pair of chained thigh bands, secured to the back of the very tight waist belt. A kind of metal garter belt! We crucify this large boobed slave (she still has not lost that attitude) to a large pole configuration, running a chain through the top, so she can lower only one wrist at the time, pulling the other one up as she does so. A lot of rattling in this update, there are chains everywhere, like requested by a lot of our members. We like these new thigh bands! Any thigh band suggestions for future shoots? Please send them in!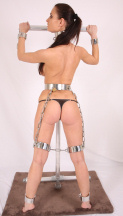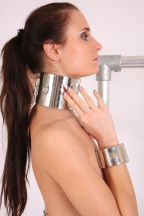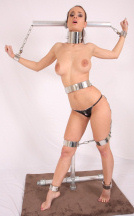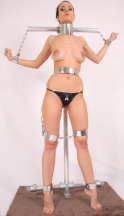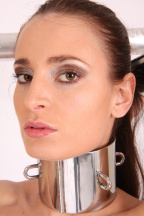 This tall and spoiled exotic beauty gets treated like a goddess everywhere she goes. But not at MetalBondage.com! In our ongoing quest of talking every one of our models into a chastity belt, another one bites the dust! She refused on the first attempt (MB061), but this time we have her locked in a perfectly fitting belt!! Her pussy lips protrude at just the right place under the front shield, which you can see if you look closely at the pictures. But with Penelope, a chastity belt is not enough. You have to keep her hands out of harm's way… especially with those razor sharp finger nails! Our metal stock is just the thing for her. Not feeling so spoiled now, are we? :-)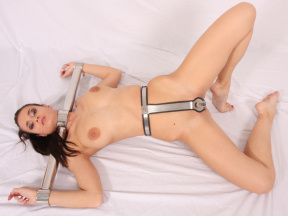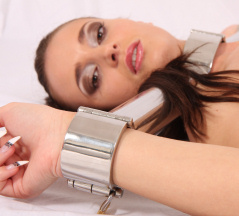 We found another pet slave for our collection! Penelope is very tall, proud, and full of temperamental spirit. In other words, she is someone we love to see completely helpless in metal bondage! And Penelope has a problem already: she is very tall and our waist belt is a custom made one-size only. Will it fit? As you can see, it does, although it is very very tight on her, giving her that great hourglass look! This is hot! We make her sit on a low rail and lock her ankles and wrists to the ends. Penelope is collared, waist cinched, and on her knees. Not bad for a first time! She already promised us she will be back for more, so we can't wait!!