All updates featuring
Custom SteelBound Thigh Bands
After her recent nipple clamps torture, I thought Lina wouldn't come back… but here she is again! Ready for more steel in this member request! Lina is tightly cuffed and her ankles are locked together as she waits for what's coming next. In her chastity belt, she tries walking around the frame, but with her feet locked together, she can only shuffle or hop. Soon, she finds herself locked in the frame, on full display, with her chastity belt removed. Her ankles, thighs, wrists, and upper arms are locked in place and she is gagged. Who wouldn't want a framed Lina Roselina in their house? It's a work of art!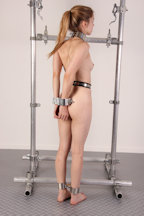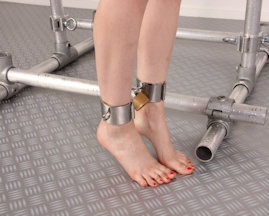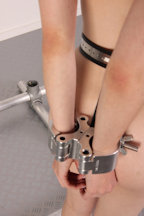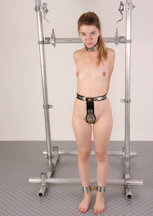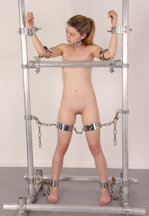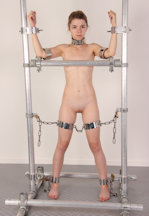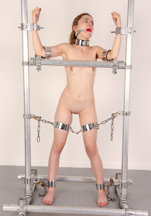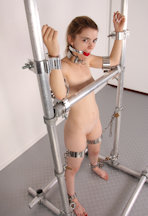 Well, I have said it before: I really would like to keep Katie Thornton forever! I mean, look at her! She is the perfect bondage doll! But where do you store a Katie Thornton when you are not playing with her? I needed to build a custom bondage frame to store her and make sure she didn't get away! No problem, because unlike most girls, Katie Thornton has two extra attachment points! So I chained her by her wrists, ankles, thighs and boobs! Wouldn't want her to get away! Katie was not so happy about this storage system, but all she could do was give me the finger. Oh well. Members, don't forget to send in your metal bondage suggestions for this spectacular girl!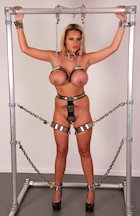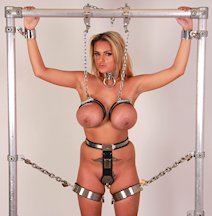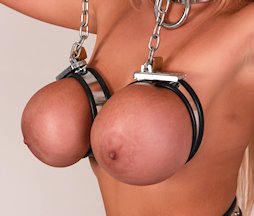 Cory is a tiny girl, but she is very tough! You can add kilos of metal to her and she will just keep struggling and moving! So she would be the perfect candidate to test if it's possible to walk in heavy thigh bands on the treadmill! Well, she will have to! There is no way she can stop the treadmill since her wrists are cuffed behind her! The thigh bands are so heavy they pull her waist belt down at the back, but the waist belt is also held in place by chains to the metal frame. Cory is in high heels on this unstoppable machine! Can she manage this with her eternal smile? Or will it be too much?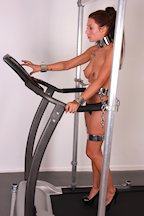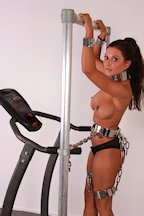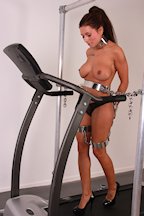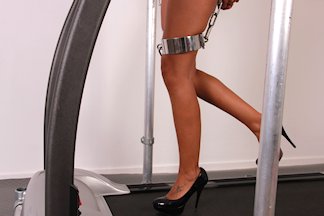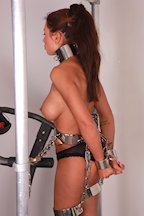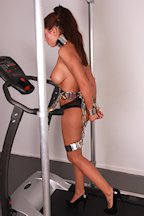 Victoria Sweet came back! We created a new bondage talent! This young girl was scared and even angry in her first shoots, but now she came back because she was still curious about our other bondage gear. From previous experience, we know we have to restrain this girl really well: she is a struggler! Let's see if we can chain her up so well that she can hardly struggle at all! We use our heaviest chains and restraints to lock her nude body to our metal frame: wrists, ankles, waist, and thighs! We put a lot of tension on her waist so she will stay nice and centered! She is not going anywhere!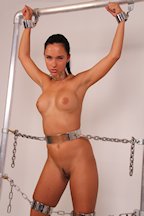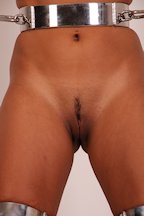 Yes, it is really her: the famous bondage queen Ariel Anderssen was lured by our collection of metal, curious and looking to be challenged. Of course, we had to come up with something very special to welcome Ariel, it is not easy to impress this experienced bondage girl! This is what we came up with: we fixated her (naked!) to a standing metal frame, using 10 heavy and tight steel restraints. She is locked by her neck, upper arms, wrists, waist, thighs and ankles with very heavy chains. She was completely stuck, although she managed to lift herself off the ground, hanging from the thigh and waist bands! Now this is serious device bondage! We can't wait to play with Ariel Anderssen some more, she needs a chastity belt sooooo bad!!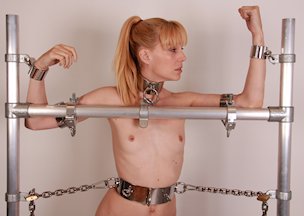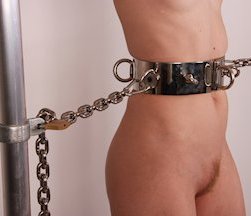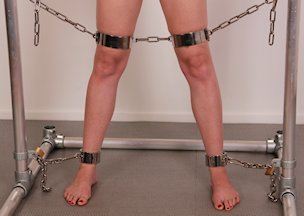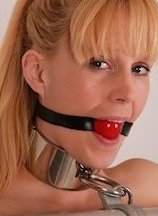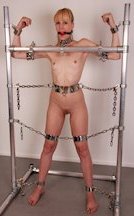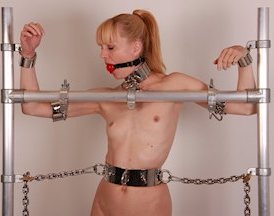 Time to punish this spoiled rich Japanese woman again! She suffers so nicely that we just like to add more and more metal to her, just to see her complain and moan about it. Our newest custom steel item is another waist belt. But not just any waist belt: it is the widest heaviest locking belt ever. It is so wide we had to notch the side to allow room for the hip bones, just like a huge boxing belt. We squeezed Miu into this thing and locked it. Then we added thigh bands, a huge collar, and wrist cuffs with a spreader bar. Miu thought we overdid it this time. Ready to hear her complain? :-)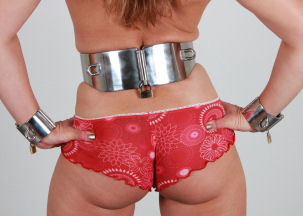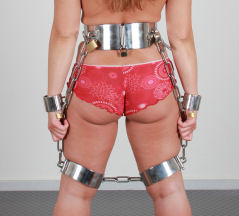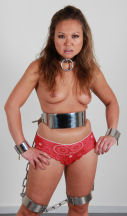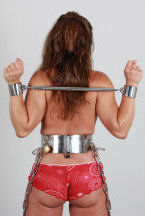 Not our usual six-point restraints for new Asian model Mei-Li, but EIGHT heavy steel bands that enclose her petite body. The combined weight of the steel is almost more than the weight of Mei-Li herself! Everything is connected by locks and heavy chain, and Mei-Li has trouble standing up. The thigh bands pull her waist band back, the ultra heavy ankle cuffs dig into her ankles. We tell her to sit down if it makes her more comfortable, but she says she can't. So we make her stand around for a while, taking baby steps in her high heels, rattling her chains. Mei-Li's introduction may have been a little tough, but she is still smiling!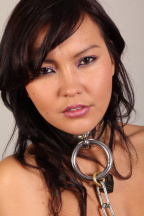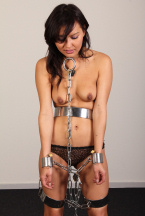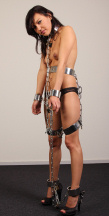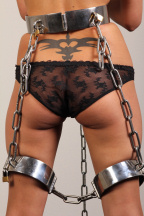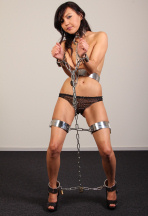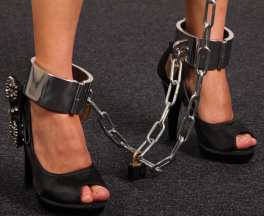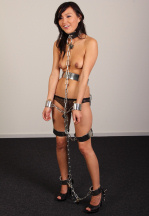 It's the super tall Penelope again! The extreme giraffe collar (on screen collaring in video) is not much of a problem for her elegant neck. So we try our latest custom item: a pair of chained thigh bands, secured to the back of the very tight waist belt. A kind of metal garter belt! We crucify this large boobed slave (she still has not lost that attitude) to a large pole configuration, running a chain through the top, so she can lower only one wrist at the time, pulling the other one up as she does so. A lot of rattling in this update, there are chains everywhere, like requested by a lot of our members. We like these new thigh bands! Any thigh band suggestions for future shoots? Please send them in!