All updates featuring
Rosie
Yes! Rosie is back! This young cute girl likes to try things, and even though she knows it will be impossible to escape once she is locked, she loves escape attempts too. Locked in a tight chastity belt and a chastity bra, Rosie was a bit confused when we handed her the RigidStocks. They are quite impressive! Rosie suddenly wasn't very sure if she wanted to try this device, but we told her she should just try the neck first. Of course, after the stocks were locked onto her neck, we had to lock her wrists in too. Rosie was very stuck! She asked for the key and we gave it to her of course. We love to see girls try to escape the RigidStocks! So cute!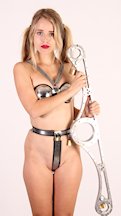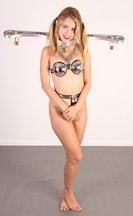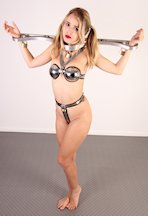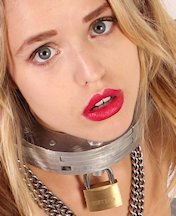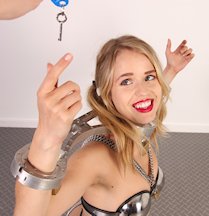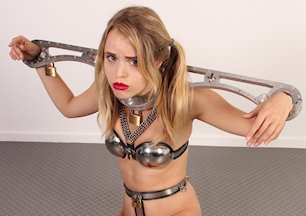 Remember cute Rosie? She only did 1 shoot two years ago and then she disappeared. But we got her back, and she is still as cute as ever! She just makes us want to use lots of metal on her, just because it is such a nice contrast with her cuteness! Here we go: full chastity outfit and locked collar, and our own creation: the Wonder Cuffs! Rosie looks absolutely stunning in this much metal! Her eyes can get almost anyone to do anything, but she couldn't quite convince us to let her go. It's hard to resist her cuteness, but we did it: here is Rosie in full metal, struggling in the Wonder Cuffs! Enjoy!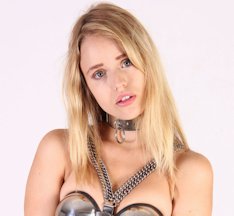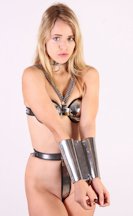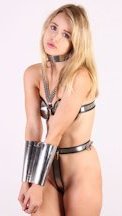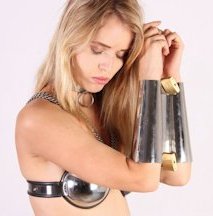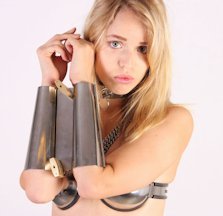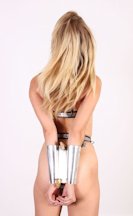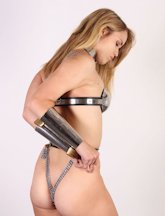 Aaaaaaaw super cute Rosie is 20 years old and she is a 'super big fan' of metal bondage! Unfortunately, she is also super shy. And scared. No worries, we will take it easy on her. A beautiful collar and some heavy cuffs to begin with. Rosie is eager to learn, but she does not really know what to do. What poses does a slave girl assume? What is expected of her? Her huge eyes beg for more information. Everything about Rosie is so innocent and cute, her mouth, her perfect body… she could be the ultimate slave girl… with a lot of training. What do you think? Get her back for more metal bondage sessions?