All updates featuring
Wonder Cuffs
Cindy Dollar! We love shooting with her, she is so easy to work with. Anything we lock onto her spectacular body fits very well, and it looks amazing. She never complains about anything. Cindy is literally a perfect bondage doll you can do ANYTHING with. Today, we try the most rigid arm bondage ever, with the custom made Wonder Cuffs, again a perfect fit for Cindy! We restrain her arms behind her back and then lock the Wonder Cuffs to the back of her chastity belt. Her arms are bent a little, and we add a pair of heavy elbow cuffs! Cindy couldn't move her arms at all! From the front it looks like she has no arms! We threw the key on the floor, but of course Cindy knew she was completely helpless…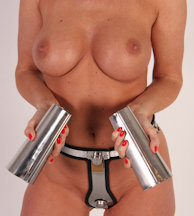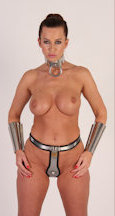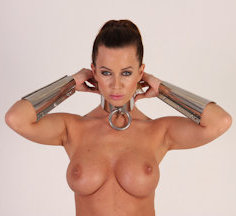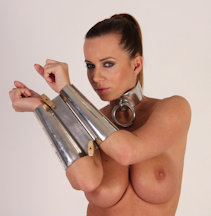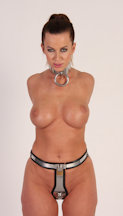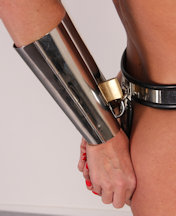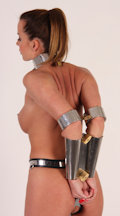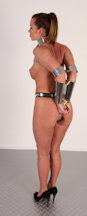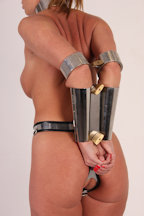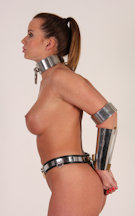 Remember cute Rosie? She only did 1 shoot two years ago and then she disappeared. But we got her back, and she is still as cute as ever! She just makes us want to use lots of metal on her, just because it is such a nice contrast with her cuteness! Here we go: full chastity outfit and locked collar, and our own creation: the Wonder Cuffs! Rosie looks absolutely stunning in this much metal! Her eyes can get almost anyone to do anything, but she couldn't quite convince us to let her go. It's hard to resist her cuteness, but we did it: here is Rosie in full metal, struggling in the Wonder Cuffs! Enjoy!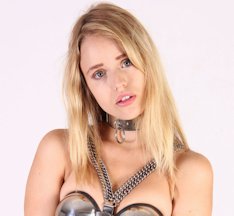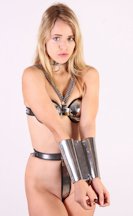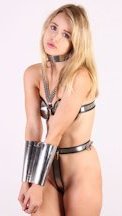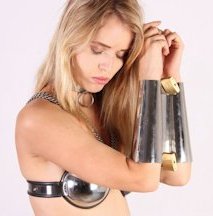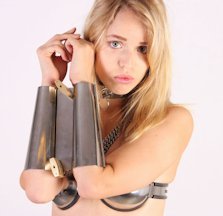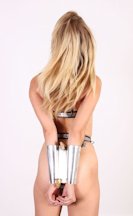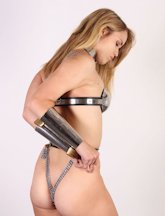 When the endless legs and flexible arms of Britney visited us, we locked her in full chastity, as you will have seen on ChastityBabes.com. She had to hang around the studio for quite a long time, to see how she would do in her chastity gear, so we had plenty of time to shoot her in some more metal, specifically the Wonder Cuffs. These cuffs need a flexible, tall, slender model, so Britney was the perfect girl in the right place! We locked the cuffs on her wrists separately, making her look like Wonder Woman, before attaching the middle piece that locks these cuffs together in a very rigid way. Britney is awesome, we could keep her in metal forever!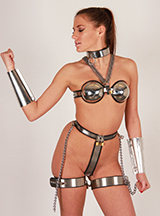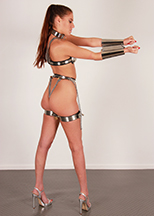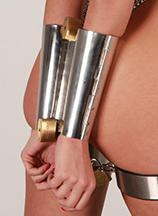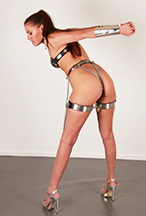 A new year, a new girl, a new device! These custom designed and manufactured cuffs are dubbed 'Wonder Cuffs' for obvious reasons. Our new model Antonia Sainz is the first to try them! She liked the first part of the shoot, where the cuffs were fastened around her lower arms with hex screws. No problem there! A powerful image! But Antonia got a little suspicious when we showed her the little connector bar that turns these cuffs into a very strict metal armbinder! This connector can be locked with two padlocks, so there is absolutely no escape from it. It requires a very flexible model with just the right size lower arms! Antonia wished she wasn't that model… but she was! Happy New Year!