All updates featuring
Roxy C
We love the RigidSpreader challenge for new girls! They don't realize it is impossible, so they struggle a lot, which is very exciting to watch. Also, they don't know it's pretty much impossible to get up once they fall over on their backs, so they are inevitably ending up in this vulnerable position, very much stuck like a turtle. Roxy is such a bright star, always smiling, this local girl never fails to cheer us up! Roxy is available for custom shoots too, so let us know if you have any special wishes or fantasies for her!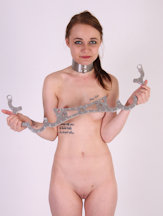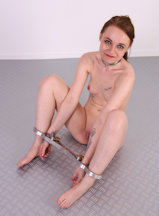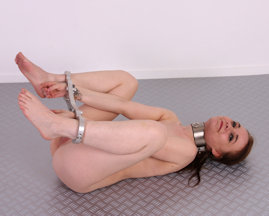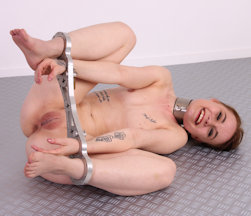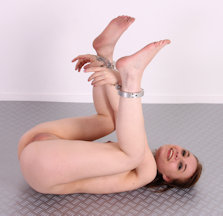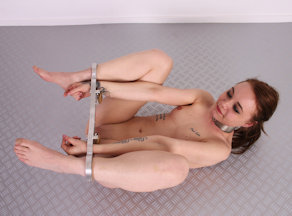 Remember our young neighbor girl Roxy C? She is literally the girl next door! So innocent, she doesn't know the different between a collar and a waist belt. She just smiles and has a HUGE curiosity. Today, we are going to show her a lot of restraints at once: it's the best way for her to learn! A nude Roxy nervously waited in her heavy collar, waist belt, and wrist cuffs. We locked the Scold's Bridle on her head and we locked her wrists to her waist belt. Then we attached the steel mask to a special frame, so she would just have to stand there like a doll. We pull her elbows back with a pair of handcuffs and Roxy is ready to be admired, naked and in steel, unable to move!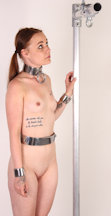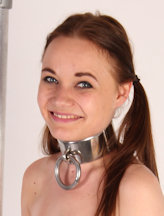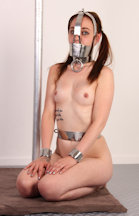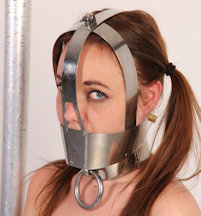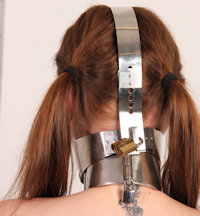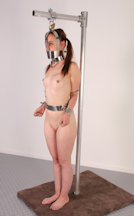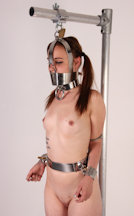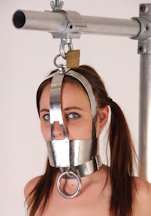 We found a new girl and you'll never guess where she is from. Roxy is from next door! Quite literally. She is not a model, but she is our neighbor girl! She is very cute, and a little oblivious about bondage and shoots. We asked if she wanted to try a fiddle. 'What is a fiddle?', said Roxy. That's a perfect start. But first, we asked her to get naked, which was probably more scary for her than the fiddle. We locked her in a chastity belt so she wouldn't feel so exposed. Then we locked her in a RigidFiddle model '8' and told her it is possible to get out. Fun times! Roxy is (of cours) readily available for any custom shoots you have in mind, she wants to do more and earn a little cash!