All updates featuring
Scold's Bridle
The doll stand was such a great vulnerable and restricting position, I just wanted to do it again. This time with the gorgeous Yasmine! The concept is quite simple: lock a scold's bridle to an overhead pipe. Then lock the wrists to a steel belt. Finally, hinged handcuffs on elbows! There's no escape from that, and the girl will be on full display, completely helpless. Like a doll, held in place. On high heels of course, Yasmine is a playmate and she can stand in heels forever, so no problem there! Let's just admire her and watch her get more and more frustrated!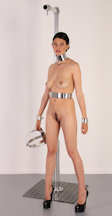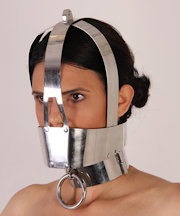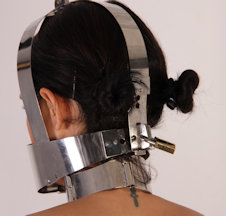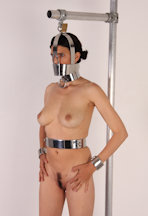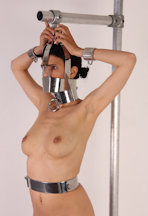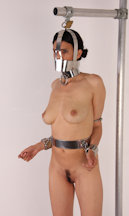 Liz Rainbow is back! Check out all of her legendary updates, we sure like to test this girl! She hates nipple clamps, so that's exactly what we are going to use today. But in order to prevent her from taking them off, we built a frame to hold her in chains with as little movement as possible. Over the top? Yes, of course! We love lots of steel on nude girls! Liz is chained by her ankles, waist, and head (scold's bridle!), while her wrists are clamped to the frame by pipe clamps. All she can do is moan as we play with her nipple clamps.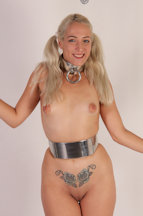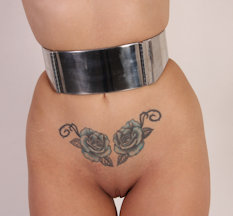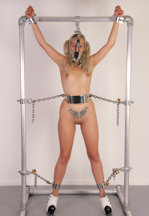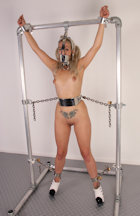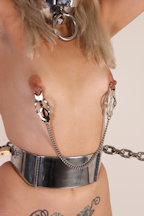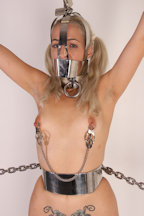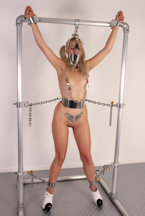 Nina and Nelly are back! These girlfriends can't stop touching each other, so we locked them in chastity belts (of course). As you may remember, last time they kept trying to kiss each other, we had to separate them by locking their necks to the slave post. Today, we have a better solution: two Scold's Bridles! Now they can try to kiss all they want, but their masks are locked on and can't be removed without the keys. Nelly is locked in a Carrara Locking Mask, and Nina is locked in our own Scold's Bridle. We neck cuffed them together, which was even more frustrating. Now they are stuck together but their chastity belts and masks prevent any intimate contact! Very unhappy metal girls!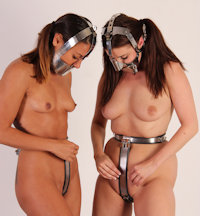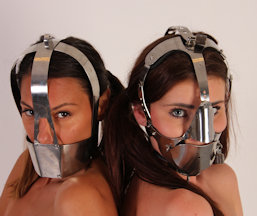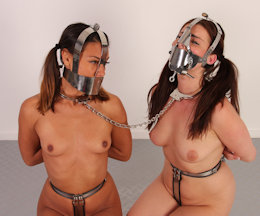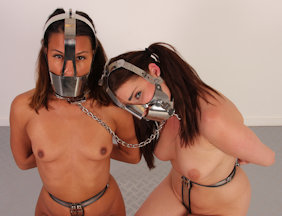 One of the most gorgeous and elegant girls in our model selection, Dominique is a tall stunning professional model who loves a bit of fun. We have been shooting with her for many years, she is always in for some heavy steel bondage. This time, she will be locked in a steel frame, spread eagle style! Dominique gets padlocked into a tight waist belt, a heavy collar, and a scold's bridle. It all locks on so she can't remove it. She is then chained standing spread eagle to a pipe frame. Her waist, ankles, wrists, and head are locked to the frame. She can't move much at all!!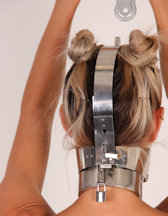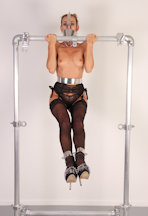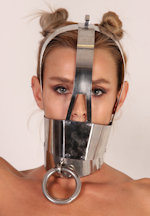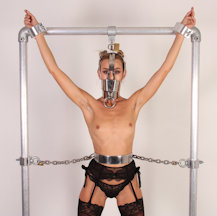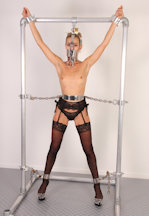 Diamondly is an upcoming 19-year old bondage model who loves extremely tight bondage. She is young, but has already has a lot of experience. Today however, she will try a few more things she never did before! First of all, we have locked her in a tight chastity belt. It is a perfect fit and she is 100% secure, unable to touch herself. She has been fitted with a jewel butt plug too, an interesting sensation. Then we added a lot of heavy steel bondage: a scold's bridle, a collar, elbow cuffs, and wrists cuffs. Her elbows are bolted together and her wrists locked to the sides of her belt. She will be unable to remove those stingy clover clamps, no matter how hard she struggles!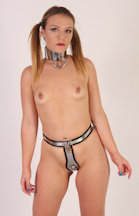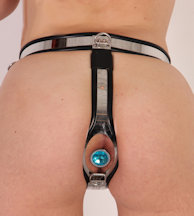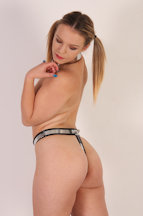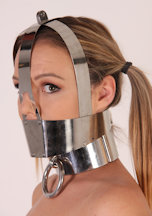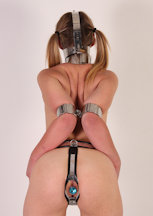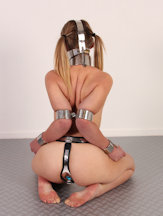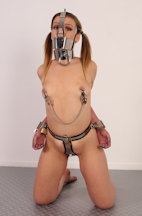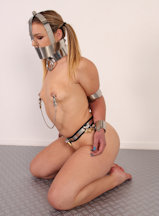 Remember our young neighbor girl Roxy C? She is literally the girl next door! So innocent, she doesn't know the different between a collar and a waist belt. She just smiles and has a HUGE curiosity. Today, we are going to show her a lot of restraints at once: it's the best way for her to learn! A nude Roxy nervously waited in her heavy collar, waist belt, and wrist cuffs. We locked the Scold's Bridle on her head and we locked her wrists to her waist belt. Then we attached the steel mask to a special frame, so she would just have to stand there like a doll. We pull her elbows back with a pair of handcuffs and Roxy is ready to be admired, naked and in steel, unable to move!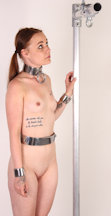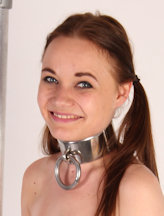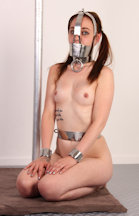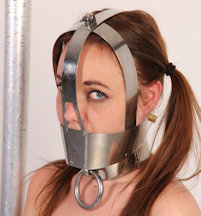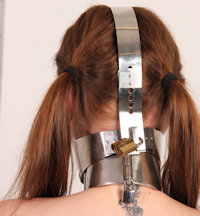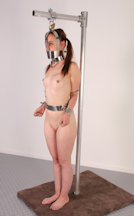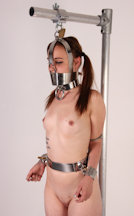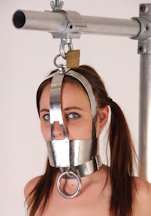 Our custom built Scold's Bridle was only used once, because it needed some more adjustments. Now it is finally ready to silence more models, and we start with the gorgeous Dominique, who is always up for a challenge! Locked in her chastity belt and collar, she curiously explores the frightening device. As many members requested, she shows what is inside the bridle: a metal plate that goes inside the mouth to press the tongue down. The mouth is opened and a chin guard at the bottom makes sure the device can not be moved up. The adjustable head bands are padlocked on Dominique's head and she is unable to remove it or speak! Perfect!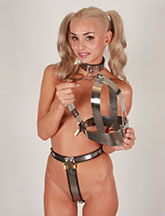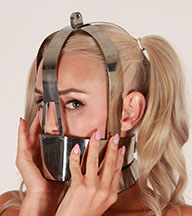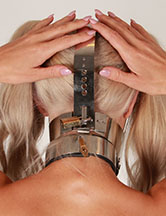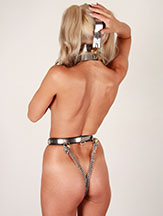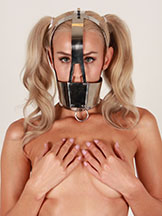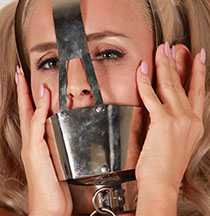 Of course, we just had to build our own Scold's Bridle, MetalBondage style!! This brank is a face hugging, tight, adjustable piece of art, inspired by some of the greatest examples of bondage headgear. And who better to test it on than our lovely but reluctant test model Natalia Forrest!! This device is extreme. It has a large metal lip on the inside that keeps Natalia's tongue down. A lip under her chin makes sure she can not open her mouth very far. A little moaning is all she can produce in protest. To keep her mind off this tight contraption, we challenge her to open her RigidSpreader, so we can see her move around in this metal face mask! What do you think?