All updates featuring
Tegan
People ask me: 'why does Tegan get the harsh treatment on your website?'. True, she has been in the extreme Posture Fiddle, chained with heavy shackles, and nipple clamped. Plus she never got her first shoot without a chastity belt. It's because she is just so much into bondage! This cute blonde angel is a true sub and she likes hard bondage!
This time, a belted and collared Tegan encounters a strange pole with two heavy chains hanging off it. She wonders what might be in store for her this time! I tell her to put the ankle cuffs on and lie down with the pole between her legs. She is then hogcuffed to the pole, and there's no way she can get out! Her awesome boobs are hanging over the edge of the platform, and she starts begging and sobbing after a few minutes already. Don't fall for it, she loves this stuff! My gorgeous bondage angel Tegan! Can't get enough of her!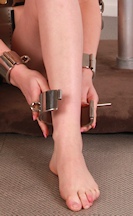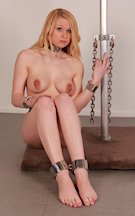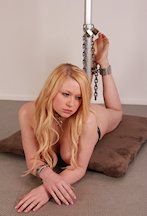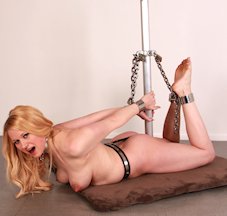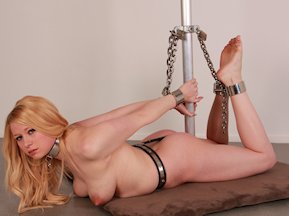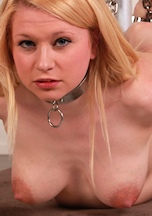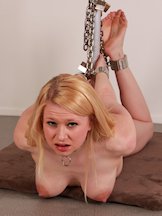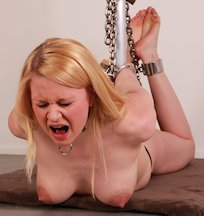 Poor Tegan! Our sweet blonde bondage angel returns, and she patiently awaits her fate in her tight chastity belt. A big challenge awaits her today, but first we lock a spreader bar to the back of her collar to keep her hands out of the way. We know how super sensitive her nipples are, yet still we are going to use the worst kind of clamps on her: the Japanese clover clamps! These sting so bad! Tegan is totally shocked, screaming and begging. She wants the clamps off as soon as possible, but we leave her like this for a while, totally helpless to stop the pain. In the end, just when Tegan can not take it anymore, we take off the clamps. Unfortunately, Tegan had not realised that this would hurt even more!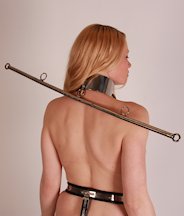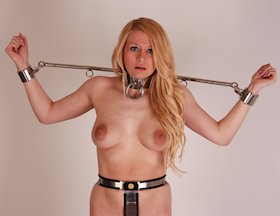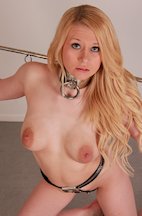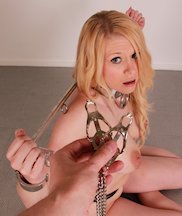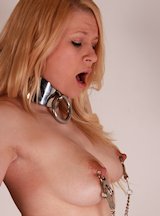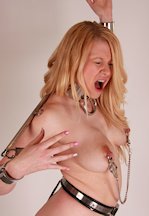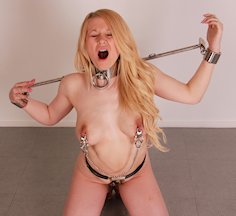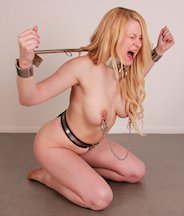 Cute submissive Tegan was our bondage find of 2013! Remember her awesome introduction in the extreme Posture Fiddle? And she was chastity belted right on her first shoot! This girl is a real bondage angel, with her blonde hair, big innocent eyes, flexible body and big boobs! You just get a feeling she can handle anything and everything, she will never say no, and accept any challenge, no matter how hard. This week we locked her into a massive amount of heavy cuffs and chains (and a chastity belt of course). The chain and restraints weigh in at several kilos, and soon Tegan can not stand anymore, she has to kneel down. She even has to lie down at the end of this heavy metal bondage endurance challenge! We will definitely invite her back again soon!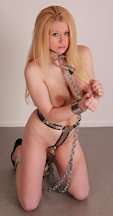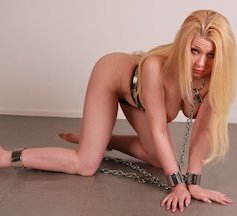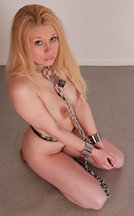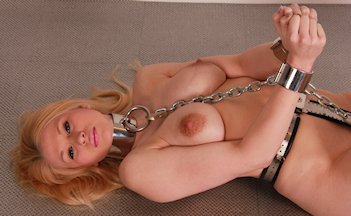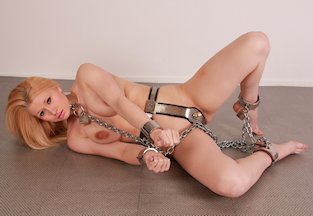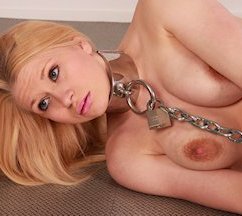 MetalBondage.com is very very proud to present its newest piece of heavy metal bondage gear: the custom built Posture Fiddle! We have used RigidFiddles since the start of this site, and they are nice quality products. But we always want to take things to the extreme. And to do that, you have to build it yourself! Our Posture Fiddle features a very tall double hinged posture collar that locks with a heavy padlock in the back. Then there's a rigid frame connecting two tall wrist cuffs, locked by another heavy padlock.
But there are more new things to play with today! We have found a young golden-haired girl called Tegan, who was locked into a chastity belt and this seriously restrictive device from the moment she entered our studio! Tegan is this year's bondage discovery! She is amazing, loves a challenge, and looks gorgeous in metal! She is inexperienced, but we have a feeling this will change in the next few months! Our very own bondage angel locked into our tight new Posture Fiddle! Don't miss it!