All updates featuring
Satin Bloom
We have known Satin Bloom for a very long time. And we did some crazy things to her! But never something like this! We told her about our One Bar Prison: it is impossible for a girl to escape this device (if she wears high heels), but Satin did not believe us. Nor did she want to try it. After a few weeks of teasing her, telling her she was just afraid she couldn't escape, she finally had enough and wanted to prove to us she would easily escape this device. If she couldn't, she would have to put her dress back on and stay there for 30 more minutes. Guess what happened?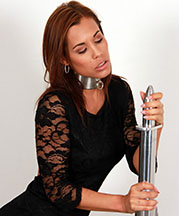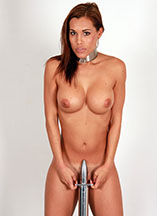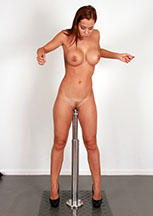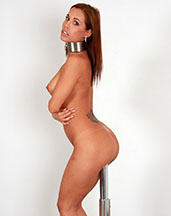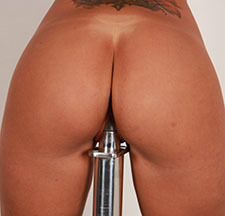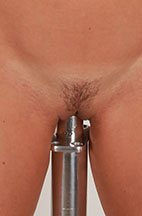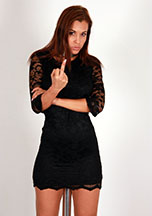 Wow, Satin Bloom is pretty agressive! She is also very hot, gorgeous face and super fit body… time to lock her into one of our custom devices: the Iron Crown! Satin hated it of course, but there was not much she could do with her hands locked to the sides of her collar! We tried to improve her mood by giving her the keys, but it without any help it took her a long time to figure out how this device worked… which made her even more angry!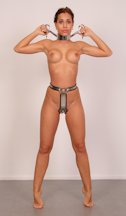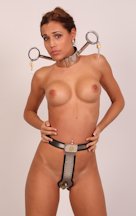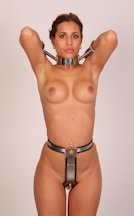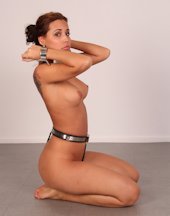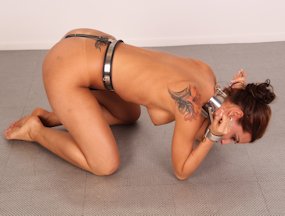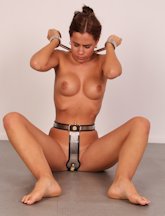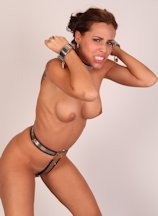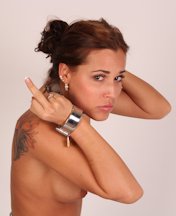 We trained Satin Bloom to do everything you see in this update, and she loves to play our little metal bondage puppy! Her huge steel collar is locked on with a pin and padlock, and her chastity belt never comes off (of course), but we taught her how to put on her own wrist and ankle restraints! These heavy restraints have a unique push pin locking system, meaning you can lock them on, but they can not come off without using a tool. Satin is a perfect pet, great boobs and flexible legs! She has a bit of naughty humor, but she listens very well! She knows how to lock herself into the small dog cage, and will patiently wait to be let out again. Good girl!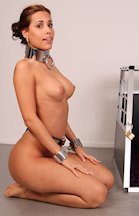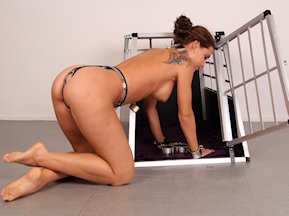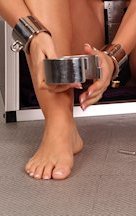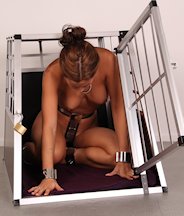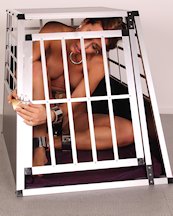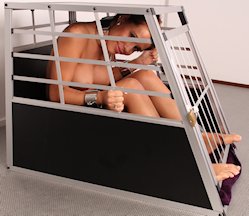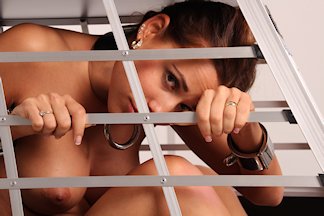 We have to admit, when we have a model with great boobs like Satin Bloom, we hate to use a fiddle. It totally obscures our view! A RigidStock is perfect for girls like Satin, it gives everyone a good view and there's nothing she can do to hide. Locked into (her own!) chastity belt, Satin Bloom is back to take on a little challenge. There are three padlocks on this stock, all of them require a different key. We toss four keys on the floor and tell Satin she will have to try to escape… or give up. The latter option will mean she will be in the stock for 2 more hours. But it is actually possible? And are those even the right keys? Who cares, we just like to watch Satin Bloom ;-)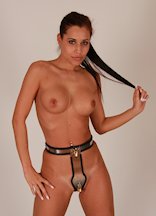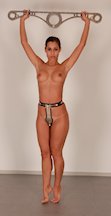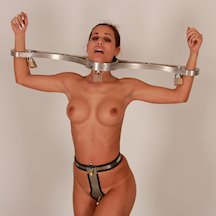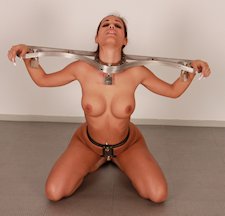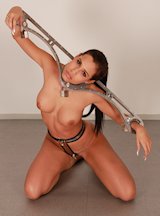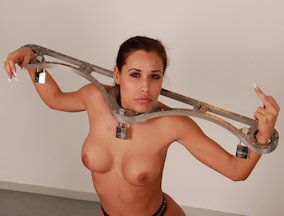 We are on a constant quest to put the most beautiful girls in the most insane metal contraptions we can think of! And we are not even close to running out of ideas, which is bad news for our models… Today we are very proud to introduce a bondage device you definitely never have seen before: the heavy Ballet Stocks! It is a curved version of our custom metal stocks that have already plagued many models. This version is even more extreme, forcing the wearer in a classic ballet pose, completely defenseless. Satin Bloom, with her super body, is the perfect victim to try this device. You will be amazed at the moves she will show you!
By the way, we are not very sure about the name for this device. We considered 'the curved stocks' and even 'ape hangers', but if you can think of a better name, please leave a comment here!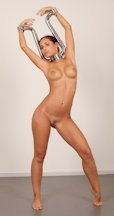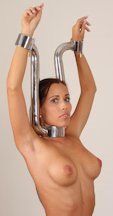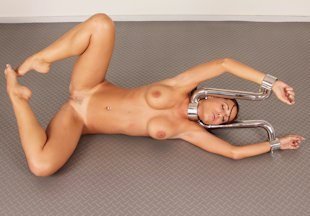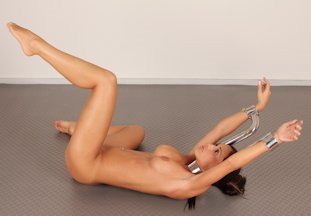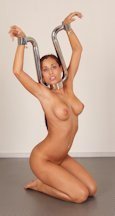 Satin Bloom! Big perfect boobs with nipples that have never been clamped. No wonder you requested this training for this beautiful MetalBondage slave girl. Everyone wants to see Satin nipple clamped… everyone but one person: Satin Bloom herself. She is not too happy about this, although she was curious. But after feeling the viciousness of these clover clamps (on her finger) she wanted to back out of this shoot. We told her she would not feel these nasty clamps as much if they are left on for a longer period of time. But it seems we forgot to mention that taking them off hurts even more ;-)
Oh, and our custom built heavy steel hobble dress looks so good bolted onto Satin Bloom!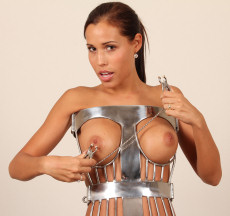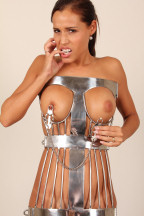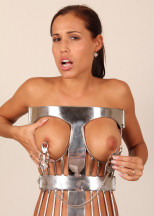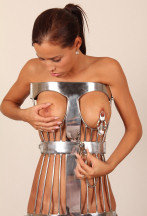 We are very glad to have found Satin Bloom. She could be the world's most perfect pet. Not only does she have a killer body and gaggable face, she is also very submissive, flexible, and not afraid to try heavy metal bondage. Our latest design is a serious chastity belt. Seriously heavy that is. Wide metal waistband (dropped for a perfect fit), heavy steel crotch protector, and a thick metal ass chain. Three padlock clicks and you are in big trouble. The only thing left was to find a model that would be a perfect fit for this new belt. Well… we found her!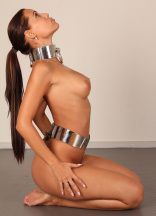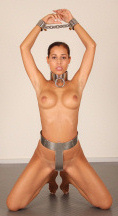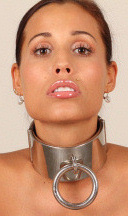 Satin Bloom was really popular with our members last time. We can imagine why, she would make a great slave with her hot body and sexy looks. But Satin is not a perfect slave yet. She is not very obedient and she does not really like bondage and heavy things, being used to her luxurious lifestyle and getting things done from men just by looking at them. We asked her back for a shoot with a pole. Satin thought it would be pole dancing but we had other things in mind, like cuffing her to the pole at various heights. Oh, and we belted her with a tight chastity belt, which makes her body even hotter! She hates us now, but still we have a feeling she will be back ;-)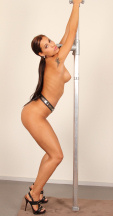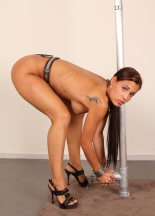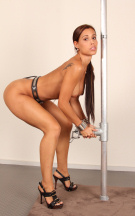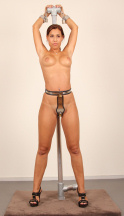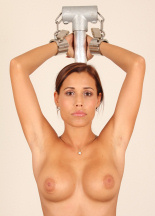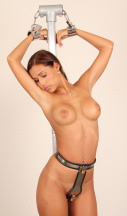 New girl Satin Bloom is smoking hot! Great body and a beautiful face, so we just had to convince her to model for us! Satin is not so sure about all this, however, as you can tell by her expression. It is her first shoot, so she does not have to be belted yet, but we have a good challenge for her: escaping the RigidSpreader by herself. If she can not do it and needs to ask for help, the posture collar with integrated muzzle is not coming off for another hour. Satin thinks she can outsmart us by palming the key after we unlock a padlock for her. But that key does not work on her muzzle collar ;-)