All updates featuring
Yasmine
The doll stand was such a great vulnerable and restricting position, I just wanted to do it again. This time with the gorgeous Yasmine! The concept is quite simple: lock a scold's bridle to an overhead pipe. Then lock the wrists to a steel belt. Finally, hinged handcuffs on elbows! There's no escape from that, and the girl will be on full display, completely helpless. Like a doll, held in place. On high heels of course, Yasmine is a playmate and she can stand in heels forever, so no problem there! Let's just admire her and watch her get more and more frustrated!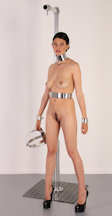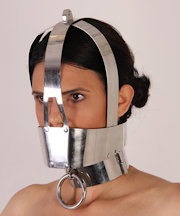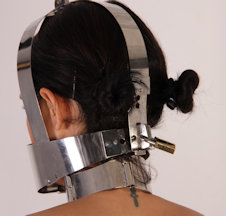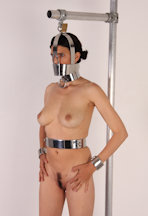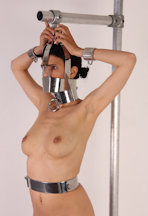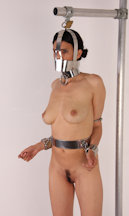 Gorgeous playmate Yasmine is back! She has been shooting with us for very long, since the beginning of this website. Somehow she only gets more beautiful, with her fantastic natural body and sensual lips. We locked her in a hip-style My-Steel belt today and then got her into the Rigid Box Tie Device. Yasmine is so submissive, her big eyes were looking at the camera, almost as if she was afraid. Don't worry, Yasmine is used to bondage, we have locked her in metal many times, and she even tries her best to escape when we toss the keys on the floor, even though she knows it's impossible.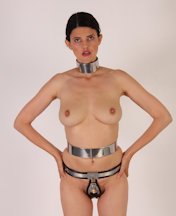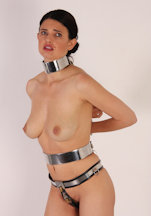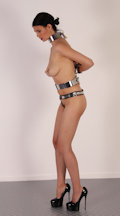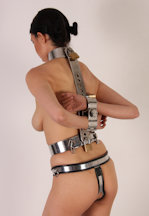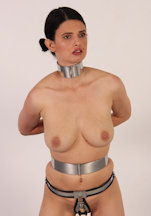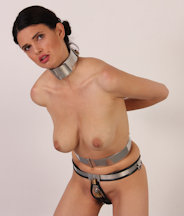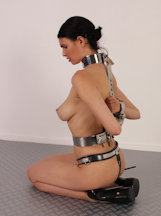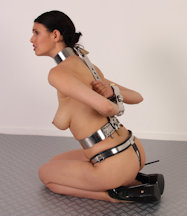 It's Yasmine's first week on the job and she already has a weird feeling about her boss, Mr Smith. He seems to be very bossy and specific about Yasmine's clothing style. And he is also calling her all the time, to check if she is still working hard. And the office! So old fashioned, there isn't even a computer! Yasmine tries to do her best but her boss is so demanding she is getting really tired. A quick nap couldn't hurt, could it? Imagine Yasmine's horror when she wakes up in an unknown location, chained to the wall by a very heavy and tight collar!! Her blouse, skirt and bra are gone! Who kidnapped her? Was it Mr Smith? What will happen next? Yasmine is very scared!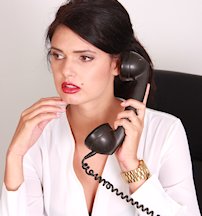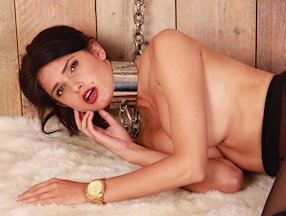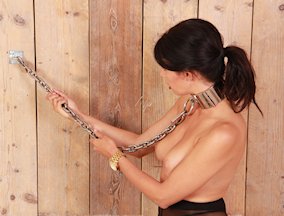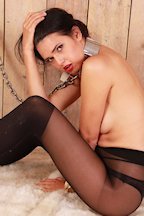 Exotic beauty Yasmine is such a stunner! She is up for anything, as we found out recently when we sent her home in a locked chastity belt without the keys! Go to www.chastitybabes.com if you missed that story! It's been a while since we used our super tall steel posture collar, also dubbed the 'Giraffe Collar' by members. It has four attachment points so we decided to build a nice frame for our gorgeous sub girl Yasmine. She couldn't really sit down all the way and she couldn't quite stand up either! Perfect! Yasmine is available for custom shoots by the way, just email us to see her in your exclusive ultimate fantasy script.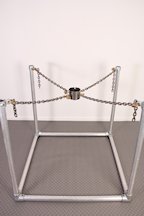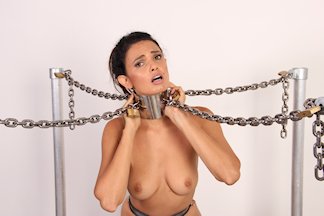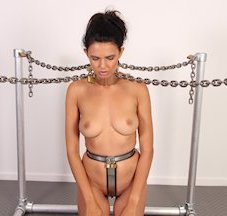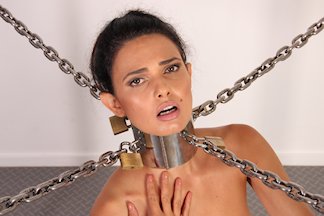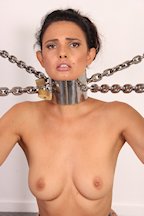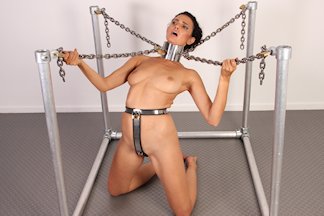 We found some awesome new pipe connectors! They open, so we immediately wondered if a girl's wrist would fit in them. There's only one way to find out, so we invited the awesomely gorgeous exotic Yasmine to do a little experiment. Yasmine is a real life sub, which is a good thing, because she can hardly be dominant with those innocent eyes and cute lips! She was locked back into her chastity belt before she knew it, and she was a bit scared of the metal bits lying on the floor. These pipes are heavy! Yasmine's wrists fit in the connectors perfectly! We attached her spreader pipe to a fixed pipe in the floor, so Yasmine could only kneel and wait. No escape!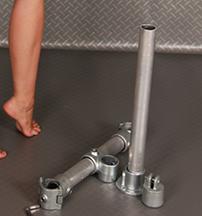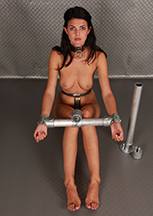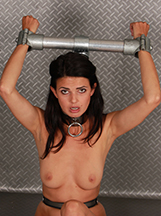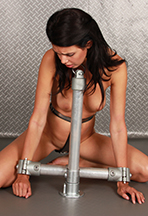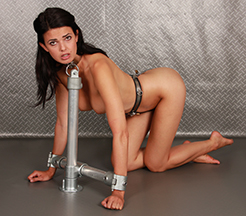 Yasmine is so gorgeous! And she is very slim as well, so she is one of the few girls who can fit into our custom ergonomic chastity belts made out of hardened steel. It is so tight, and the padlock is so well protected, if we loose the key, there will no way to get her out. It can not be cut off, it is too close to her skin, and the hardened steel is very hard to cut anyway. Any padlock malfunctions will be disastrous too. It's a risk, but it is such a beautiful fit, we just had to lock her into this belt, just like we did when she was locked to the bondage frame. So beautiful!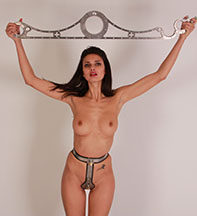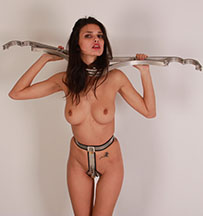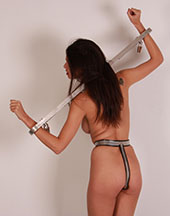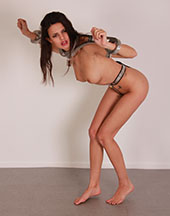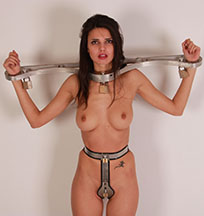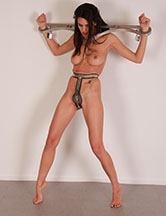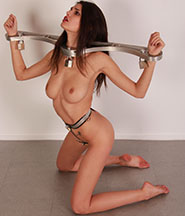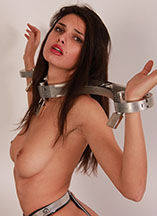 We got our hands on this unique version of Martin's RigidStock TL! The design is the same, it is just over three times as many layers of metal! It is a huge device, the biggest and heaviest stock we have ever seen, and there's only one of these in the world, as far as we know! We couldn't wait to try this and Yasmine happened to be the first girl to stop by our headquarters! Bad luck for the incredibly gorgeous girl in her tight corset and stockings! She was our first test subject for this amazing device, and we were just blown away. This is the perfect stock with the perfect girl locked in it. Metal bondage doesn't get much better than this!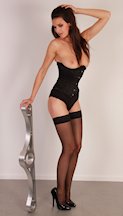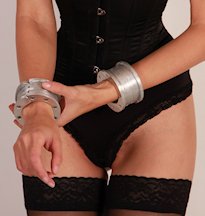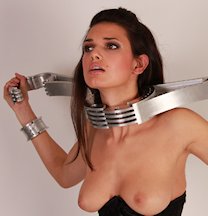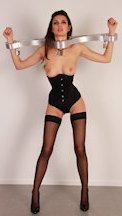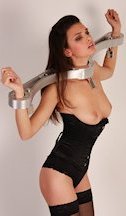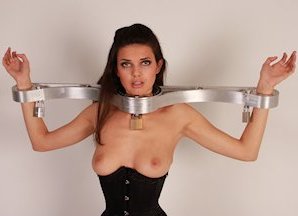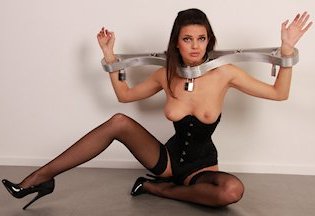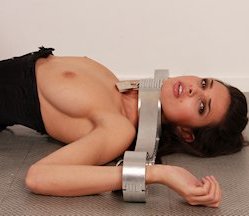 Remember our super 'bend over' frame we tried on the tiny Cory? It attaches a girl's upper body at the waist and neck, which is then tilted forward, forcing the poor victim to bend over a horizontal bar. We thought it would be even more fun if we replaced the waist belt with a chastity belt! The incredibly gorgeous Yasmine was our test subject, and she was a little hesitant about this (to say the least). The upper body frame is not fixed, so if the model has enough strength, she can pull herself upright using her waist and neck. However, we made some improvements this time. Yasmine has to stand on her toes (unlike Cory) and the chastity belt crotch band is resting on the cross bar, which makes for a perfect pivot point. Soon enough, Yasmine was too tired to move, and she was stuck in this INCREDIBLE position! Look at the posture! Butt sticking out, boobs forward, on her toes, perfect arch… A sculpture, a piece of art!!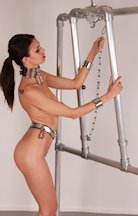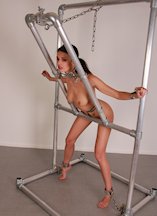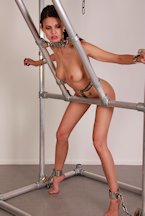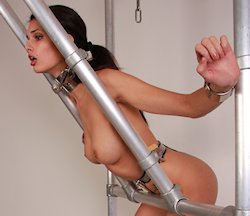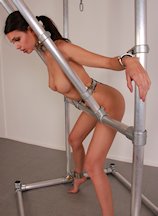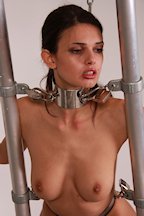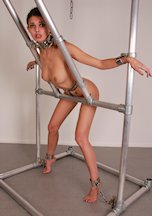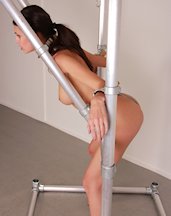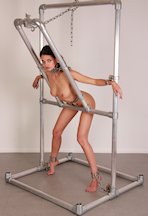 Yasmine was belted in a huge metal diaper experiment last time, but now we finally managed to lock her into a real chastity belt! Even though she claims to like chastity belts, she is still tugging and prying like mad. We understand, it is her first time, but we would like to teach her to keep those hands away from that belt. So the Iron Crown is brought in, and Yasmine is powerless… Or is she? Watch Yasmine do something incredible in the video :)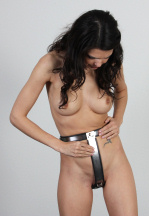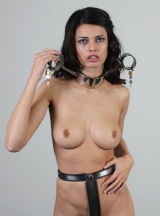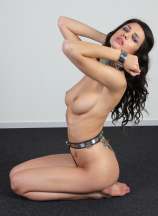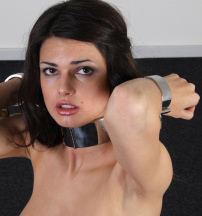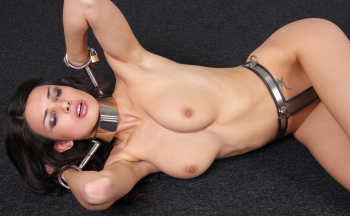 Yasmine returns! A Greek beauty that is simply every Master's dream. Yasmine needs no collar, she does not even need restraints, she is a pure submissive in her mind. Tell her to kneel, and she will kneel. Let her touch metal bondage gear and she goes into her own world. So much elegance and obedience, it is almost too much. Watch Yasmine get excited after we locked her into our heavy custom metal chastity belt, also dubbed 'metal diaper' by our members. Medieval perfection!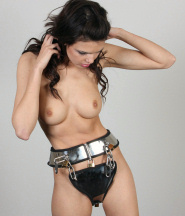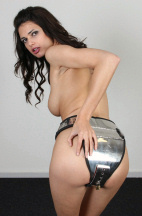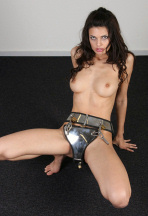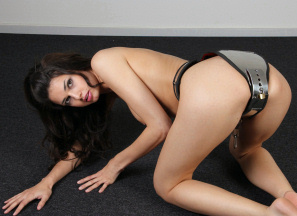 Allow us to introduce Yasmine! This Greek beauty is a curious submissive who loves the touch of cold metal on her skin. We use our hex tool to screw five restraints onto this new pet slave: wrist cuffs, ankle cuffs, and a tight waist cinching steel belt. Yasmine was very curious about this locking system, no visible locks, no keys, and still no escape. No collar either, but then we told her the cage would be her collar, gave her two padlocks and told her to figure it out. Curiosity got the better of Yasmine… watch her lock herself into a perfect slave position, with no hope for escape!