All updates featuring
Adrienne
Adrienne is back, and we have some great plans for her! She is a tough one, which means we can test some new things on her before trying them on more delicate models! We don't know if Adrienne is happy to be used as a test subject, especially in this case, because she will be in a very hard position for quite some time! We lock her neck into a rigid steel posture collar, and we use chains to make a nice little bra harness. Then we tell her to lie down on her stomach for a very hard immobilizing hogtie! Why is this hard? Well, she can not move because of the ceiling chain, her chain-bound boobs are squashed, and it is hard to breathe in this rigid collar. Adrienne tried turning slightly to one side to relieve pressure on her boobs, but it was almost impossible for her to move! Great predicament!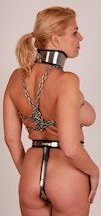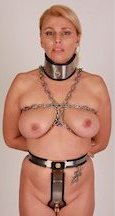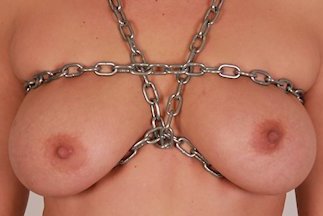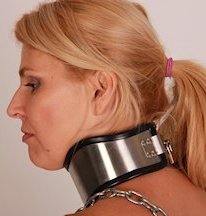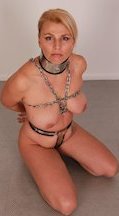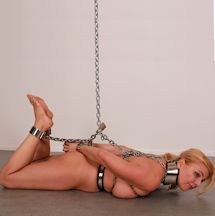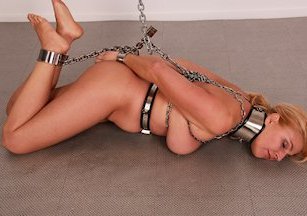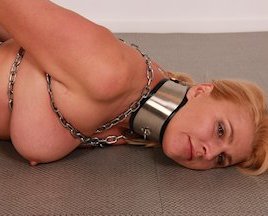 The MetalBondage.com headquarters looked a little boring and empty, so we needed something to decorate our office. A work of art. Like a painting… or a statue! Yes, a statue was the thing that came to mind when Adrienne visited us again. She has this statuesque look about her. Big boobs, proud face, perfect body to lock into loads of heavy metal! We made a nice stand for her, so she would not go anywhere… she wasn't even able to move! Is the chastity belt really necessary when you restrain a girl like this, we hear you ask. Yes, it is (that's the short answer). Enjoy the view of a truly immobilised Adrienne made to stand in heels, nice posture, belted, heavy collar, and legs locked to a spreader! Who wouldn't want this in their office?!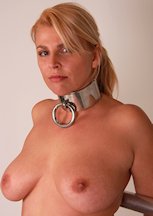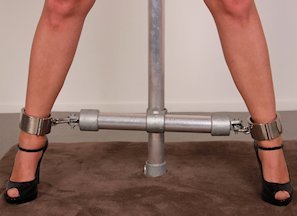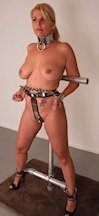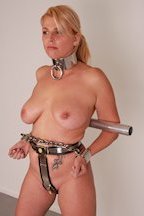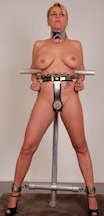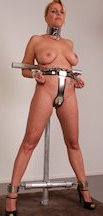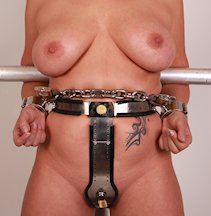 We have Adrienne where we want her: on her knees, cuffed to the metal pipes, in a huge heavy collar, and chastity belted! There is nothing she can do to stop us from nipple clamping her! And that's what we are going to do! Adrienne is very sensitive, so this should be fun. Immediately after the clamps have been applied, she starts sweating and struggling to get them off. You can really see it hurts her a lot, but we are not going to take them off for a while! Enjoy!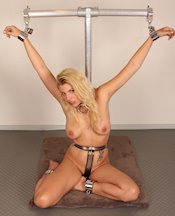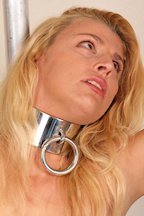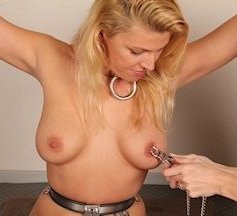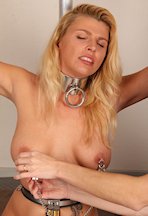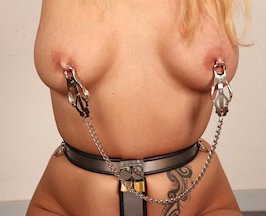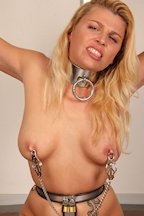 We received a member request: 'Can a model reach her clamped nipples while restrained in the custom SteelBound stocks?'. We can only answer that by trying it! And again, it is the fearless Adrienne who was first in line to take on this challenge. This woman is tough! Still firmly belted, Adrienne is locked into the very heavy stocks. The nipple clamps are applied at the tip of her nipples, where they hurt the most. It hurts a lot, judging from Adrienne's expressions. Now try to get them off :-) Lowering one hand means the other hand goes up, putting a lot of strain on the shoulders. Can she do it?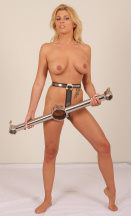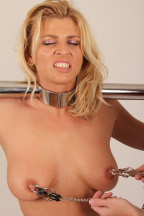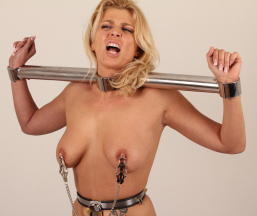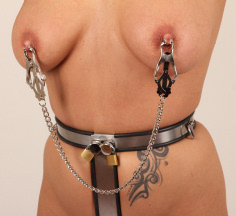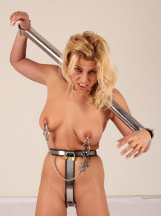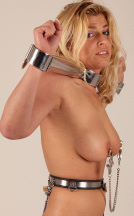 Last time, Adrienne made a smashing impression with our heavy steel hobble dress. Now she is back for more bondage training. This lovely and strong lady is told to cuff her own ankles and wrists, and then attach herself to the frame in a doggy style position. It seems easy enough. But her collar is so tight, that leaning forward in this position makes this a real breath play session. Her eyes start to tear, but she does not give up, Adrienne is a slave who will never give up!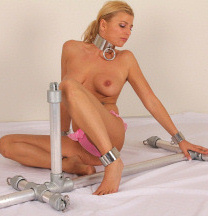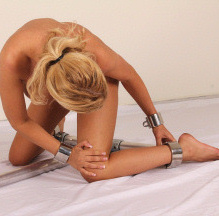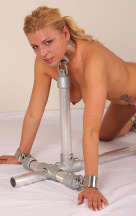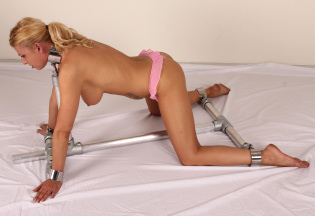 Today, we are very proud to present two new things to play with! The first one is our new pet slave Adrienne, she is a fitness and boxing model, strong and very fit! Although she can kick some serious ass, she much rather prefers to be submissive in her private life. She loves bondage and especially metal gear! So we show her our new heavy steel hobble dress, and Adrienne was blown away by it, she just HAD to try it! In this shoot, we show you all details of this new devious device, carefully locking it onto Adrienne's body. In this dress, a slave girl can not sit down or even kneel. Walking is hard. There are six attachment points to attach wrist cuffs in interesting positions, and it just looks stunning!! You won't see this anywhere else!