All updates featuring
Sleepless Collar
Heavy breathing in heavy metal gear. Poor Birdy Dee has lots and lots of unforgiving metal locked onto her. It is a predicament in itself, as time goes by she is struggling more and more against the weight of her restraints. The heavy chastity belt is cinching her waist super tight, and her wrists cuffs are locked to the sides of the waist belt. She can not lie down, because the Sleepless Collar prevents her head from touching the floor. She can not stand up, because her ankles are padlocked together. Birdy is getting so out of breath, we finally decide to give her the keys to the wrist padlocks. Even more evil, because after a long struggle to unlock herself, she still can not get any rest with the belt and collar still locked on! Birdy was totally spent after this ordeal, she is such a tough girl!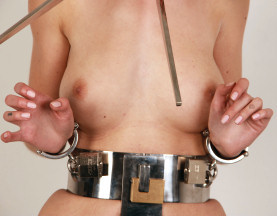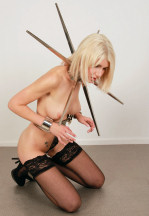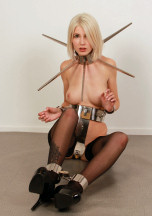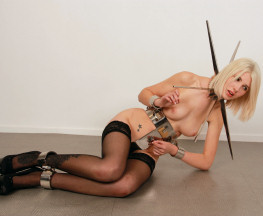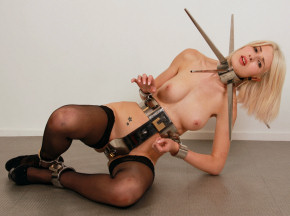 When we did the famous Ariel Anderssen ChastityBabes.com interview (watch it if you haven't!!), we had her locked in a belt for almost 24 hours. And it was tight! Believe it or not, Ariel actually wrote us to ask if she could be locked in a chastity belt… yep, she really loves new experiences! During that day, we also did a few shoots for this website. Ariel seemed to love wearing her garter belts over her chastity belt, and it actually looks very classy and hot with the secondary shield padlock exposed! She did not love the Sleepless Collar though, it is heavy and after an hour it gets really frustrating because you can not lie down (hence the name) to ease the weight on the neck. Still, somehow Ariel got excited by all this locking heavy gear. A shame she was still in her chastity belt ;)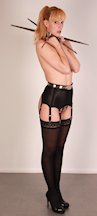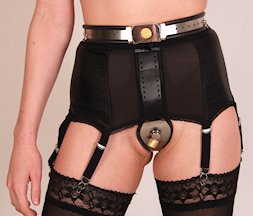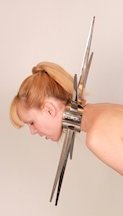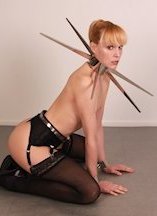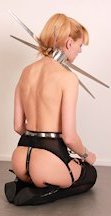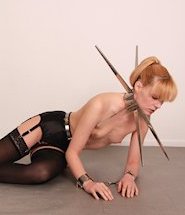 It has been a while since Ashley Bulgari visited us, but we managed to lure her back with an interesting dare. She is to lock herself in the Sleepless collar and make herself comfortable. Sounds easy! Of course, Ashley is belted, but she does not even notice that anymore, she is now very used to being locked in a chastity belt. Nope, the thing that concerns her more is the insane height of the Sleepless Collar, and its massive spikes. It is very heavy and very tall, so sitting up is not very comfortable. But when Ashley finds out that she can not lie down at all, she loses her temper a little and starts to complain. Well, let's keep her locked like this to see what happens!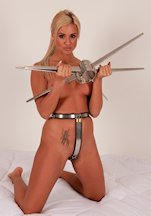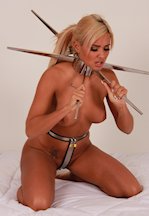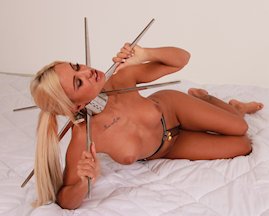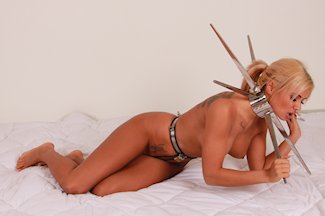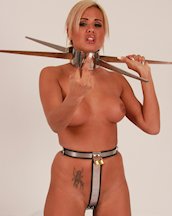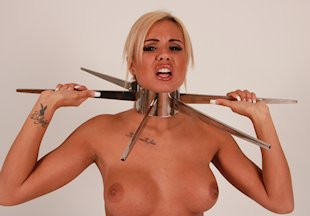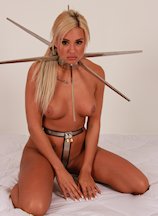 Another unique piece of metal bondage gear you will not see anywhere else on the internet: we are very excited to introduce our latest custom built contraption: the Sleepless Collar! Jenni C is less excited however, because she will be the first of our lovely slave models to test this huge heavy collar. Perfectly belted as always, Jenni was actually relieved at the start of this shoot that we were only going to feature a collar. No bondage? Well, wearing the tall posture collar with solid (heavy!) spikes for more than 5 minutes is bondage in itself. Jenni was locked in our newest item for over 2 hours, and she was getting tired. Then she found out why we call this the 'Sleepless Collar'. Can you guess why? Watch the video clip to find out ;-)