All updates featuring
Metal mouth spreader
Oh no! Stella Cox seems to land herself in trouble quite a lot! She is now boob cuffed to a frame, standing on a treadmill. Her hands are locked behind her back. A dental gag spreads her mouth wide open. When the treadmill starts, Stella will have to walk along in her high heels. She has no choice, she will have to keep up. Drooling on her awesome boobs, Stella tries to keep up with the treadmill while we increase the speed a few times. More and more drool starts flowing as Stella tries to focus on walking. Poor Stella! Why does this always happen to her!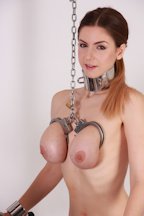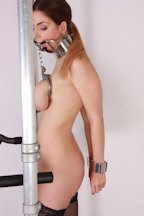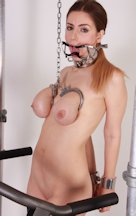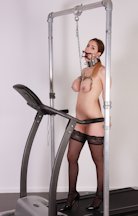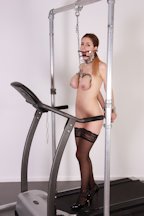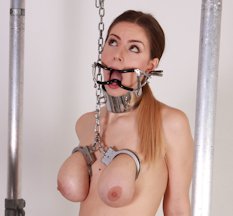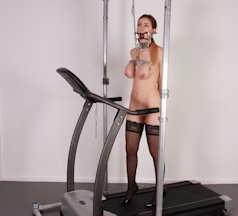 Cobie did it! She is the first girl ever to wear the complete Posture Trainer! After Nicole (without chastity belt and spikes), Natalia Forrest (without spikes), and Birdy Dee (without spikes), Cobie managed to wear the full device including the spikes. You wouldn't think the spikes made that much difference, but they are solid steel and there are six of them. They really add a lot of weight. Cobie could even move (limited) and she thought it was lots of fun, even with the added mouth spreader! Because she is just awesome and she loves bondage! This was all very tight and heavy, leaving lots of marks on poor Cobie's skin, but it was worth it! She even weighs herself + the device at the end of the video! Don't miss it!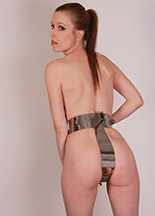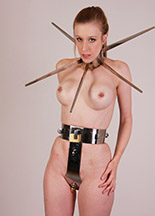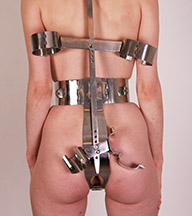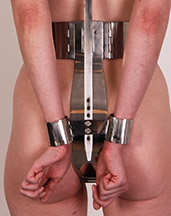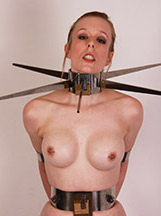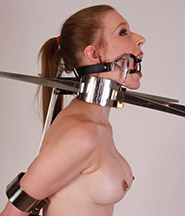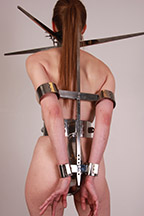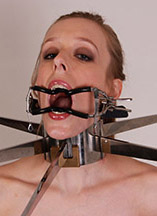 So Cobie was visiting Holland last month (in her chastity belt), and of course we insisted to steal a few hours of her time to lock her in even more metal. The chastity belt could not come off as part of her ChastityBabes.com deal, but no worries: it's locked metal so we approve. Cobie loved our custom built Wonder Cuffs, as introduced recently by Antonia Sainz, they are very strict and Cobie likes strict bondage gear! But we added a lot more than just the Wonder Cuffs. We locked Cobie's heavy collar to a frame, raised her arms, chained her ankles, and added a mouth spreader! This is a very hard position because of the angle of the Wonder Cuffs, but we were sure Cobie was loving every minute of it. If not, she did not tell us… or what was that moaning all about?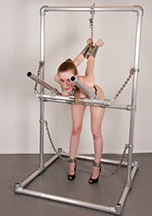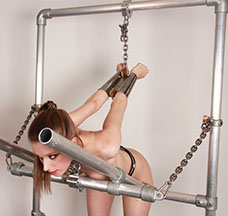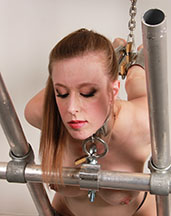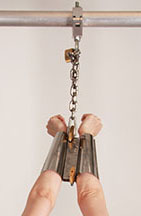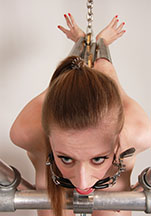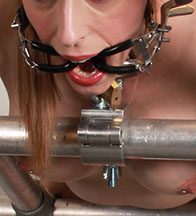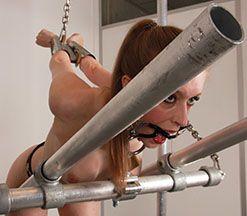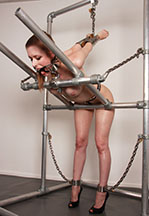 The gorgeous shapely Scottish bondage talent Alexia Valentine was rummaging through our studio when she suddenly found the heavy custom stocks! 'Ooooh can I be locked in these?!', she asked. She had already been in a tight chastity belt and bra for over 4 hours before we started this shoot, because we love to chat to models first, make them feel at home. With her big eyes, red hair and cute shoes and stockings, she looked like a happy puppy expecting a treat. Well, okay then, we locked the heavy device onto her neck and wrists and she was as happy as she could be! Until we grabbed a metal mouth spreader to hold her jaws wide open! We spent almost an hour shooting, with Alexia making little noises, completely unable to stop drooling! Fun!!!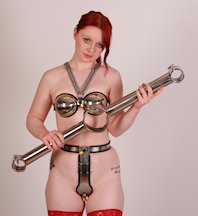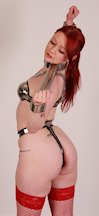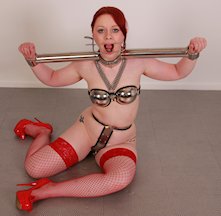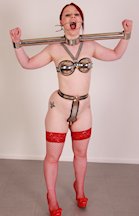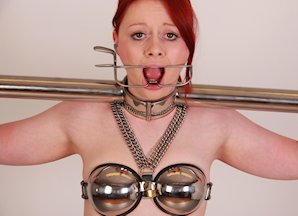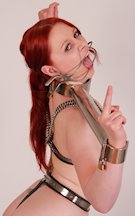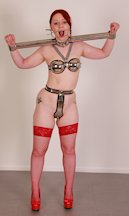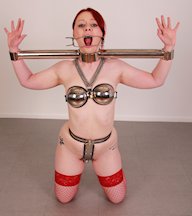 Bondage loving girl Pling returns with her incredibly long hair in a nice braid, ready for anything. She wants to try the RigidStock, yes, she really asked for it! Well, we are very happy to lock her in this device, and a heavy custom made chastity belt as a little added bonus. We then chain the RigidStock to the ceiling so Pling won't go anywhere, and we are free to add some more stuff that she did not anticipate. She can handle anything, so there's no reason why we should not spread her mouth wide open with a dental gag and clamp her sensitive nipples! Pling is surprised, but her moaning and drooling probably means that she is enjoying it… we think ;-)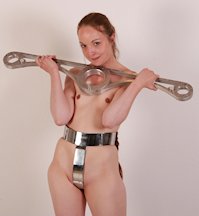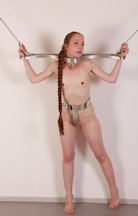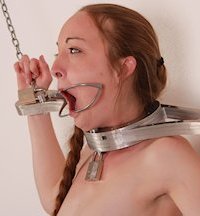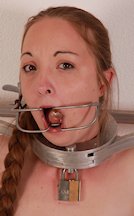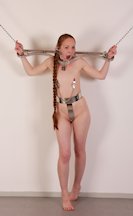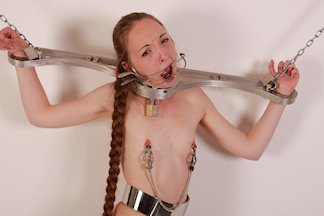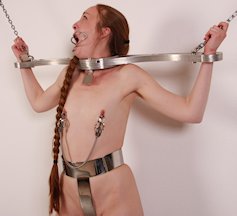 A new bondage woman on MetalBondage.com this week! Metal and bondage are not new for Yvette so we decide to give her an upgraded challenge. It is almost impossible to escape a RigidFiddle, but we give Yvette the key and tell her to try as hard as she can. The catch is: she can only try to escape if she gags herself with a metal mouth spreader. This way she will train self gagging, and the focus on escaping the fiddle makes her forget the spreader (and drool!). Watch Yvette trying to work out how to reach the padlock, with her mouth spread wide open! Great stuff. And of course, if she returns for a second shoot, a chastity belt will be waiting for this redhead bondagette!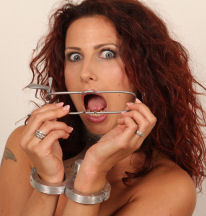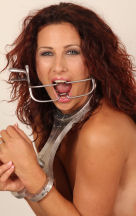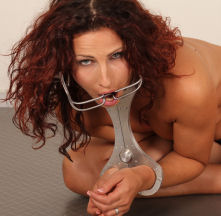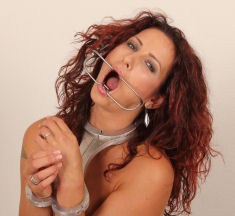 This week's model is very promising! She loves tight bondage and gags, and she is not afraid to try anything. Standing in ballet boots while having your arms pulled back by heavy upper arm restraints and wrist cuffs can be dangerous if you lose your balance. But Janna can do it, she is a tough one! The video shows her struggling against her restraints while her mouth spreader makes her drool all over her chastity belt! Must see!