All updates featuring
Nelly
Nelly is back! Can you believe she has been shooting Metal Bondage gear for 10 years now? Wow! Her amazing eyes and funny attitude are always a guarantee for a great update. Nelly loves shooting strange and heavy challenges, but she hates nipple clamps. Unfortunately, that's just what I had in mind for her today. She will be trained as a MetalBondage.com waitress! With a serving tray chained to her body and to her nipples, Nelly will have to learn how to carry cups without dropping them, kneeling and getting up, and walking around in heels. Locked in a heavy collar and waist belt, with her hands behind her back, Nelly tries her best to move very carefully with these cups on her tray!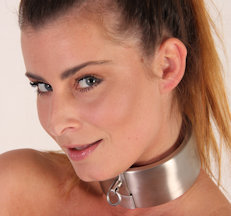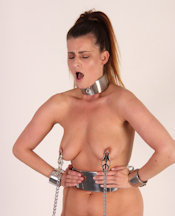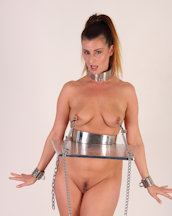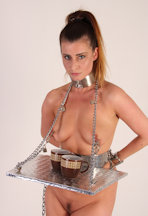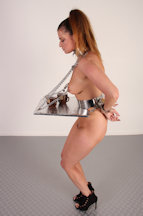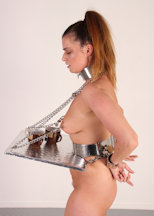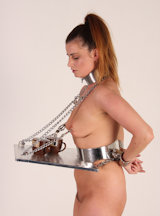 To keep girls like Nelly from touching themselves, you have to locked them in a chastity belt. Then, because they are very impatient and frustrated, they start tugging at the locks and prying at the secondary shield. So you have to lock them in the Iron Crown to keep their hands away from the belt. But then they start protesting and moaning all day, so you have to gag them. Don't they just realise they are making things harder and harder for themselves!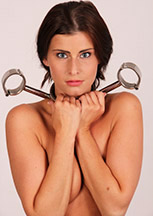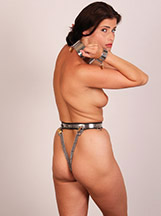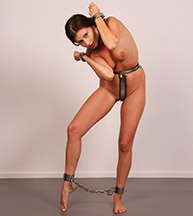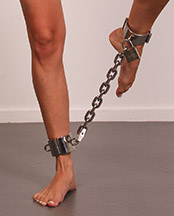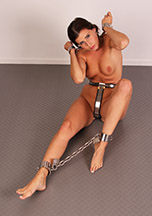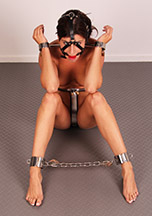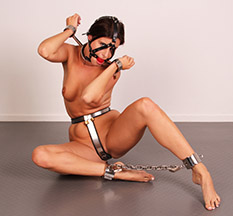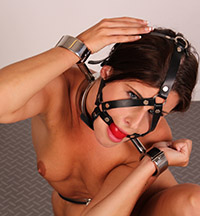 Nelly is back to face a new challenge! She has been away for a while, so let's refresh her memory by locking her into a chastity belt and 5 heavy metal restraints on her neck, upper arms, and wrists! Nelly is a tiny girl, but she is really flexible, so we came up with a position we would like to call a 'scale strappado', where the strappado point is not on the wrists, but between the wrists and elbows. This creates an interesting dilemma: Nelly can stand up straight (well, kind of…), putting more strain on her elbows, or bend over and go into a full strappado, keeping her arms level to reduce the tension. Watch her find her balance in this week's video clip!!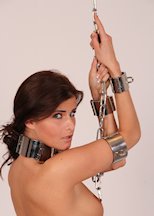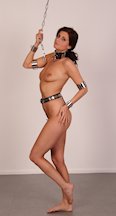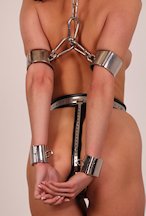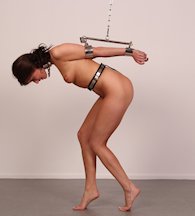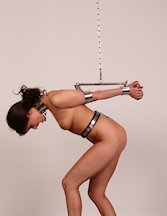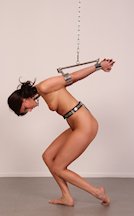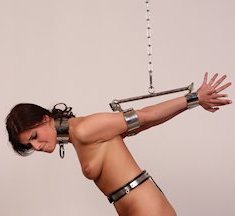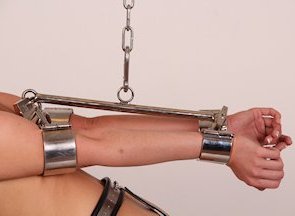 We found the tightly chastity belted Nelly in our studio, carrying around our RigidStock TL with a big smile on her face. 'What is this?', she exclaimed, proceeding to take the stock completely apart. We think curiosity should be rewarded, so we let her play around with all the metal parts for a while. It's so good to see that she is not scared anymore, she even came to our studio all by herself this time (she always took a friend in the past). When she figured out that the big scissor-like part went around her neck, we helped her a little… and made her regret her curiosity! After we locked her in the RigidStock, we told her she now had to figure out a way to get out again. Surprisingly, Nelly was a whole lot less enthusastic about that part of the afternoon…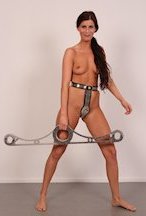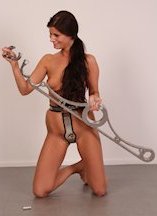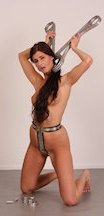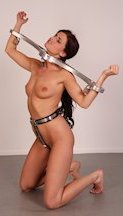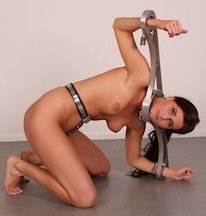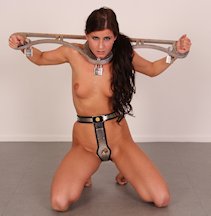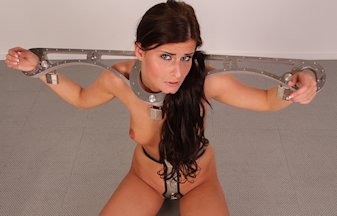 Look what we made with our Connect-A-Model System™! We found out we had enough pieces and cuffs to make a rigid collar connector (hanging from the ceiling) and two pairs of rigid handcuffs! We were so excited! We guess that our super cute young bondage girlfriends Nelly and Little Caprice weren't as excited. But we had to separate them somehow, because they were trying to get their chastity belts off, and we don't allow that. After a good while of precarious balancing on their toes, we decided to let them try to escape! One pair of cuffs requires a special tool that we placed on the floor. Will they work out how to free each other without getting choked? Don't miss this intense challenge! It's one of our best… and it's Little Caprice and Nelly!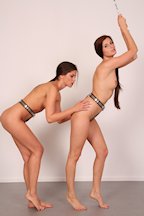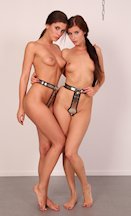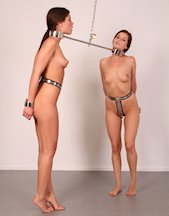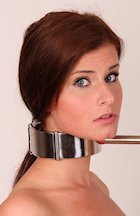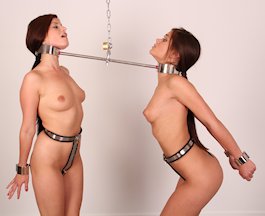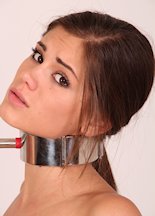 They are back! And we belted them! The very playful Nelly and Little Caprice are instructed to attach a chain leash to each other's collar and sit still in a kneeling position, like two good young slave girls. Well, they got the first part right… but as soon as they discover the joy of pulling each other down by the neck, a big tug of war is initiated. Both girls are submissive in nature, but when placed in bondage together, who will be the more dominant one? Or will they just wear each other out? Great to watch!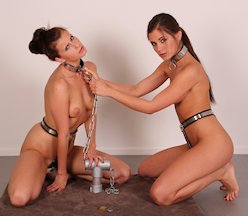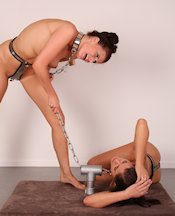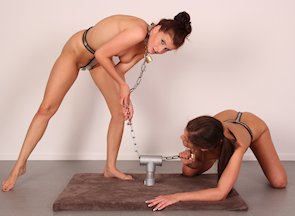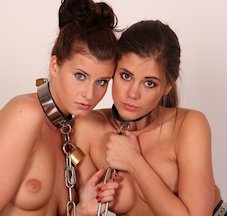 Nelly asked us if she could bring her best friend to her next challenge shoot, and it turned out to be none other than the infinitely cute Little Caprice! Now we had two of the world's cutest young bodies to lock into steel, and we made the best of it! Completely nude, these two super tiny girls are locked into giant heavy collars, tight broad waist bands, and heavy wrist cuffs. We then lock them into a hugging position, and toss them the keys to the padlocks. This is going to be a very hard escape challenge, but it is possible… once they realise all of the padlocks have a different key ;-)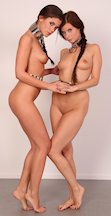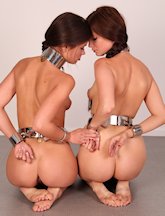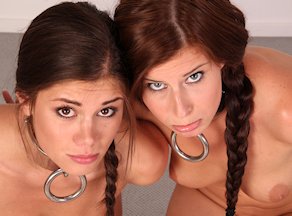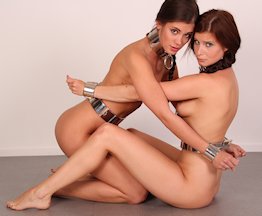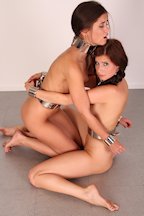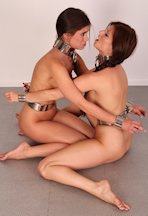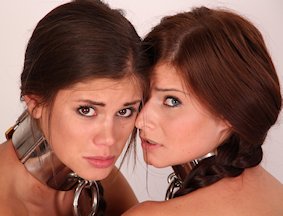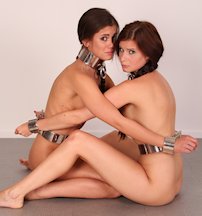 We love to use this neck spreader on two close friends! Why? Well, as we have seen before, chastity belts aren't enough to stop intimate things from happening, girls still have mouths (and tongues!) they can use. Gagging them is a good option, but this solution is way more evil! A rigid neck spreader with two heavy locking collars brings kissing sooooo close yet so far away. Moreover, they have to cooperate on every move. If one wants to sit down, the other has to sit down too. Claudia and Nelly have very slender necks, they can even turn in their collars, but that only makes things more complicated when you are cuffed together ;-)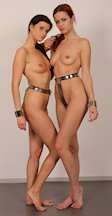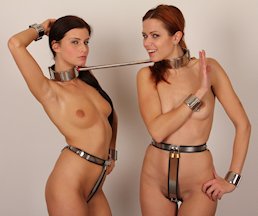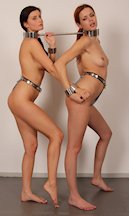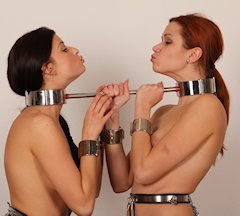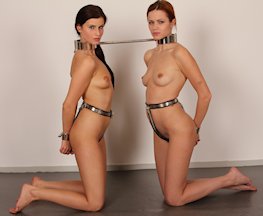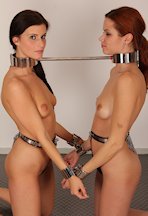 The moment you have been waiting for: the super hot (but inexperienced) duo Claudia and Nelly locked in chastity belts! They did not want to do it at first, but after a little persuasion we managed to lock them in the belts and collar them in stylish slave collars. To add a little challenge, we chained their collars together in such a way that they will have to cooperate. If one of them wants to stretch and get up straight, the other girl has to bend all the way down to the floor. Let's hope they will get along for the next few hours!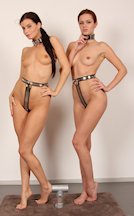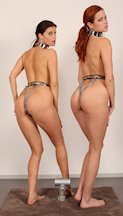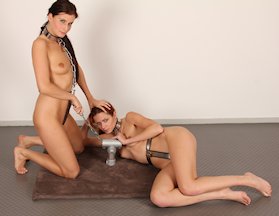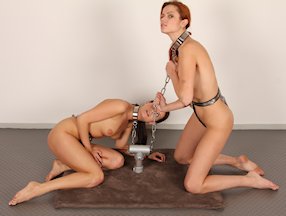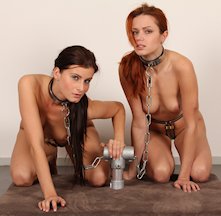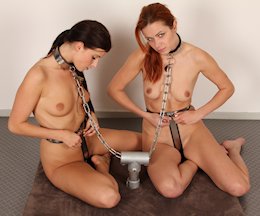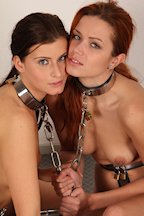 When two new girls show up, it is always best to make them feel a little more comfortable by starting off easy. We just gave the long-legged duo Claudia and Nelly two RigidFiddles and told them to strike some poses. All fun and games. Until we locked Claudia's wrists to Nelly's neck and vice versa. Now every movement becomes very painful to the other girl unless they coordinate and communicate. Fun is over, keys are on the floor, and it will take a lot of pain and effort even to get to the keys. So it was a rough introduction after all for two of the most beautiful tall girlfriends you have ever seen locked in metal!