All updates featuring
Cage (dog)
Our pretty slave girl Ariel is back for more metal bondage training! She loves pet training, and we have all of the equipment for her! A dog cage, collar, leash, and even a dog bone harness gag! Of course, Ariel's large boobs need to be locked in boob cuffs, we looped the chain behind her neck so she has some support. Pet training with Ariel is a lot of fun, she knows a few positions already and she is very playful. We think we should keep her!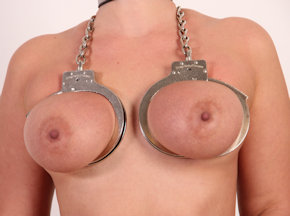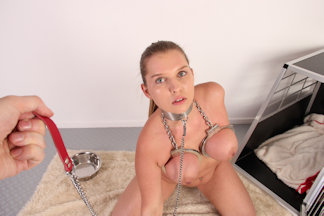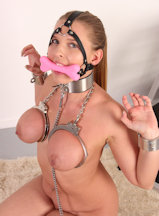 We made custom fitted boob bands for our pet slave Arabella! They are extremely tight, she keeps trying to get them off, but it's impossible without the key. She will be allowed out of her cage, on a leash, and she can have a little drink from her bowl. Arabella's eyes are begging us to unlock her metal boob bands, but we are not going to. She will have to get used to these tight cuffs on her chest. After all, they look awesome on her, don't you agree? Tight is right! Arabella will learn, she's a good pet.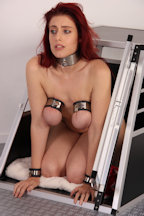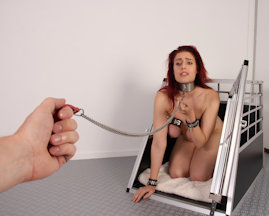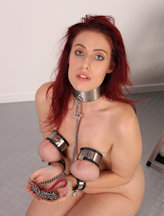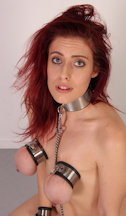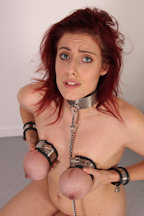 You have probably seen the ongoing Chastity Deal with Stella Cox over at www.chastitybabes.com. She is locked in custom made boob cuffs! And a chastity belt of course. Perfect opportunity to show you how submissive Stella actually is. Here she is displayed as a metal bondage pet, collared, boob cuffed, belted, and caged. She is also wearing a fox tail butt plug! Steel mitts are added so she can't pry at her belt, take out her buttplug or play with her boobs. Yes, this is all very necessary, because Stella looks cute, but she really can't stop masturbating. It's true, google it :) She's been told that if she behaves like a good pet slave, those clunky mitts might come off. Maybe…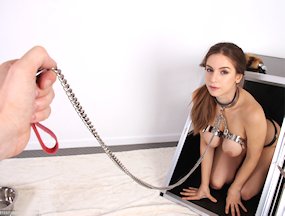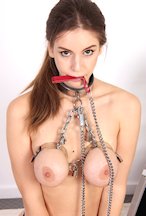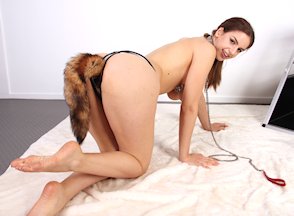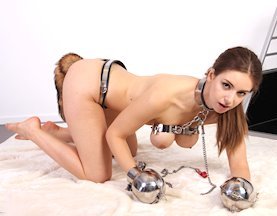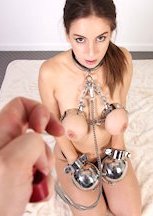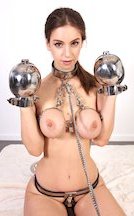 Australian bondage talent Cobie was wondering what it would feel like if her arms and legs would be locked together in this unique way. We found some really tight cuffs for her to try this pet bondage. It has been done in leather, but it's something else to try this in heavy steel! That's probably why Cobie wanted to try this, she absolutely loves bondage challenges. To see her move around on her elbows and knees in heavy metal is something you can't miss! Cobie is such a cute pet! We just wish we could keep her forever (for real)! Maybe next time we will not let her go, she is just too awesome!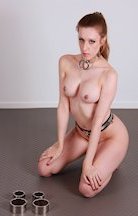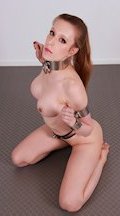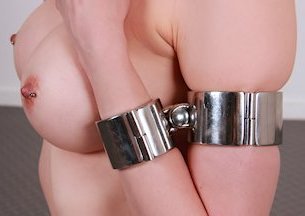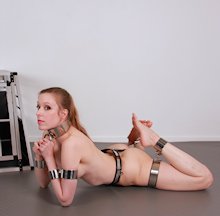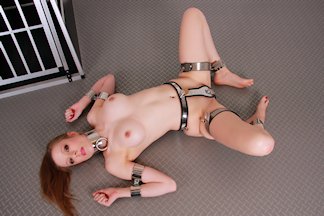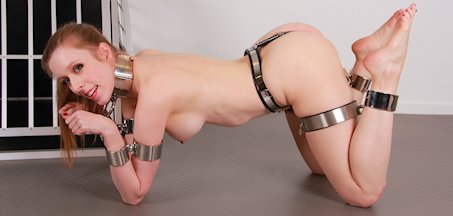 We trained Satin Bloom to do everything you see in this update, and she loves to play our little metal bondage puppy! Her huge steel collar is locked on with a pin and padlock, and her chastity belt never comes off (of course), but we taught her how to put on her own wrist and ankle restraints! These heavy restraints have a unique push pin locking system, meaning you can lock them on, but they can not come off without using a tool. Satin is a perfect pet, great boobs and flexible legs! She has a bit of naughty humor, but she listens very well! She knows how to lock herself into the small dog cage, and will patiently wait to be let out again. Good girl!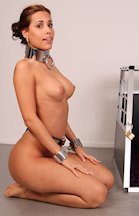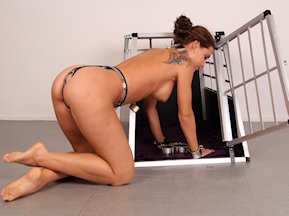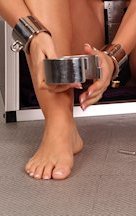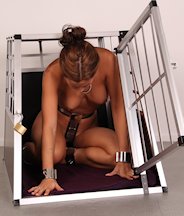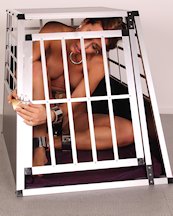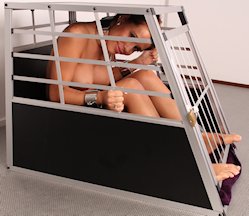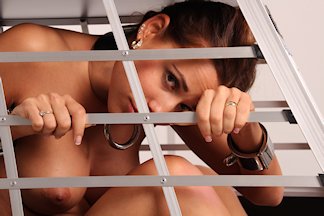 Some girls you just want to keep! Especially because they are not the type that want to be kept. Posh girl Natalia Forrest is locked into a tight chastity belt and collar. She is on a long leash, and she has been told she will be free (of the chastity belt and collar) if she obeys and locks herself into a very small dog cage. There is barely any room for Natalia to move around, but she manages to get herself in and lock the door. Of course, we did not tell her how long she would have to be in there… sleep well Natalia! And don't play with yourself ;-)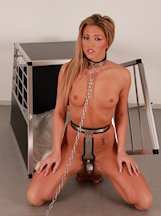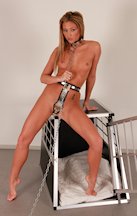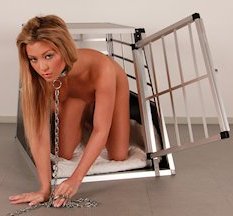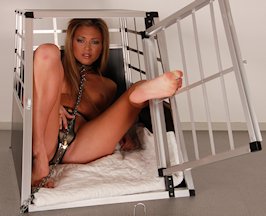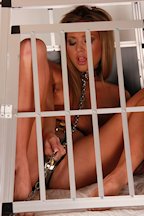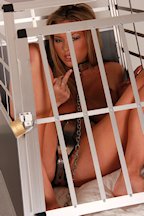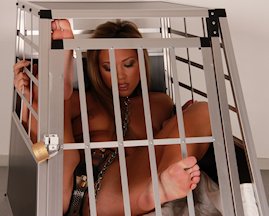 Our resident pet slave Ashley Bulgari decided to introduce yet another one of her hot friends to MetalBondage.com! The only problem is: Ashley has already been belted and so is not permitted to shoot without a chastity belt, which means her friend will be belted on her first shoot! That's kind of a hard introduction for poor Tea, but don't worry: the big boobed friends are having a lot of fun with our new dog cage this week! Putting each other in the cage turns both of them on, they both like the power play and the submissive role! Great to watch this duo play, hot picures and video!