All updates featuring
Tiffany
Tiffany was doing her makeup in the bedroom when she suddenly discovered the Posture Trainer I had hidden away. Well, I did that on purpose of course, because Tiffany is curious enough to ask if she can try it. She was locked into this rigid device before she knew it! It's a brilliant design. Tiffany enjoyed it for about two seconds and then wanted to be let out. I told her the key was on the table, and wished her the best of luck! Poor Tiffany!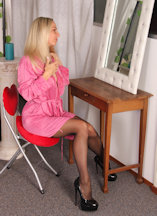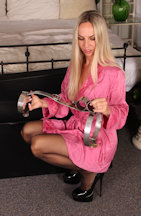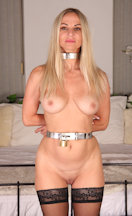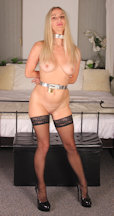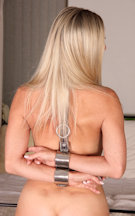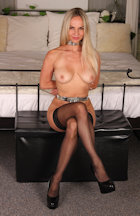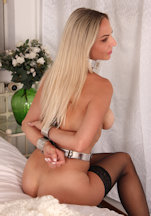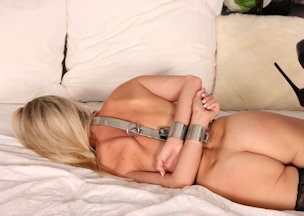 Wow, Tiffany is back yet again! She has been on the website for over 12 years and she still looks hot as ever! Remember when she tried the Stainless Steel High Heels? She found out I now have even more challenging shoes: the Stainless Steel Ballet Heels, and she wanted to give them a try! Locked in a chastity belt, cuffs, and collar (of course), the awesome Tiffany locks the ballet boots on her feet. They are padlocked and they can not come off without a key. She tried to stand up, and even walk a few steps in these brutal heels! What a great first attempt, Tiffany definitely is a ballet boot talent!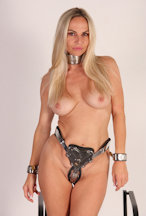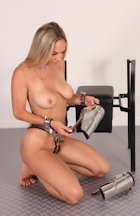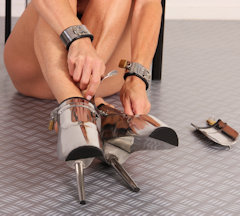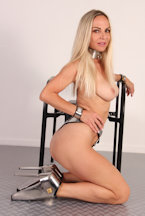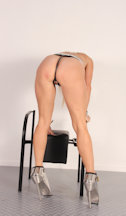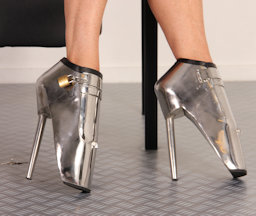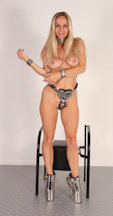 Tiffany has been with us for almost 7 years! She has willingly tested the craziest metal bondage devices and she has been in chastity belts for long periods of time. We love her down to earth personality, she knows she will get tested when she comes over, and she doesn't mind! Today we put her in two of our most extreme creations: the super heavy chastity belt (with chain back) and the Ballet Stocks! The total weight of the items would be hard for Tiffany to lift, but once she is locked into them the weight becomes a little bit easier to bear. But don't be mistaken: the Ballet Stocks are hard! They can wear a girl out very quickly! Let's see how Tiffany gets on with our unique contraption today!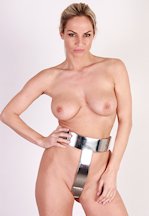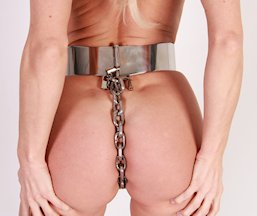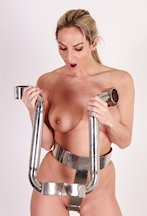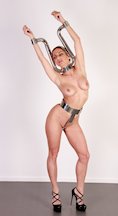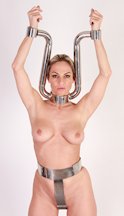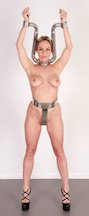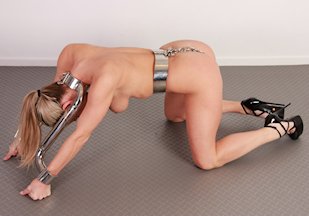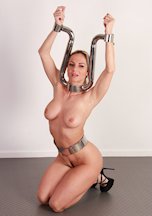 We finally have them! Stainless steel high heels! Often requested by our members, these torturous shoes are an amazing piece of engineering! We are still in the process of tweaking them though, as Tiffany finds out. She is the lucky girl who gets to test these heels for the first time ever! The heels lock very tight around her ankles (perhaps a bit too tight), so it is hard for her to stand up. It is all very rigid. Tiffany is an expert in walking in high heels, but she stumbles around in these metal high heels as they are very rigid and uncomfortable. Well, no one said it was going to be easy! We will continue working on some other designs, but we think this is a very good start!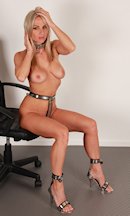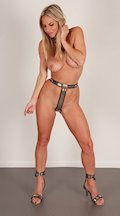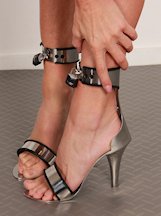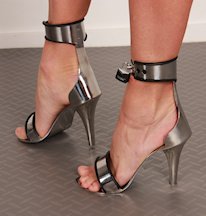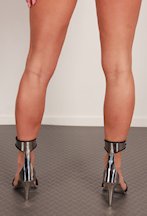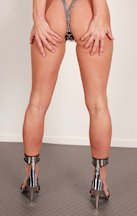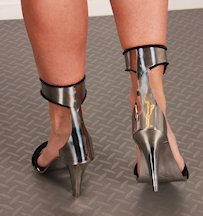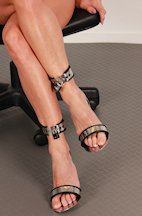 Even we have known Tiffany for years, we did not know she is actually very flexible! But when she told us, she wished she hadn't, because that gave us all kinds of new ideas! We decided to test Tiffany's flexibility by locking her to a low spreader bar in a brutal leg split! Usually that would not have been super difficult for Tiffany, but she was in a VERY tight chastity belt too! She was all spread out, and with her hands locked behind her back, there was no chance to escape this predicament! Beautiful!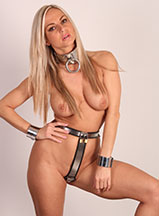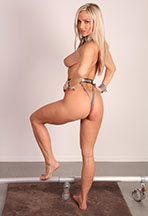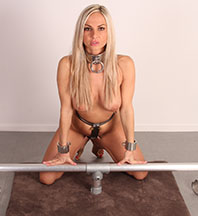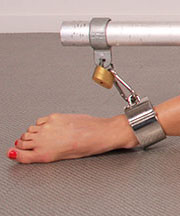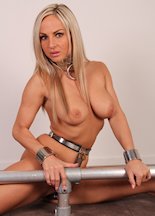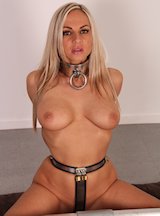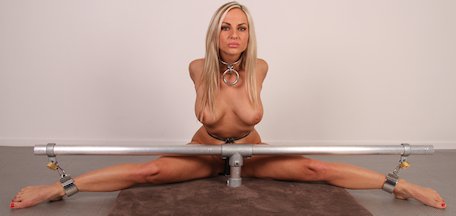 Welcome to update 350! A milestone deserving a special feature update! We all have had this fantasy! The arrogant boss sitting at her desk, she is beautiful but you know she hates you. She treats people like slaves. How great would it be to abduct this arrogant CEO and chain her to the wall in a cellar, naked of course! She can keep her fancy stockings and heels, but we removed all of Tiffany's clothes and replaced them with super heavy restraints which are locked tight onto her body. A heavy chain runs from her ankles to her wrists to her neck and then to the wall. This will teach our arrogant CEO some manners!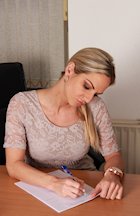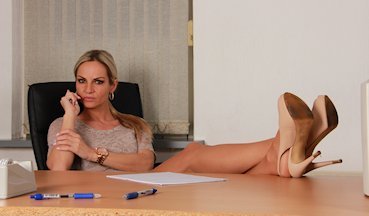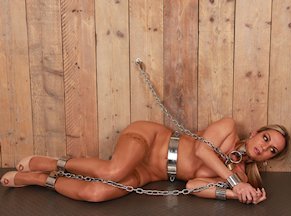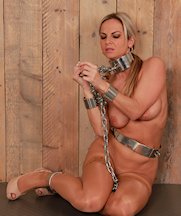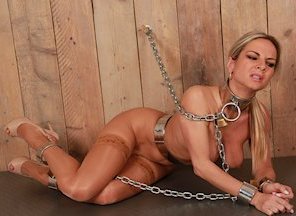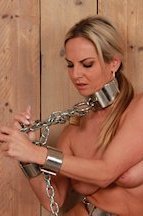 Inspired by some member requests, we built another crazy contraption that is more restrictive than it looks! This heavy steel upper body harness is held in place only by the (equally heavy) tight locking collar. A huge padlock makes sure the harness will not come off. Amazingly, this harness is completely open on the back side, but because of the collar construction there is no way to get it off. Two convenenient attachment points on the harness can be used to cuff a girl's wrists to her sides, or even better, arms crossed, like a straitjacket! Tiffany is the lucky girl to try this one out, and she is definitely not happy about the weight of this thing!!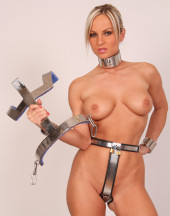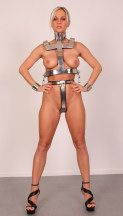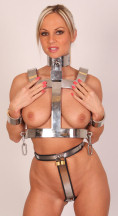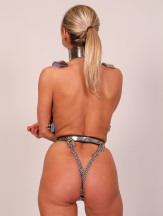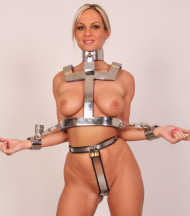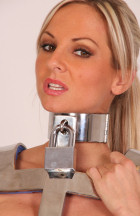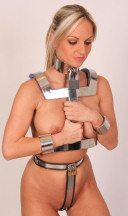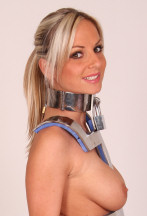 Aah, it is Tiffany, the wonderful blonde we have been submitting to bondage for a few years now! She is getting used to our harsh gear, and not afraid to try anything new. So we created a little challenge for her: we lock her fists in our new Steel Mitts, and attach them to a spreader bar that is hooked to her tight metal waist band. We used snap hooks on purpose, this makes Tiffany's challenge more frustrating (as she can not use her fingers) and it is rewarding her for extreme struggling, because… she might unsnap a hook. We love new gear… and Tiffany in cold metal!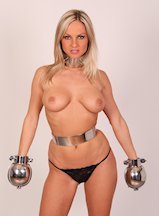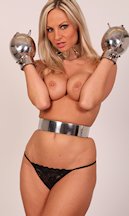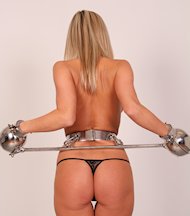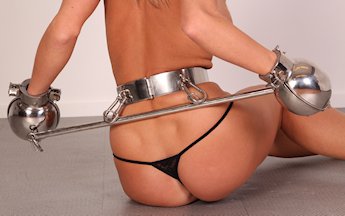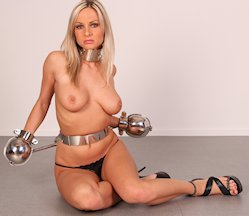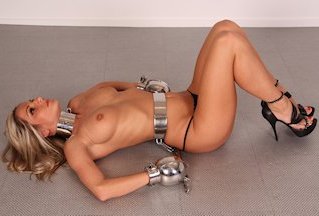 So what if we used our custom Connect-A-Model system to connect two collars? A simple and brilliant plan evolves into a very crazy shoot with two of our top models: Ashley Bulgari and Tiffany. Locked into tight waist bands and cuffed behind their backs, these girls are the first to experience a rigidly connected collar, and straight away they face a lot of problems. Ashley is slightly taller so she is pulling Tiffany up by the neck. They decide to kneel down, but they have to coordinate this very well or they will hurt each other. Soon, these girlfriends start to talk about their immediate future: what if they have to go to the toilet? Would they be able to drive a car? Have sex? They say it feels like being two snakes locked together, but as they find out they can still rub their boobs together, they are still enjoying themselves a lot! Funny stuff!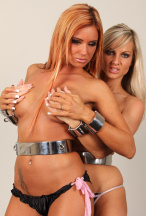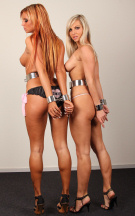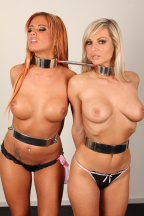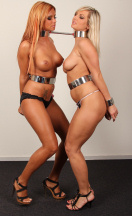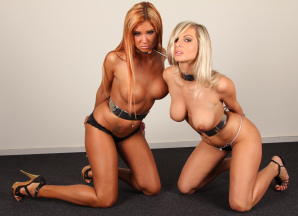 While other sites are always about '5 point restraints', we believe a complete restraint set covers six basic areas: wrists, ankles, neck AND waist. So to demonstrate this, we put cute girlfriends Tiffany and Vera in 6 metal bondage items each! These custom made heavy stainless steel restaints look really good on these hot girls! The tight fitting belts both have loops in the back, so the idea of a '12 point hug' position was born. See Tiffany and Vera completely helpless in heavy metal, all they can do is hug each other. It's a shame these girls are such close friends, it would have been even more interesting if they hated each other…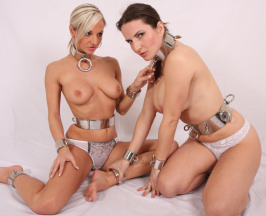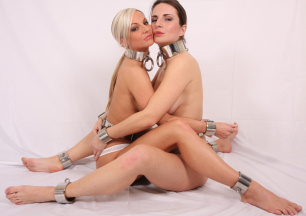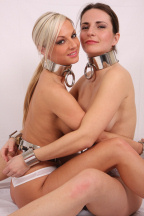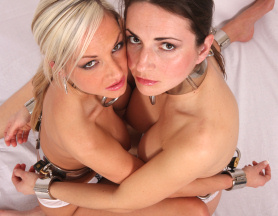 Tiffany and Vera are always very close, in fact these girlfriends are so close we can not even find separate pictures of them for our models page. So we tried a little experiment: what if we fiddle and gag both girls… will they help each other, will they stay close, comforting each other? How will they communicate through these tight ballgags? Since their first gagging (MB072), the girls are now adamant about having their own gag color, Tiffany only wants a pink gag, while Vera loves the classic red ball. Their fiddles are different models too, it's interesting to see which RigidFiddle model allows more movement, if any at all. We could watch these girls fiddling around for hours!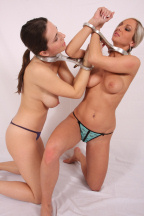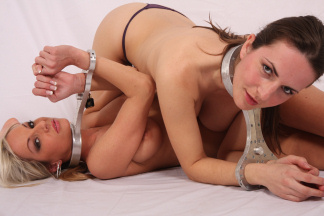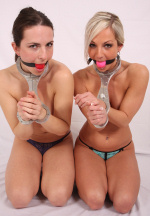 Close friends Tiffany and Vera will always try to help each other. They absolutely hate their chastity belts and they will do anything to be free again. We decide to allow them their escape attempt. But on one condition: they have to ballgag each other first! Vera (brunette) first gags Tiffany (blonde) with a good size pink ballgag. Then it's Tiffany's turn to gag Vera. They probably don't know what to dislike more, the gags or the chastity belts, but they stick to their plan and try to get each other out of their belts with their bare hands. Unable to talk, all we hear is some grunts and moans from these first-time gagged girls. Training these two is really on schedule!!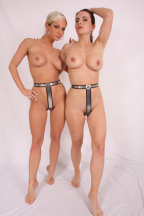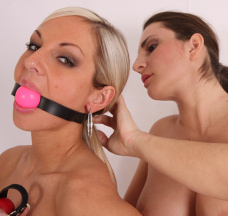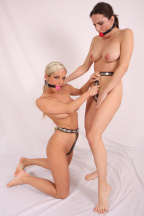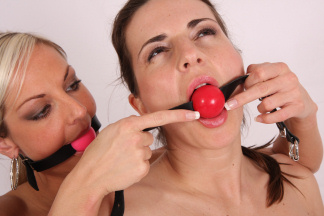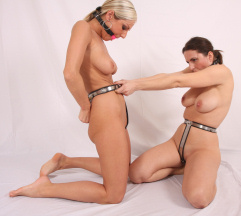 A member request: we tell our pet slaves Tiffany (blonde) and Vera (brunette) to go into the waiting room, undress and padlock their collars to the double obedience training pole. Tiffany and Vera are fairly new to MetalBondage.com, and this is actually their first time in their chastity belts and locking collars. Still, they do as they are told and they seem to be perfect slaves, kneeling and waiting for what will be next…. for about 3 seconds… It turns out they become bored very quickly and they start moving around, pulling on their collars, trying to stand up, and everything else that can hardly be described as obedient… So far for lesson 1….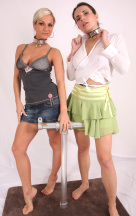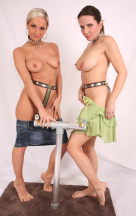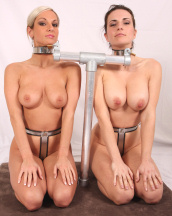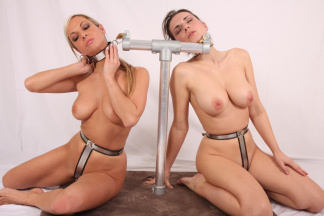 Tiffany and Vera are close friends, and both are very new to bondage. So let's do a fun set that won't scare these beautiful models! A box of neck cuffs should provide some nice entertainment. Just watch Tiffany (blonde) and Vera (brunette) gently neck cuffing each other, lifting their hair to expose their necks, stacking those neck cuffs higher and higher! At five each, the lead rings are locked together, creating some of the best MB imagery yet! And the good news is: next time they want to try something harder! We can't wait! Send in your member requests!