All updates featuring
Heavy Metal Box Tie
A tall blonde fashion model in full chastity! Sophie has been upgraded with a chastity bra :) This stunning beauty is going to try one of our unique designs: the Heavy Metal Box Tie! It's been a while since we used this device! It is perfect for Sophie because she is tall and the upper arm cuffs are a great fit. She loves a challenge! We dropped the key on the floor, but we did not tell her that was only the key to the big metal protective flap. There are also small padlocks on her wrist cuffs, and we did not give her the key to those. But Sophie can't escape anyway, because even with the key she can't reach the big padlock. She is stuck. But Sophie loves being stuck, she is a true submissive and she's local to us! Sophie is available for custom videos at all times, so email us your wishes and we will make your dream video with Sophie!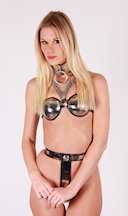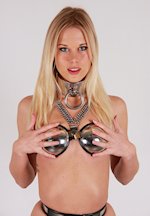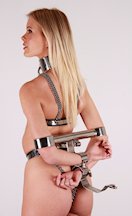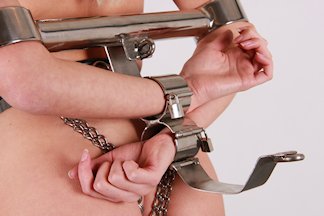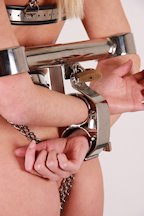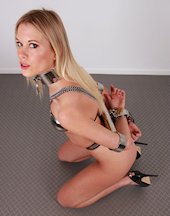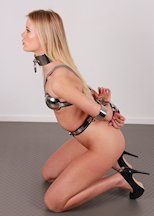 It is always a pleasure to lock up the very vocal Natalia Forrest! She does not really like being stuck in our devices, which makes her videos great to watch. She will try to escape any way she can and if she does not succeed, she will simply complain a lot until we let her out. The problem is, Natalia is so gorgeous in steel, we don't WANT to let her out. So she is always stuck in heavy metal for a long time, longer than she anticipated. The heavy steel box tie is inescapable, there are 2 separate tight wrist cuffs, covered by a heavy metal plate. That's 3 padlocks she can not reach. Good luck with that!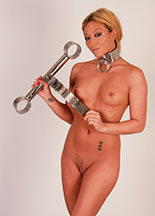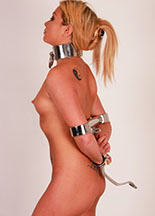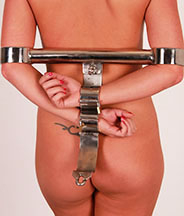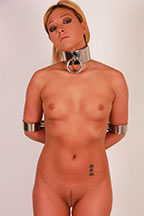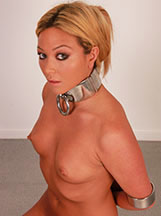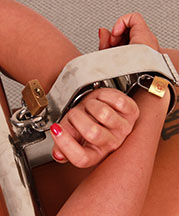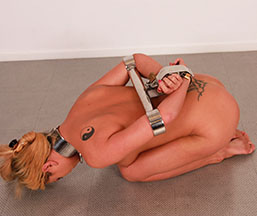 Hmm, I don't think I ever showed you this new device! It is a very heavy box tie restraint, with some interesting features! First of all, it is the first device that has restraints that don't open: the upper arm cuffs are solid and they slide on. The wrists are secured in two small cuffs with pin-and-padlock style locking. Then a large metal flap padlocks into place, mainly just for visual effect though. As with all box ties (rope or metal), the upper arm restraints are stopping the wrists from being pulled out (although the wrist cuffs are too snug for that anyway). Brilliant! We thought Chessie Kay would be a great model to present this device to you! I don't know if she agreed, it is very heavy and awkward!