All updates featuring
Katie Thornton
We finally did it! We got the spectacular Katie Thornton impaled on the One Bar Prison! She was there for a long time, because she looked so amazing and we have always imagined her as the perfect mannequin. Perched in high heels, there is no way Katie can step off the One Bar Prison as she can't raise herself up high enough. High heels are essential for a One Bar Prison! Locked in a tight heavy collar and locked boob bands, Katie wasn't very happy about her predicament. Especially because this shoot took extra long. Well, after so much convincing, we were not going to let her go anytime soon! Enjoy!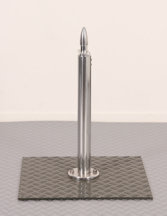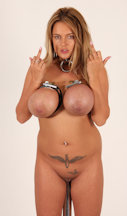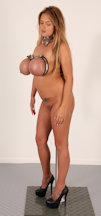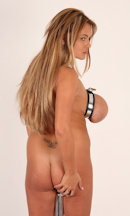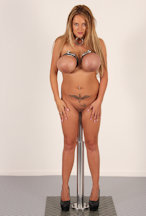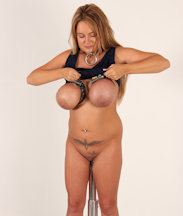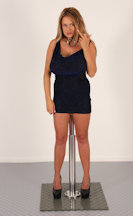 It is time!! Katie Thornton is back, locked in her custom made boob bands, and she will test the Rigid Boxtie Device. Watching her try to escape this device is going to be awesome! Her huge locked boobs are actually in the way when she wants to get the keys from the floor. But most models can not even pick up the keys. The wrists are trapped in a very rigid way, so Katie will have to lie down to get the keys. A very hard task with those huge breasts!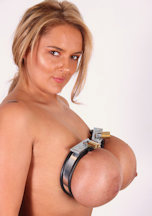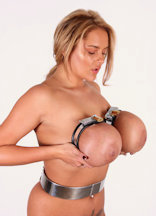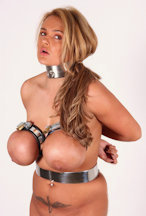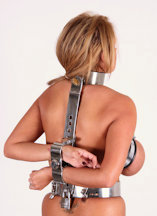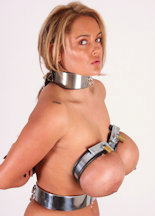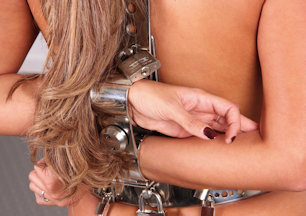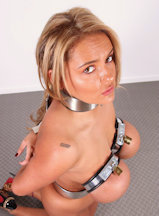 Katie Thornton! Locking her into a big steel posture collar would probably be enough already, because there is plenty to look at if Katie is our slave girl for the afternoon! But we wanted to gag her again, because she does not like that, and that makes us want to ballgag her even more. How to prevent Katie from removing her ballgag? Well, we have enough gear to stop her from doing so! Steel mitts would do it, because she can't use her fingers, but some girls can even remove their gag with the little loops on the mitts. So we had to build a small spreader from our modular Connect-A-Model system to make this bondage extra secure! As expected, Katie wasn't very happy…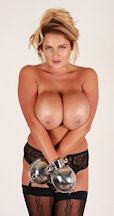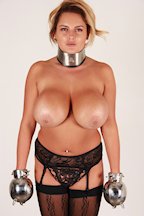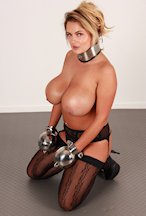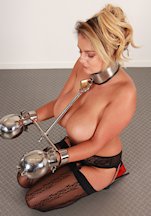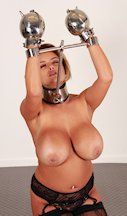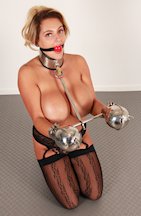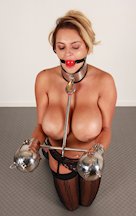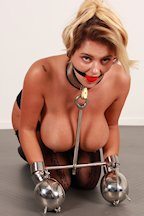 The legendary Katie Thornton is back! We just can't resist to lock her boobs in metal, but Katie does not really like the tight Boob Bands. So she starts tugging at the padlocks, trying to free her boobs. We can't have that! But wait… Steel Mitts are just the thing we need to stop her from tampering with the Boob Bands! And some chains to frogtie her so she looks like a cute pet on all fours with her locked boobs. Obviously Katie liked this even less, so we also had to gag her to stop her complaining. Perfect!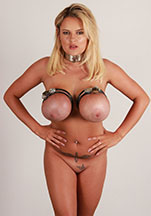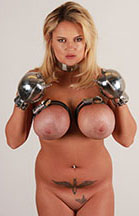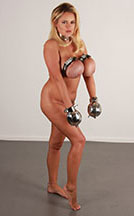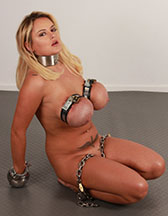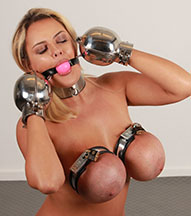 What if… a girl has awesome boobs and you want to play with them all day? She will probably try to stop you, at some point. Or at least cover them with her hands. Well, there is a device that will leave her defenseless and available for you to grab whatever you want. It is called the RigidStock TL and Katie Thornton is about to discover how effective it really is. Actually, she wanted to try it herself, and we didn't stop her. She is so spectacular, and Katie in a RigidStock… it does not get much better than this. Well, at least she is wearing a chastity belt for some protection. But those booooobs!!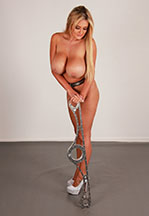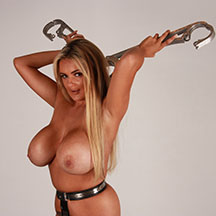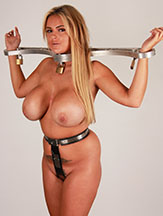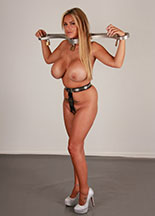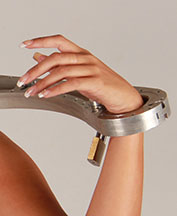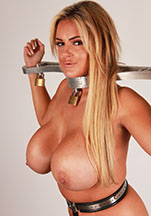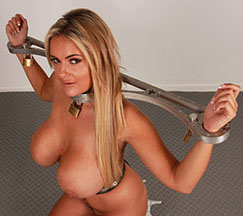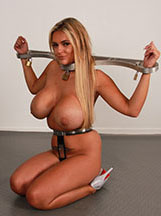 Training Katie Thornton as a waitress! Wouldn't she be the perfect girl to bring you a drink on a hot day? She still has a lot to learn before we can lock her hands behind her back, because her balance is not perfect yet. Especially when kneeling and getting up, there is a risk the drinks may get spilled. Her big boobs are helping her to stabilize the chains though, so she is getting there. After all, what else is there to do for her? She can't have any fun, since she is locked in a tight chastity belt (with a metal tray locked to the sides), so she might as well be of service.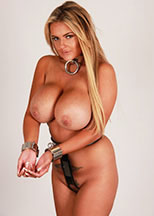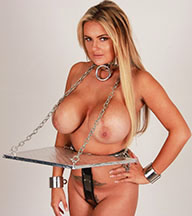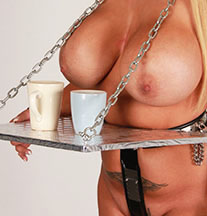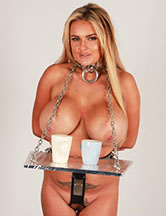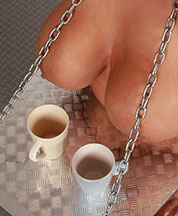 Well, I have said it before: I really would like to keep Katie Thornton forever! I mean, look at her! She is the perfect bondage doll! But where do you store a Katie Thornton when you are not playing with her? I needed to build a custom bondage frame to store her and make sure she didn't get away! No problem, because unlike most girls, Katie Thornton has two extra attachment points! So I chained her by her wrists, ankles, thighs and boobs! Wouldn't want her to get away! Katie was not so happy about this storage system, but all she could do was give me the finger. Oh well. Members, don't forget to send in your metal bondage suggestions for this spectacular girl!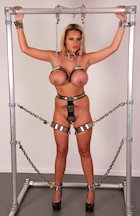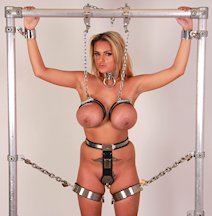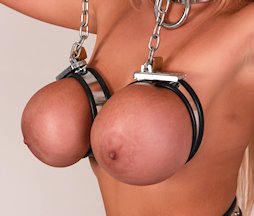 We have Katie Thornton in metal!! Chastity belt, heavy wrist cuffs, and collar! But the best part is: we locked Katie's MASSIVE boobs in our custom metal Boob Bands! An awesome spectacular sight in this picture set you can not afford to miss! Katie was a lot less thrilled to have her huge breasts tightly clasped and padlocked, but we told her she would have to nipple clamp herself if she ever wanted to be let out! There is a little hint of a submissive girl in Katie, look at the way she folds her arms behind her back… maybe she loves these kinds of challenges after all?