All updates featuring
Serving tray
Darina is a very tough girl! She has been in many MetalBondage updates and she is always amazing! Fun, flexible, able to challenge herself, Darina is the perfect submissive to test my gear on. The dreaded serving tray is her next challenge. Clover clamps already hurt a lot, but hanging a wooden tray from them and then putting some cups on the tray will seriously test the strength of Darina's nipples. Don't worry, Darina can handle it!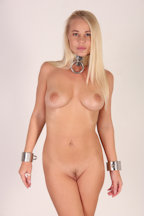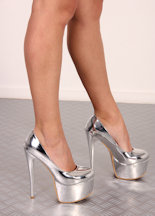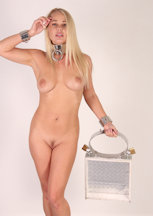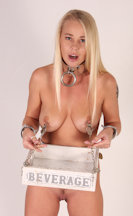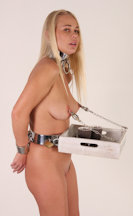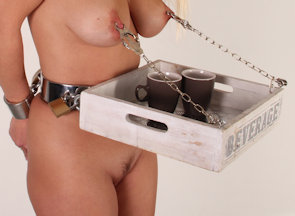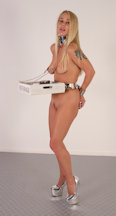 Yes! I finally got her: Alba Zevon, the fun loving Italian bondage girl is on MetalBondage.com! And she couldn't have arrived at a better time (or worse, for her): I had just created a new serving tray and I needed a test model. It is firmly attached to a tight metal waist belt, but to hold it up better, nipple clamps need to be used. Alba Zevon has very sensitive nipples, so this was a real challenge for her! Drooling and moaning, with her hands locked behind her, she paraded around the studio. Welcome Alba! There's many more challenges for you to come!!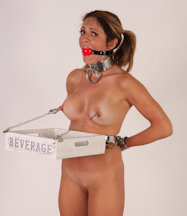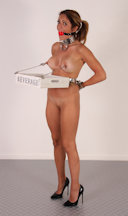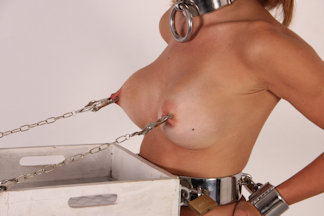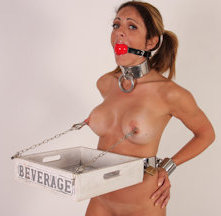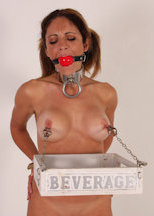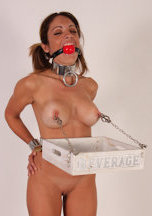 Nelly is back! Can you believe she has been shooting Metal Bondage gear for 10 years now? Wow! Her amazing eyes and funny attitude are always a guarantee for a great update. Nelly loves shooting strange and heavy challenges, but she hates nipple clamps. Unfortunately, that's just what I had in mind for her today. She will be trained as a MetalBondage.com waitress! With a serving tray chained to her body and to her nipples, Nelly will have to learn how to carry cups without dropping them, kneeling and getting up, and walking around in heels. Locked in a heavy collar and waist belt, with her hands behind her back, Nelly tries her best to move very carefully with these cups on her tray!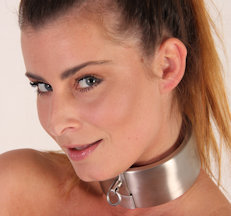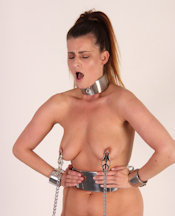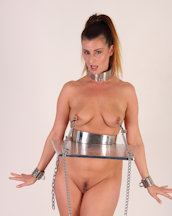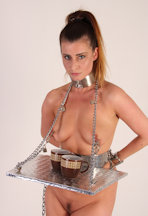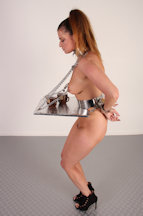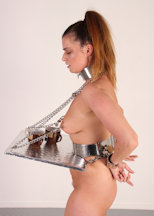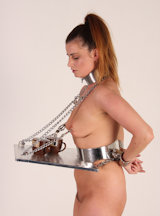 We received some requests for more maid training! The metal serving tray is perfect for new slaves to get used to their restraints. It is hard to walk with a lot of metal locked onto your body, and balancing some drinks at the same time makes sure the girls pay extra attention to their posture. We locked a super tight metal waist band onto new girl Keira Lavelle. It was so tight she said it felt like a corset. Her hands locked behind her back, collared, and ballgagged, Keira now had to try to move around with two cups on the metal serving tray. Not so easy, but she did very well!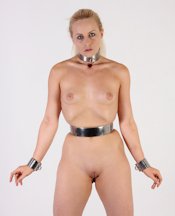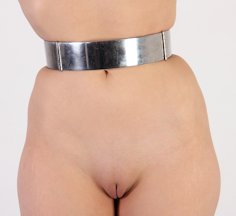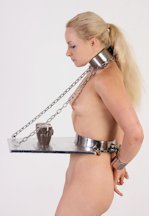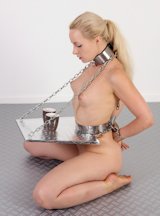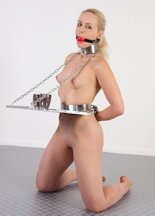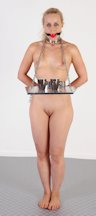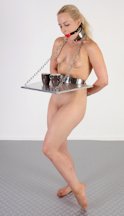 Training Katie Thornton as a waitress! Wouldn't she be the perfect girl to bring you a drink on a hot day? She still has a lot to learn before we can lock her hands behind her back, because her balance is not perfect yet. Especially when kneeling and getting up, there is a risk the drinks may get spilled. Her big boobs are helping her to stabilize the chains though, so she is getting there. After all, what else is there to do for her? She can't have any fun, since she is locked in a tight chastity belt (with a metal tray locked to the sides), so she might as well be of service.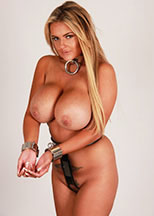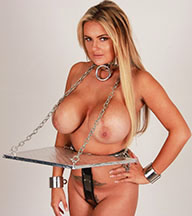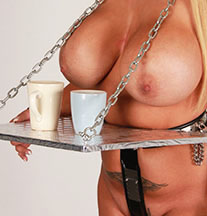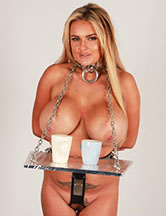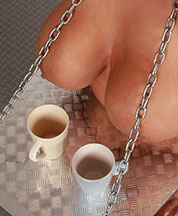 Beautiful Melissa will now try our maid training exercise! She is a natural submissive, but she still has to learn to walk around with the metal serving tray strapped to her belly and neck. Kneeling down, and getting back up again, without spilling anything, that is the hard part. The coffee cups are empty for Melissa's first time, so she does not accidentally burn herself. It turns out that was an unnecessary precaution: Melissa is a perfect maid! She can walk, kneel, and serve the coffee without spilling a drop. She is very obedient and careful, and she sounds so very sweet the way she says 'Your coffee, Madam' to our mistress. You passed, Melissa!