All updates featuring
Metall Geyer Waist Cincher
Lina Roselina is back! The 19-year old cute local girl wanted to try more predicaments after being impaled last time. She is so cute! And tiny, very tiny. This girl will fit into our smallest locking waist cincher (a 58cm waist), and a metal collar looks HUGE on her. She must weigh about 40kg, so there is no way she can move a 2kg weight with her nipples. In fact, she was stuck in the same place by her nipples, and any movement hurt her, so she tried to stay still. Her elbows were locked together so she couldn't reach the clamps… it is a very evil predicament, but that's what she asked for!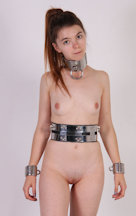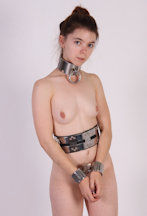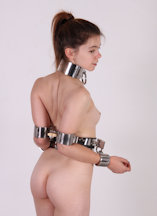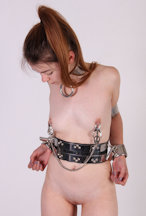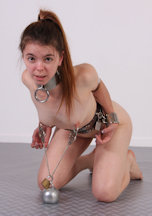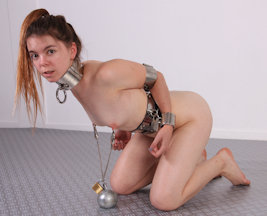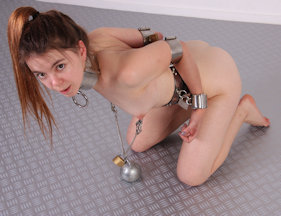 The One Bar Prison has been so inspiring, and it is very popular! But what if we could make a moving One Bar Prison? Wouldn't that be much more fun for the girls? It turned out it was a bit harder than expected. We used an upright fucking machine, but to make sure our beautiful victim Stella Cox would stay in place, we had to mount her to the wall by her wrists and ankles. Then we had to make sure her body wouldn't move so we added a steel bar behind her back and chained her waist to it. Completely stuck, Stella was a bit worried about what would happen next. What happened next? Well, we turned on the fucking machine of course! See how that went in this week's video!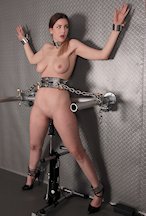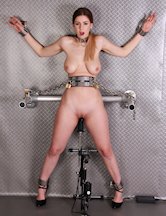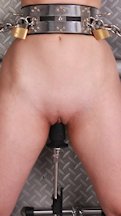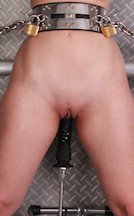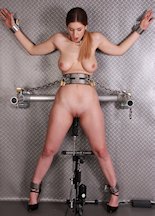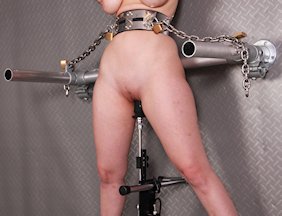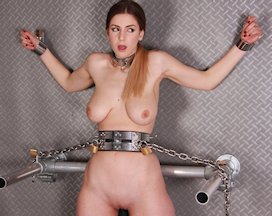 Stella Cox is going for a ride today. We usually keep her in a tight chastity belt, because she can't stop touching herself, but today she was allowed to be without her belt. She did not know what we had in mind for her, but she sure loved being locked in the super tight (58cm!) waist cincher. We then locked her to a Sybian frame, her ankles chained to the wall, her collar connected, and her wrists secured in the pipe clamps. There was no escape from the most powerful vibrator in the world. Don't miss it, it is an awesome ride for our cute (but naughty) Stella!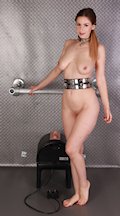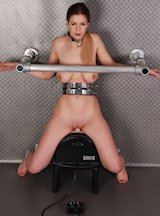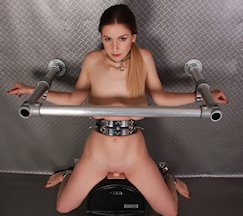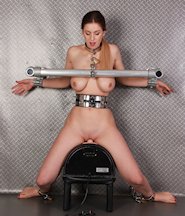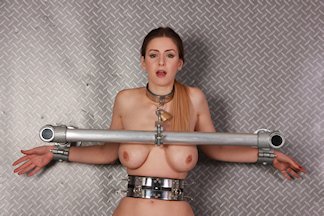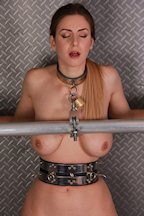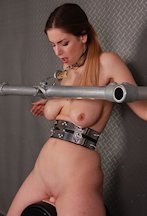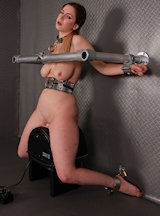 Noa is back! We just knew this teen cutie would be too curious to stay away for long! And this time, we are taking it a big step further by giving her the One Bar Prison challenge! Slender Noa has a nice thigh gap, so she is perfect for our One Bar Prison with the missile head dildo. On her cute high heels, there is absolutely no escape for her, not even a chance. She can't lift herself up to get enough height to escape, even though her hands and feet are not bound, this is still a bondage device. A 19-year old girl impaled on a heavy metal dildo! Noa certainly is gathering new experiences fast!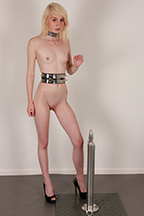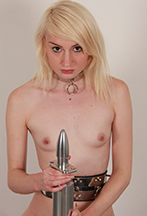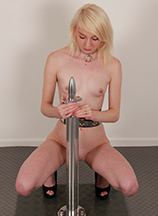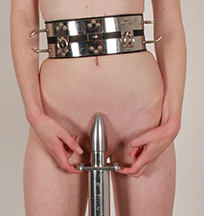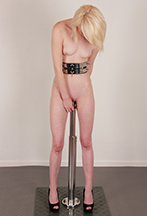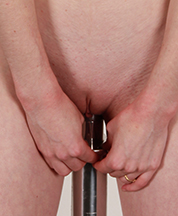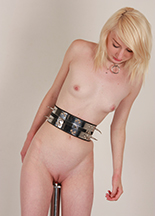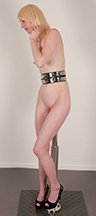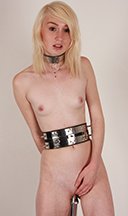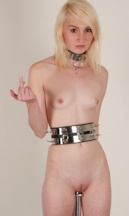 A tall blonde with a tiny waist! Time to get our 58cm waist cincher out of storage. Birdy Dee is definitely the tallest model ever to be locked in this small locking waist belt. It's an amazing fit, restricting her breathing and keeping her posture. But that's not enough! We go all the way over the top here, with heavy collar, wrist cuffs, ankle cuffs, thigh bands, and even nipple clamps. Birdy Dee is locked to a frame, arms and legs spread wide, and all she can do is stand there, on display, nipples hurting, trying to focus on her breathing. Heavy steel bondage!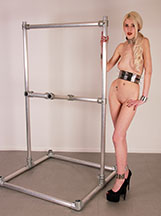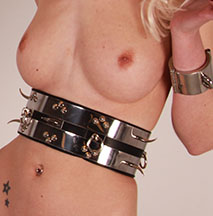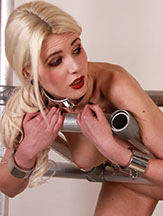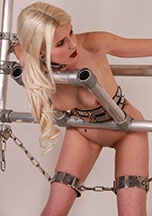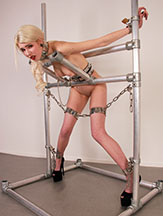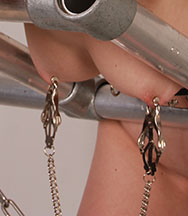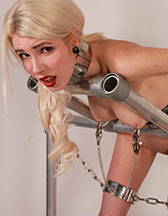 Gorgeous Sylvie is a super tiny girl! That's great, because our double clasp locking waist cincher is also very tiny! We managed to squeeze this nude girl into the broad steel waist cincher and close the clasp locks! Then we locked her heavy steel cuffs to the O-rings on the belt, and used the Connect-A-Model System (TM) to create a rigid elbow cuff spreader! Sylvie can barely move her arms, which is good because we are going to neck cuff her to a pole. A tall pole, so we can change the position of the neck cuff and Sylvie has to kneel or stand, nothing she can do, even though she tries to get herself free! A tiny naked girl versus lots of metal, no chance!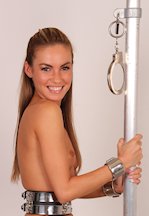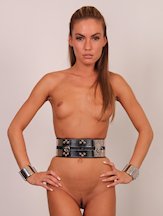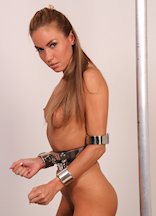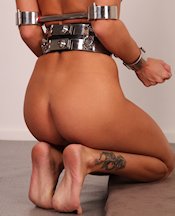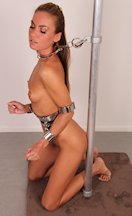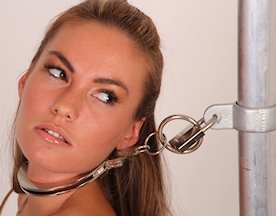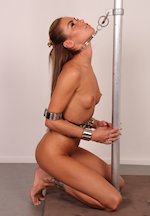 The incredibly hot tiny Asian girl is back! Davon Kim is locked into matching metal gear: wrist, ankles, and collar… and the incredible custom made metal waist cincher. It is small, even for Davon! Locked on with two unforgiving locking clasps on the back, Davon needs to focus on her breathing, it is more rigid than wearing a corset! It makes her very submissive. She even offers us the chain leash that is attached to her collar, and proceeds to lock herself into the tiny dog cage. Who wouldn't love to own a Davon pet?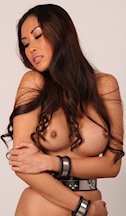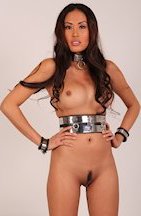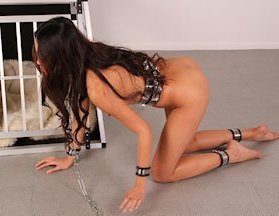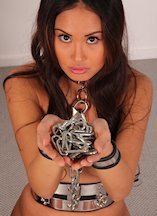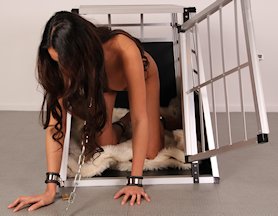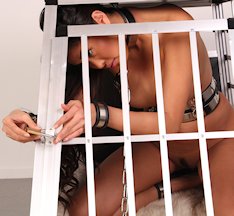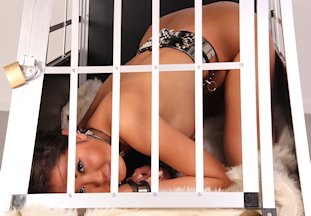 January 20, 2013 ---- picture set and video clip
Melissa is hot, cute, and tiny. Whenever she comes over to try on our stuff, we just want to squeeze her into the smallest bondage items we have. This custom made double locking waist cincher is just the thing for Melissa! When we show it to her, she can not even believe it is supposed to go around her waist. It actually barely fits around her thigh! She keeps commenting on how small the belt is, and after we lock her into it, we can see it is really a super tight fit on her! It does not move at all, it is right below her lower ribs and above her hips. This is a 22 inch cincher, and just leaving it locked on for a while is torture! So yes, we took our time shooting the pictures ;-)