All updates featuring
Aubrey
I love working with Aubrey way more than she loves shooting with me. She doesn't like chastity belts, heavy collars, or anything uncomfortable. I don't know why she keeps coming back, but I just love putting her in inescapable predicaments and watch her silently curse me. Aubrey is a stunning playmate model, and I think she always looks awesome in heavy steel, even if she doesn't think so. Her elbows in heavy cuffs are hoisted up to the ceiling. There is no other bondage but she will never be able to escape this. She can't even kick off her heels, so she just stands there, trying to keep her balance.
If you want to make Aubrey's life hard (or even harder), I would encourage you to order a custom video, it's so much fun to see her frustration when there's no escape!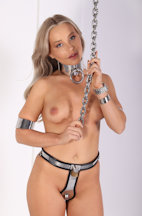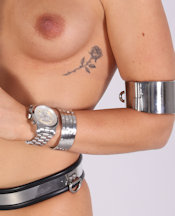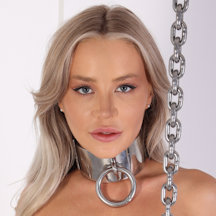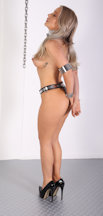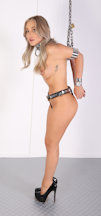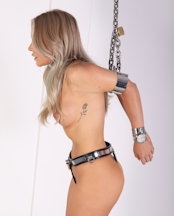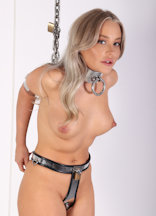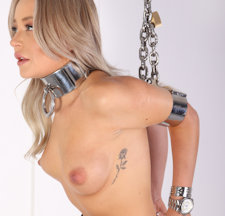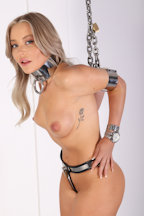 Two famous playmates together in one shoot? I was quite surprised to find out that Dominique knows Aubrey, they are best friends! I worked with both of them before, but they suggested to come to the studio together this time. Soon, they were locked in their personal belts (the trusty custom style chain-back for Dominique, and the rigid NeoSteel belt for Aubrey). They have been belted so many times, they didn't even comment on it. It's just normal for them now. I told them to neck cuff themselves together with two pairs of neck cuffs, and then to kneel by the slave post. Perfect belted playmate slave girls! Who wouldn't like to own these beautiful friends?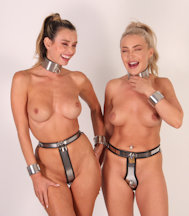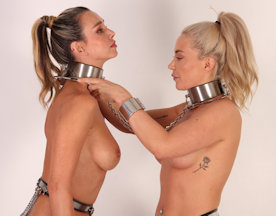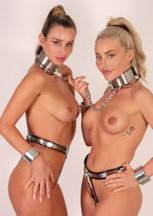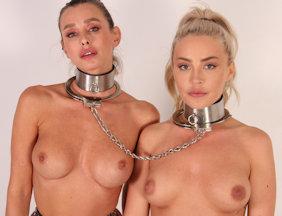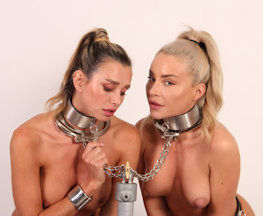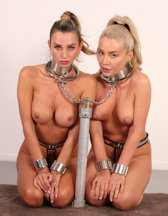 In this picture and video set, Aubrey is in a prison cell, locked in millions of kilos of steel. She does not enjoy this at all. It is very painful and unnecessary. There is so much steel, she can't even move. She is afraid to lie down. Aubrey is locked in a full chastity outfit, including belt, bra, and thigh bands. She is also locked in super heavy SteelBound restraints: a collar, wrist cuffs, ankle cuffs, and elbow cuffs. Two pairs of cuffs are added to each of those heavy steel cuffs: on her ankles, elbows, and even 4 pairs on her wrists. A pair of thumbcuffs makes her set complete. The guard comes and locks a chain to her collar and pulls her out of her cell. She is moved to a wall, where she is restrained even further: Aubrey is chained to the wall by her elbows and ankles, and an X-chain to finish off the position. Poor Aubrey!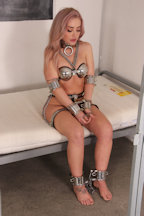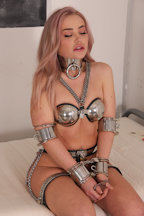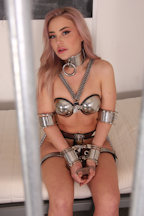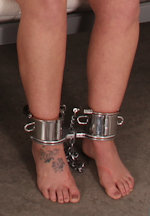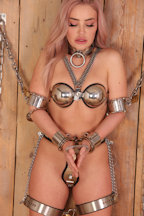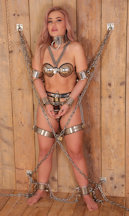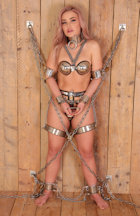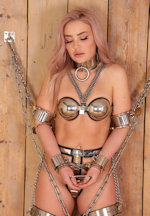 Aubrey is a beginner in ballet dancing. She can't stand on her toes yet, but she is in the ballet studio, trying hard to make progress. Her teacher doesn't seem to think she is learning fast enough though… Aubrey wakes up nude, locked in a chastity belt, chained to the bar with a heavy collar. She is wearing leather ballet boots now. If she ever wants to get her freedom back, she needs to learn how to stand up in these shoes. And fast!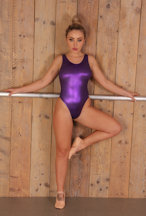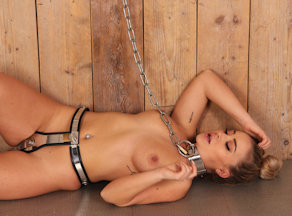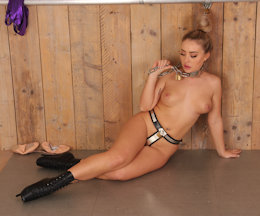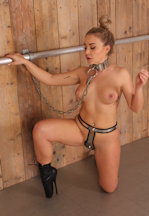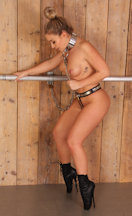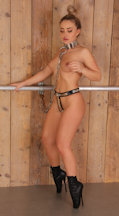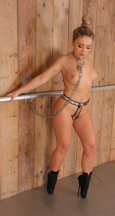 We received many requests for more Aubrey shoots! She is very popular, and we can see why: Aubrey is stunning and a bit reluctant to try all of our heavy gear. That's a perfect combination! The amazing Heavy Stork is indeed very heavy, all bars and spikes are solid (not hollow), so it weighs a lot. It is a very uncomfortable position to sit in, especially when you're wearing nipple clamps and a dog bone gag! Aubrey hates clamps and gags! We put the hex key right next to her, to her frustration. There was no way she could even more, let alone grab the key to try and escape!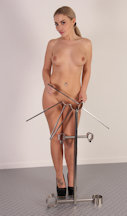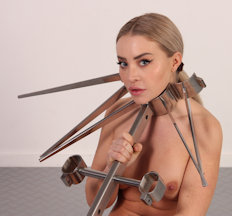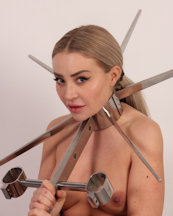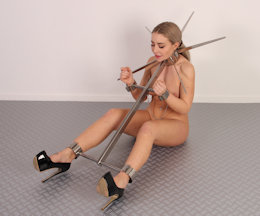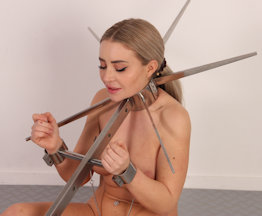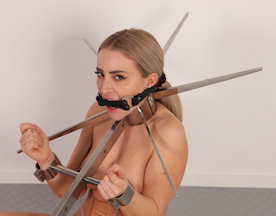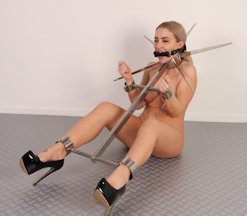 As Aubrey was doing her Chastity Deal over at ChastityBabes.com, we thought it would be a nice idea to help her stretch her back a little. We locked her wrists to a cross frame, with a push bar in the small of her back. Then we locked her collar to the frame, which made her bend backwards. Finally, we pulled her ankles back, so Aubrey was all bent and locked securely to the frame. This is a very hard position to maintain! Good thing we distracted her with some nipple clamps!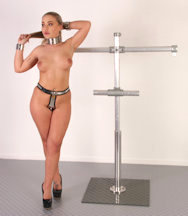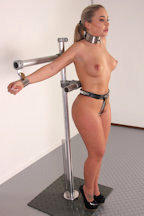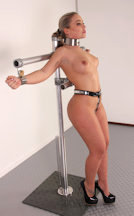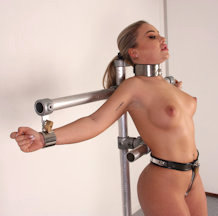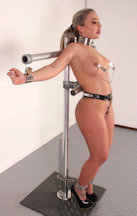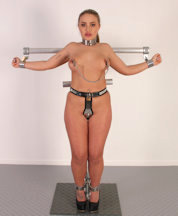 It's been a long time since we saw Aubrey. She was such a promising slave girl, but we never heard from her again. But don't worry, she is back now, and here to stay! She is even on our list of models who are available for custom shoots now! Turns out Aubrey actually loved her metal bondage appearance, and she wants more, much more. We locked her in the Ballet Stocks, naked and helpless, and threw the keys at her. Of course, the Ballet Stocks are inescapable, but Aubrey did not know that. She tried a lot of different positions before she finally had to give up!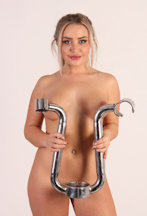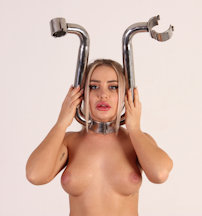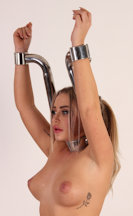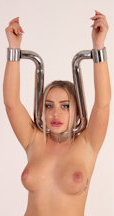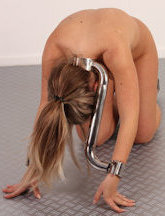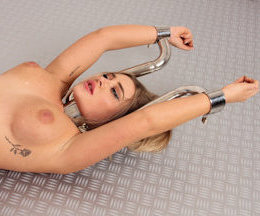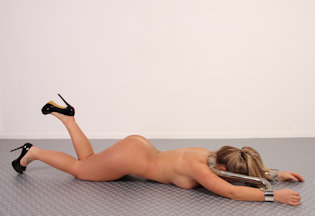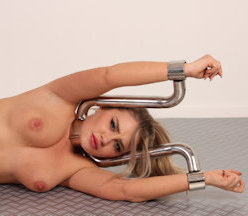 Sometimes, a local girl in a local shop just catches your eye. Aubrey is such a girl. You can just imagine in your mind how good she would look completely naked, locked in heavy steel restraints. Then there's always this problem: asking her to model for this website. What will she say? Will she think I'm crazy? Or will she be curious? I think you can guess what Aubrey's answer was. She was intrigued! The next day, she came shuffling into the studio, a bit shy but still determined. She was nude and locked in heavy metal in minutes! Heavy collar chained to a slave post, wrists connected to the sides of her heavy steel belt, elbows connected to a spreader bar behind her back. Aubrey settled down immediately, she's just so gorgeous in steel, don't miss it!