All updates featuring
Aubrey
As Aubrey was doing her Chastity Deal over at ChastityBabes.com, we thought it would be a nice idea to help her stretch her back a little. We locked her wrists to a cross frame, with a push bar in the small of her back. Then we locked her collar to the frame, which made her bend backwards. Finally, we pulled her ankles back, so Aubrey was all bent and locked securely to the frame. This is a very hard position to maintain! Good thing we distracted her with some nipple clamps!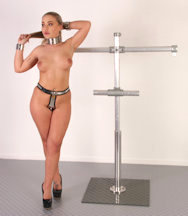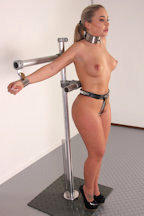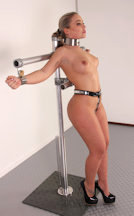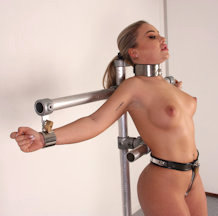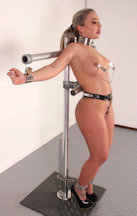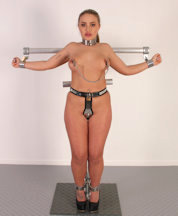 It's been a long time since we saw Aubrey. She was such a promising slave girl, but we never heard from her again. But don't worry, she is back now, and here to stay! She is even on our list of models who are available for custom shoots now! Turns out Aubrey actually loved her metal bondage appearance, and she wants more, much more. We locked her in the Ballet Stocks, naked and helpless, and threw the keys at her. Of course, the Ballet Stocks are inescapable, but Aubrey did not know that. She tried a lot of different positions before she finally had to give up!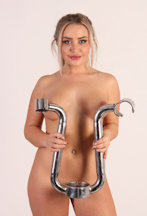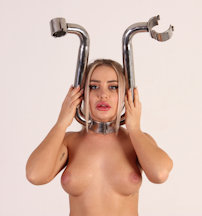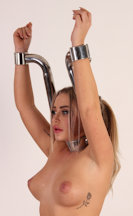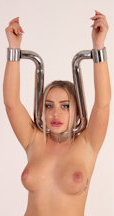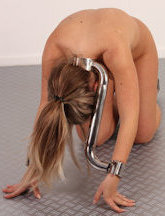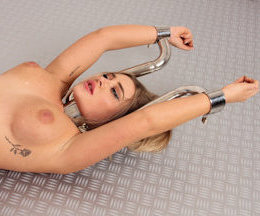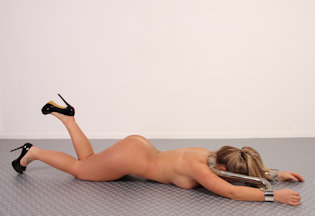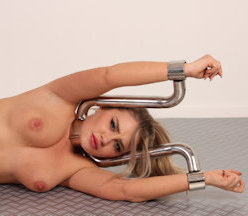 Sometimes, a local girl in a local shop just catches your eye. Aubrey is such a girl. You can just imagine in your mind how good she would look completely naked, locked in heavy steel restraints. Then there's always this problem: asking her to model for this website. What will she say? Will she think I'm crazy? Or will she be curious? I think you can guess what Aubrey's answer was. She was intrigued! The next day, she came shuffling into the studio, a bit shy but still determined. She was nude and locked in heavy metal in minutes! Heavy collar chained to a slave post, wrists connected to the sides of her heavy steel belt, elbows connected to a spreader bar behind her back. Aubrey settled down immediately, she's just so gorgeous in steel, don't miss it!