All updates featuring
Blowjob Machine
I only tried the Blowjob Machine once before, and it needed some more tweaking. Good thing there's always Liz Rainbow, who doesn't mind being my test subject, even it is means she has to deepthroat all afternoon. We experimented with different heights and angles. Liz tried fighting the machine but it was always stronger. Trying to pull back against the machine turned out to be quite unwise because the machine pulls back faster on the next stroke. Liz drooled all over the place of course, and she had a lot of fun! When I unlocked her hands to let her out, she decided she wanted another go and tried to reach the controls herself to get deepthroated some more!!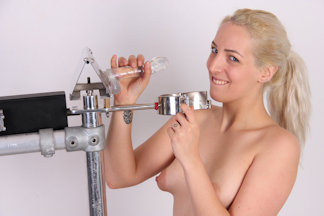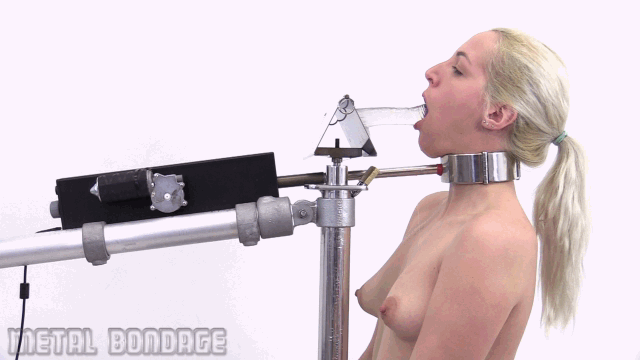 Well, of course I had to do a tribute to this kind machine too! I already invented this machine, so it should work the other way round too (pushing the girl's head instead of pulling her collar). Ariel was the lucky test subject this time. She was very patient while I tried to figure out the correct configuration. It turns out we had a few problems with the ring gag, so this first video is without a ring gag. But still… it is a great scene! Very exciting to watch Ariel's head being moved. It's not perfect yet, but I will get there! I just need more test subjects for my machines!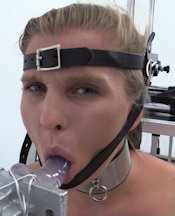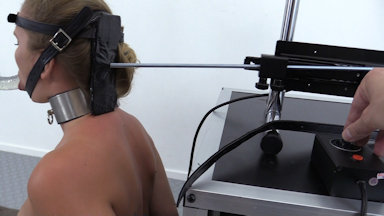 Time for a new invention! The Blowjob Machine! It might be an even better trainer than the spring loaded predicament! Darina Nikitina is the first one to try it: it is a fucking machine with a collar attached to it, instead of a dildo. The dildo is mounted a little higher, and Darina will be on her knees with her wrists and ankles locked so there is nowhere to go. She doesn't even have to do anything! The machine moves her neck back and forth and Darina is giving a blowjob whether she wants to or not. We can even regulate the speed of the machine, it will go on forever and Darina is unable to stop it, she just has to keep sucking!