All updates featuring
Liz Rainbow
Liz and Blondie are two hot Spanish girls who love to touch each other! They like kissing, and fondling each other's boobs. So I tried to keep them apart by impaling both of them on One Bar Prisons. Did it work? They only got more horny, and they still tried to touch each other, but leaning over on a One Bar Prison is not without risk! Balancing precariously in their high heels, Liz and Blondie try to grab each other's boobs, and even kiss! Wow, they must be really getting aroused from the 3-ball metal dildos inside of them!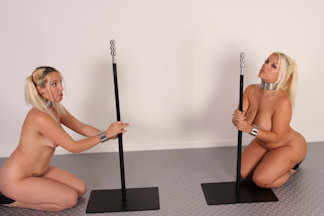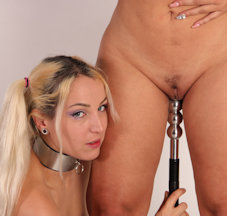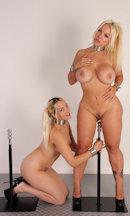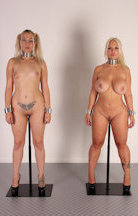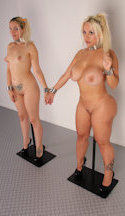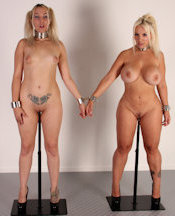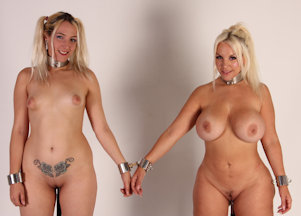 Many requests have been emailed to me for a Double Blowjob Trainer! So I tried building a prototype for best friends Liz Rainbow and Blondie Fesser. Their collars are connected by springs. The idea is that one girl has to deepthroat her dildo to allow her friend a breathing pause. It's a prototype so it needs some tweaking as the girls were stronger than I expected. Well, at least at the start. As soon as they got more tired, this new FoToRo invention started to work! Would you save your friend? Or pull the dildo into your friend's throat so you can breathe? It's a hard choice!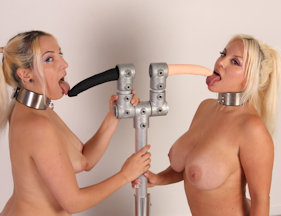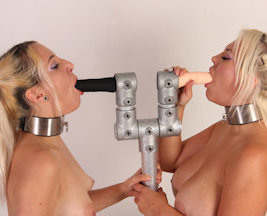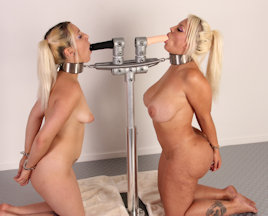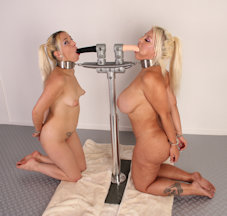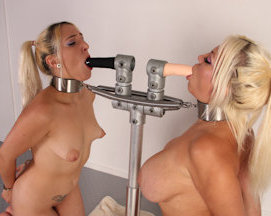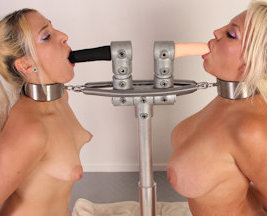 I only tried the Blowjob Machine once before, and it needed some more tweaking. Good thing there's always Liz Rainbow, who doesn't mind being my test subject, even it is means she has to deepthroat all afternoon. We experimented with different heights and angles. Liz tried fighting the machine but it was always stronger. Trying to pull back against the machine turned out to be quite unwise because the machine pulls back faster on the next stroke. Liz drooled all over the place of course, and she had a lot of fun! When I unlocked her hands to let her out, she decided she wanted another go and tried to reach the controls herself to get deepthroated some more!!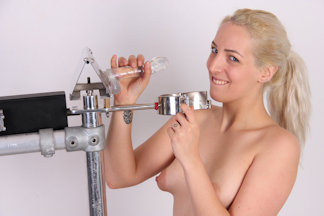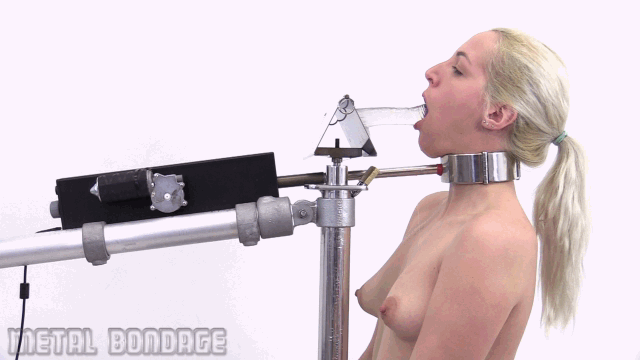 I did a very fun experiment with Liz Rainbow and Blondie Fesser! Liz was locked in full chastity (with plugs) for a day, and she could give her friend Blondie as many orgasms as she wanted. All day long. Blondie was nude and not locked in any chastity gear. At first, both girls thought this would be a very fun day. But as the day went on, Blondie got very tired and Liz got very very horny and jealous. We filmed this experiment mostly for ChastityBabes.com, but of course, we had to lock Blondie to a Sybian during the day. Her collar and wrists are attached to a pole, and Liz was free to play with the remote. It was fun for Liz, but her frustration was growing when she saw Blondie reach another orgasm!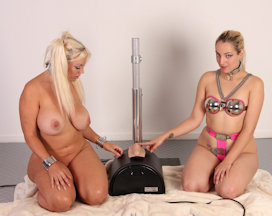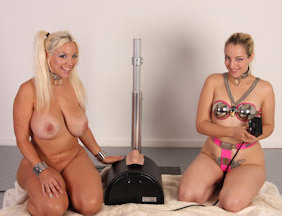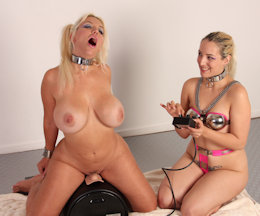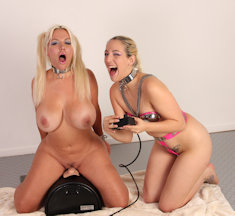 Liz Rainbow brought her friend Venom Evil this time! That was great, now I have two girls to go on my matching One Bar Prisons! These impalers are fitting with large 3-ball dildos, so there is no escape (if inserted deep enough and the models are wearing high heels). No further bondage needed! They tried, but the couldn't escape the big dildos, so I told them to put their dresses back on, so they could be my window mannequins. Reluctantly, they turned around and opened the window blinds. Now everyone outside could see them in the bright light. Unable to move, Liz and Venom were the perfect window displays! What a fun duo to impale!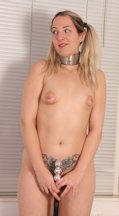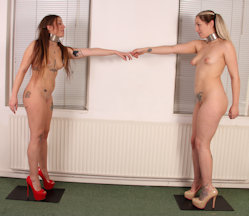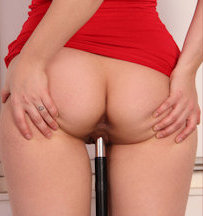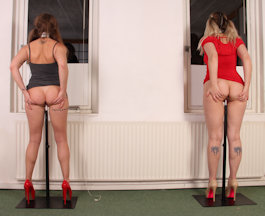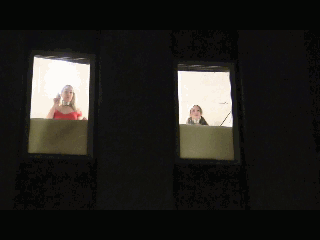 Liz Rainbow is back! Check out all of her legendary updates, we sure like to test this girl! She hates nipple clamps, so that's exactly what we are going to use today. But in order to prevent her from taking them off, we built a frame to hold her in chains with as little movement as possible. Over the top? Yes, of course! We love lots of steel on nude girls! Liz is chained by her ankles, waist, and head (scold's bridle!), while her wrists are clamped to the frame by pipe clamps. All she can do is moan as we play with her nipple clamps.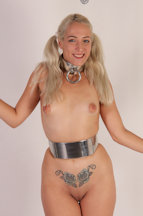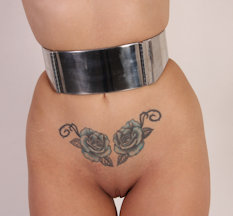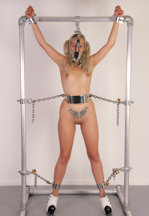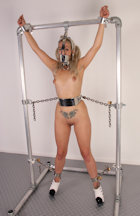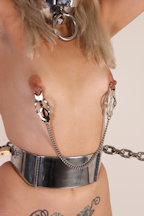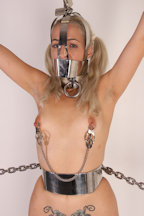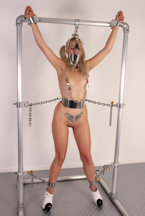 Well, Liz Rainbow does not like nipple clamps! She hates them! Which makes her a perfect candidate for our 2kg weight challenge. Can she move away with 2 kilograms of steel attached to her nipples? Probably not! But what if she just took off the nipple clamps? Well, we have a perfect device to prevent that: the Ballet Stocks (or Ape Hangers, or Overhead Stocks, we're still not sure about the name). Liz can't take off the clamps, and she can't run away. It's perfect metal bondage!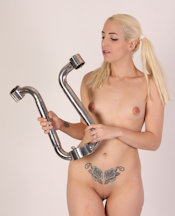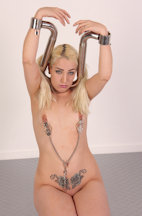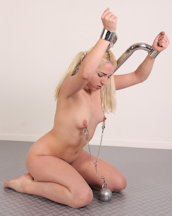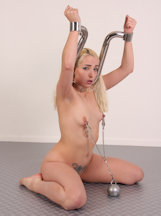 A new challenge for Liz Rainbow! Our brand new stainless steel pussy weight lifting set has arrived! It consists of a shiny smooth egg, a chain and 4 weights. The weights are 250 grams, 500 grams, 1 kilogram, and 2 kilograms!! The weights can also be combined for a total weight of 3.75 kilograms! We want to see how much weight Liz Rainbow can lift with her pussy! This is a lot harder than you might think. She can only use her inner muscles to grip the smooth egg, but as Liz is always horny it will slip out very easily, so she has to grip incredibly tight to even lift the smallest weight. Liz tries to lift 250 grams first, and she adds more weight as she goes. She goes all the way up to 2.5 kilograms this time! And she wants to come back to improve on that record!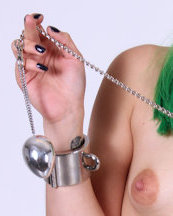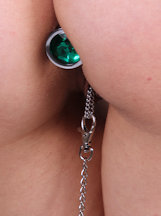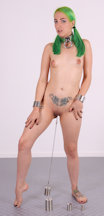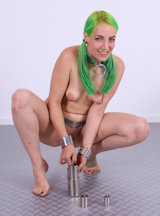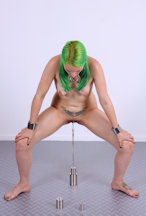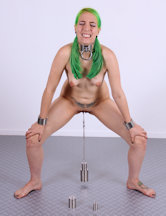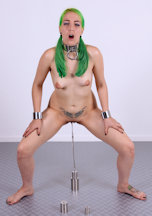 Liz Rainbow did't believe the One Bar Prison is inescapable! Silly girl! We told her to bring some high heels and try out the dildo pole herself. We used a very long metal ball dildo to make sure Liz would not be able to escape, because she is a wild one! It went all the way in and even as far inside as the top of Liz's tattoo! She tried turning around, lifting one leg, lifting her butt with her hands, but there was nothing she could do to escape the impalement. She was definitely stuck there. And because we left her for a while, she was very angry when she was finally released from the One Bar Prison! Needless to say, Liz Rainbow now believes this device is inescapable!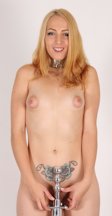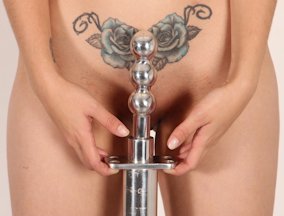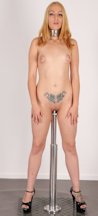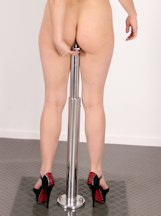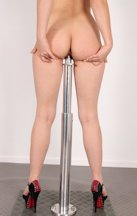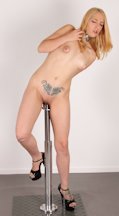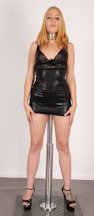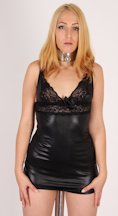 We continue our quest to develop our own steel heels (locking of course), as the previous attempt was only moderately successful. Today, we can present you with a brand new pair of heels! Different style, a platform, taller heels, and generally looking more awesome. We are also introducing a new girl to test these heels: the famous Liz Rainbow! She always has a different hair color, this time she had blue hair. We gave her a blue jewel butt plug to match her hair, before she attempted to wear the new Steel Heels! Check out the video and picture set to see how that went!