All updates featuring
Lips and Tongue Press
The Lips and Tongue Press is the most effective gag in the world! Talking is absolutely impossible. The lips are clamped and the tongue is pulled out and clamped too. That's a lot of clamping on your face, as Nora found out. She is well trained and experienced in bdsm, but she had never seen this device before. Locked in her chastity belt and collar, Nora tried to put it on herself, which was very hard. I helped her, and before she knew it, she was unable to speak. I locked her in heavy Clejuso handcuffs behind her back and added some nipple clamps (she hates clover clamps). Check out the perfect picture set and video clip of Nora's ordeal!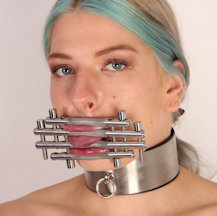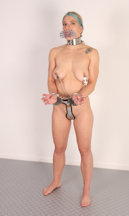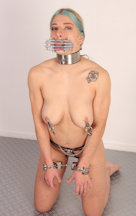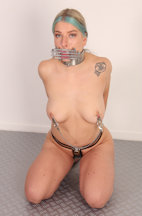 Thiccy Niccy is a resident at HuCows.com now, but we borrowed her for a few hours to test the Lips & Tongue Press again. Remember this evil device? It is so extreme, and pretty heavy, it was only tested by Ariel Anderssen before. It clamps both lips and the tongue and it weighs a lot. It causes massive amounts of drool straight away. Super submissive Niccy is the perfect test subject, as she will do anything she is told, even if it is very extreme. We lock her to a slave post, to have a good look at her drooling face. Adorned with this device and her awesome septum ring, this is a metal bondage lover's delight, don't miss this update!
Edit: due to many questions as where to get a Lips & Tongue Press, here is a link to purchase one.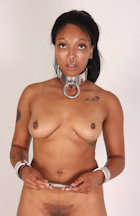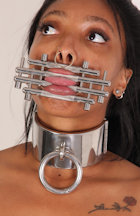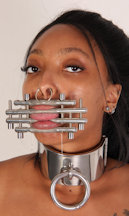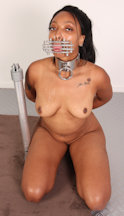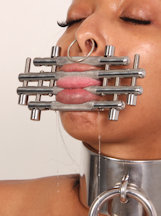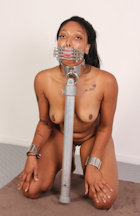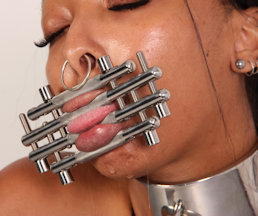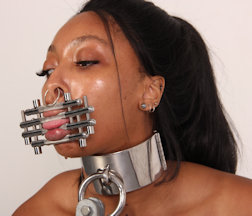 The lovely lady Ariel Anderssen is back! She is a lot more kinky than she sounds, that's a fact! So when we asked her to try our new Lips and Tongue Press, she was very curious about it. Locked in a chastity belt and heavy collar, Ariel was ready to try this evil little device. We clamped her tongue and lips in the press and turned the screws until she couldn't get her tongue out and her lips were trapped. Lots of drooling followed, and Ariel started to make interesting sounds. This thing is quite heavy to wear on your face! We secured her elbows and wrists very tight behind her back so she was completely helpless, lips and tongue trapped in a steel vice! Great stuff, don't miss it!