All updates featuring
Ariel Anderssen
RigidCuffs are fun! We have a lot of them, and today we are going to combine the RigidFiddle and the RigidSpreader to make Ariel Anderssen's life very hard. We start by locking her into the fiddle with her arms under her knees. This is a very restrictive position, there is no way she can get her legs out of that. But to make sure, we are adding the RigidSpreader to keep her legs apart. She struggles hard to reach the key, but once she falls over, she is very much stuck in this position, like a turtle. The queen of bondage is so helpless! Enjoy!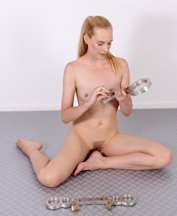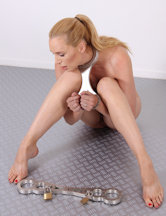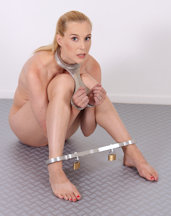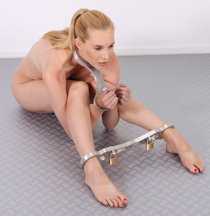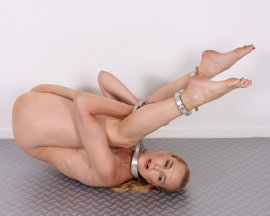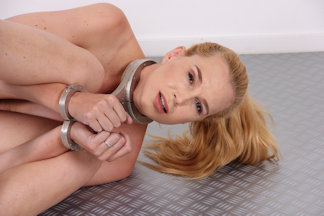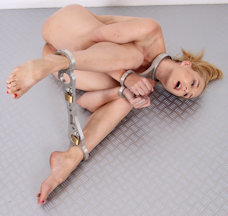 When we had Ariel Anderssen over for a Chastity Deal, we decided we might as well 'use' her for other things, like a bit of metal bondage! Ariel had previously commented how much she liked the update with Rachel Adams in a steel hogtie, so we went ahead and put Ariel in the same position. She literally could not move an inch. And as more time passed, she started drooling uncontrollably. Yes, this is an extreme position, and it starts to take its toll after a while, but we all know Ariel loves this kind of predicament more than anything in the world! The famous Ariel Anderssen, completely stuck, don't miss this update!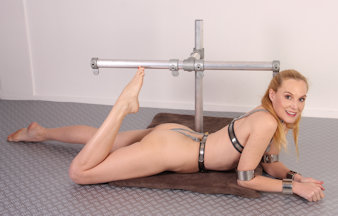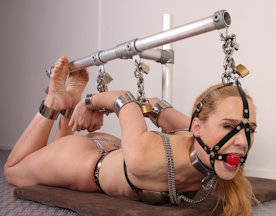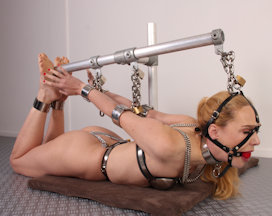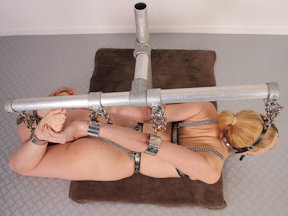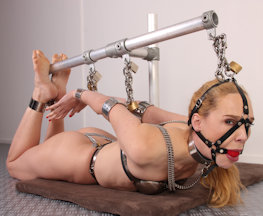 The lovely lady Ariel Anderssen is back! She is a lot more kinky than she sounds, that's a fact! So when we asked her to try our new Lips and Tongue Press, she was very curious about it. Locked in a chastity belt and heavy collar, Ariel was ready to try this evil little device. We clamped her tongue and lips in the press and turned the screws until she couldn't get her tongue out and her lips were trapped. Lots of drooling followed, and Ariel started to make interesting sounds. This thing is quite heavy to wear on your face! We secured her elbows and wrists very tight behind her back so she was completely helpless, lips and tongue trapped in a steel vice! Great stuff, don't miss it!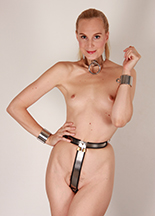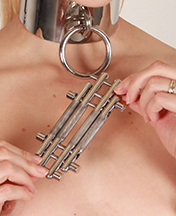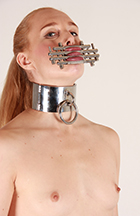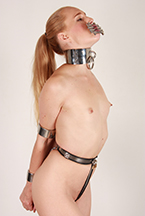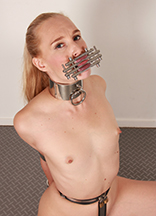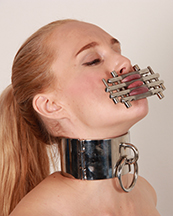 We built a very nice device for Ariel Anderssen. It's her own fault for being so flexible! She will be locked in a split above the floor, her waist and neck attached to a pole. There is no hope of escape for her, she can not even put her feet down. She is stuck with her legs spread to the extreme. Completely defenceless and helpless in metal bondage. A pretty scary experience for Ariel, but she loves bondage, so we are sure she will appreciate it after a while.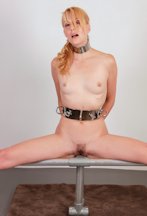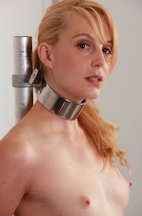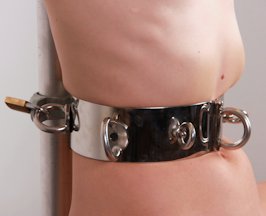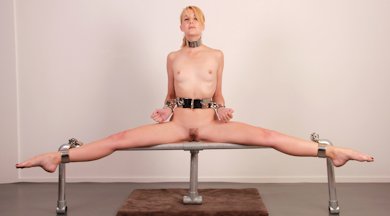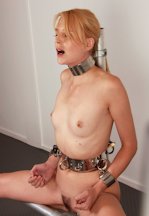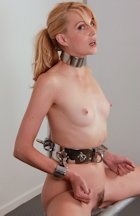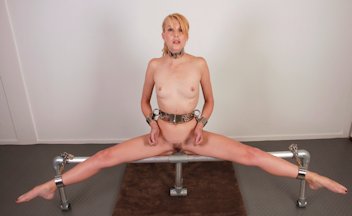 What if… we attached Ariel Anderssen's super tight chastity belt to a frame? The sides of her waist belt are padlocked to a narrow steel frame, not wider than Ariel herself! Her heavy collar, wrist cuffs, and ankle cuffs are locked to the frame too! The position is great, her ass sticking out, she can not move at all, no chance to take off her heels… it's just perfection! Poor Ariel! What can she do but stand there and be totally helpless in metal bondage!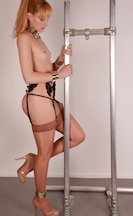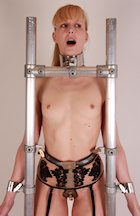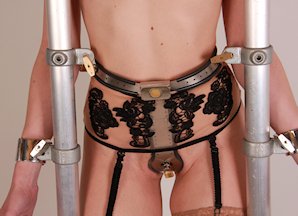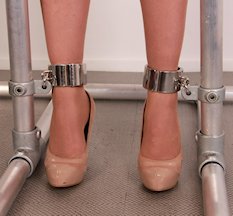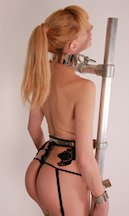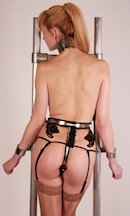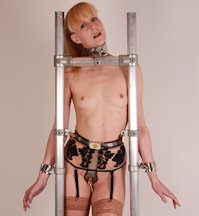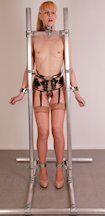 A new installment in our FEATURE series! The lovely Ariel Anderssen is an accomplished ballet dancer (as well as a very kinky bondage model), and she has done many ballet shoots. We asked her to come over in her ballet outfit and perform a little dance for us. "I don't think I can do any full splits today", Ariel said before we started. Well, don't worry about that… we will help you a little! Ariel woke up in heavy chains, collared, and waist belted, with her arms high above her head. Her long legs are pulled all the way into a very extreme full split and chained to the wall. Good exercise Ariel, just stay there for a while, that will stretch those muscles!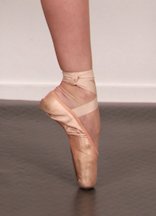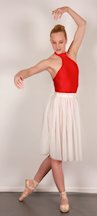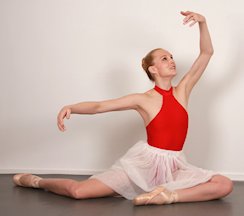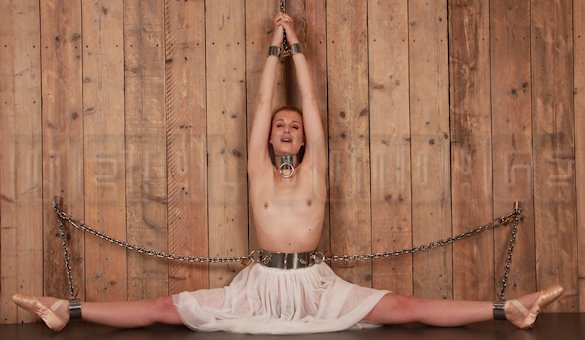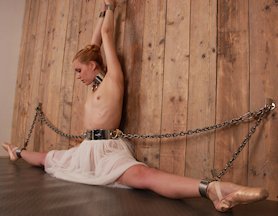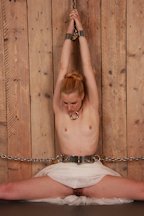 We love to test Ariel Anderssen! This tall blonde bondage diva can handle a lot and she likes to come over to try new and exciting metal bondage positions! Of course, she knows she will be locked in a chastity belt whenever she is visiting (and not just for the duration of the shoot), but we suspect she secretly loves that as well! This week, we suspend her reverse prayer to the ceiling! This is a very tough position, even for Ariel Anderssen! To prevent her from standing up, her ankles are locked together! It is a real predicament, because she is getting more and more tired, and she wants to bend down, but that will pull her wrists up even more. Don't you just love to watch a little suffering?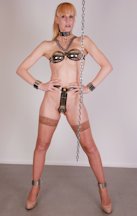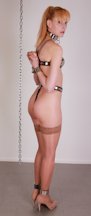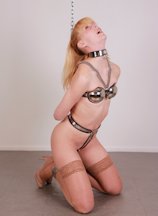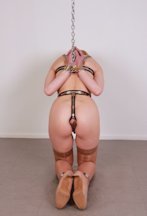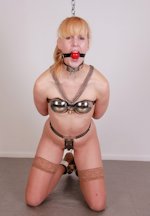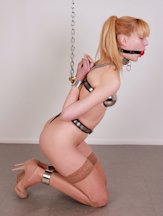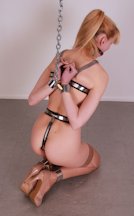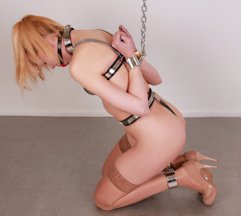 When we did the famous Ariel Anderssen ChastityBabes.com interview (watch it if you haven't!!), we had her locked in a belt for almost 24 hours. And it was tight! Believe it or not, Ariel actually wrote us to ask if she could be locked in a chastity belt… yep, she really loves new experiences! During that day, we also did a few shoots for this website. Ariel seemed to love wearing her garter belts over her chastity belt, and it actually looks very classy and hot with the secondary shield padlock exposed! She did not love the Sleepless Collar though, it is heavy and after an hour it gets really frustrating because you can not lie down (hence the name) to ease the weight on the neck. Still, somehow Ariel got excited by all this locking heavy gear. A shame she was still in her chastity belt ;)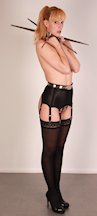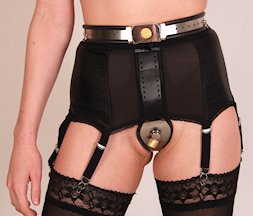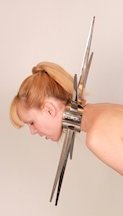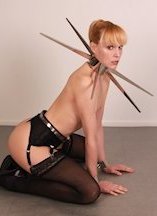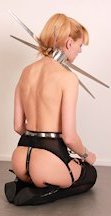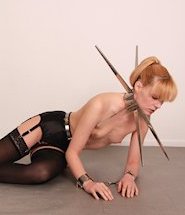 Ariel Anderssen is very tall in real life, she's probably our tallest model! Of course, that also means that all of our metal gear is going to be a tight squeeze for her. Still, she insists on trying everything we have, so let's continue Ariel's exploration through the MetalBondage.com inventory! We locked a very nude Ariel in our custom muzzle gag collar. It is a perfect (but tight) fit on her. It is padlocked in the back with two little locks and the steel muzzle fits her face like it was made for her! We gave her a little distraction by locking her into a RigidSpreader so she can struggle and roll around for us to watch! Beautiful tight metal on this incredibly tough and sweet bondage star!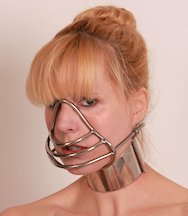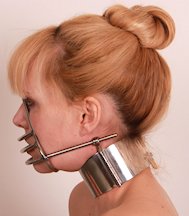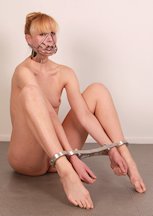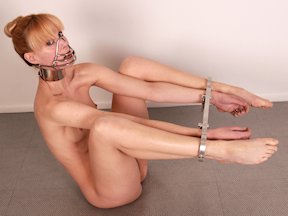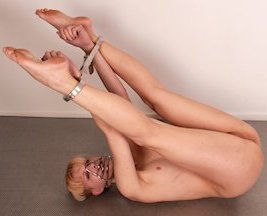 Ariel Anderssen is the most experienced bondage model we have ever locked in steel. A RigidStock TL and a chastity belt are easy for her. She even enjoys it! She could spend hours in a stock! We thought she needed something more, a bit of a challenge perhaps. So we nipple clamped her (she couldn't stop us anyway)! Ariel definitely does not like the Japanese clover clamps, they hurt her sensitive nipples a lot! Then we told her she would have to work out a way to get them off herself. She can not reach far enough to grab the clamps to open them, but clever girl Ariel thinks it is a good idea to use the chastity belt's padlock to pull the clamps off! Well, as you know, these particular clamps only grab harder when pulled… this is a great metal predicament! Enjoy!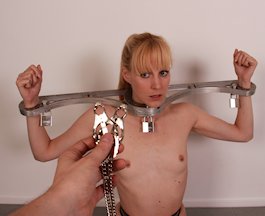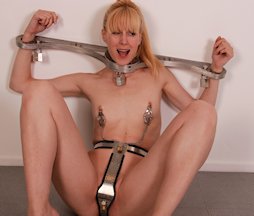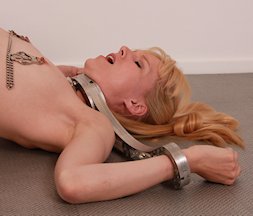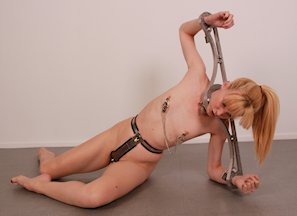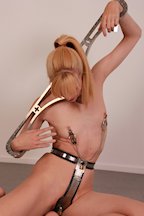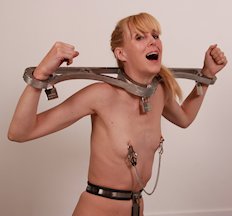 Ariel Anderssen returns for our 200th update! 200 sets of hot girls in cold steel! Time to do something special with this bondage goddess: make her kneel like she never did before! Locked in a tight chastity belt and chastity bra, Ariel has to kneel because her wrist and elbows are clamped to a metal cross. The finishing touch is to padlock her harness ballgag to a pipe above her head, forcing her to keep her head up. She can pull on the harness gag, but it only makes the ball go deeper into her mouth. Desperately, Ariel tries to find a more comfortable position than being on her knees, but she has to return to the kneeling pose every time. This is steel bondage at its best, let's go for the next 200 updates!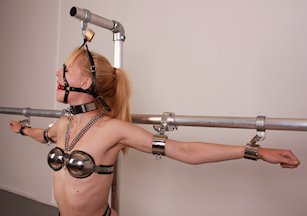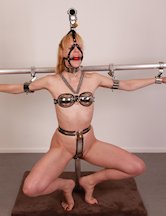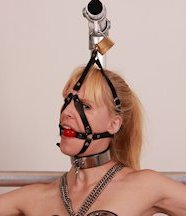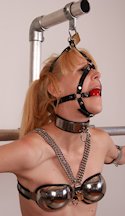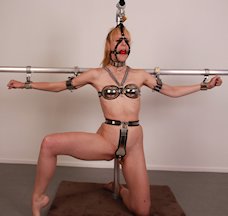 Ariel Anderssen! She is famous for her reverse prayers, but never has she done one in metal. In fact, this may be the first metal bondage reverse prayer on the internet! It is a brutal position that even challenged Ariel! Her second set on this website, we had to lock her into a chastity belt, the main reason why Ariel came to visit us (yes, she actually wanted to be belted!). And her reaction to the VERY tight custom metal collar? 'Yaaay, I love it!'. What a woman, you really have to see this update to believe it!
Dear members: we have worked hard to improve the video quality to a sharper high quality image, please send us feedback!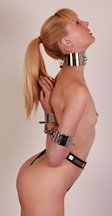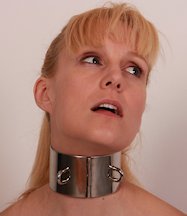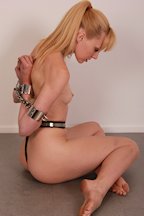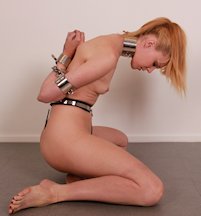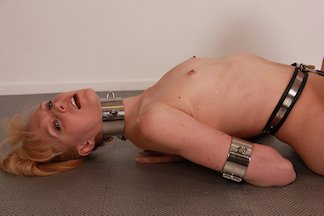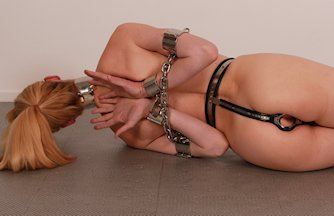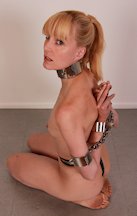 Yes, it is really her: the famous bondage queen Ariel Anderssen was lured by our collection of metal, curious and looking to be challenged. Of course, we had to come up with something very special to welcome Ariel, it is not easy to impress this experienced bondage girl! This is what we came up with: we fixated her (naked!) to a standing metal frame, using 10 heavy and tight steel restraints. She is locked by her neck, upper arms, wrists, waist, thighs and ankles with very heavy chains. She was completely stuck, although she managed to lift herself off the ground, hanging from the thigh and waist bands! Now this is serious device bondage! We can't wait to play with Ariel Anderssen some more, she needs a chastity belt sooooo bad!!