All updates featuring
Nora Sparkle
The Lips and Tongue Press is the most effective gag in the world! Talking is absolutely impossible. The lips are clamped and the tongue is pulled out and clamped too. That's a lot of clamping on your face, as Nora found out. She is well trained and experienced in bdsm, but she had never seen this device before. Locked in her chastity belt and collar, Nora tried to put it on herself, which was very hard. I helped her, and before she knew it, she was unable to speak. I locked her in heavy Clejuso handcuffs behind her back and added some nipple clamps (she hates clover clamps). Check out the perfect picture set and video clip of Nora's ordeal!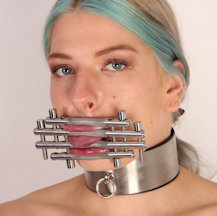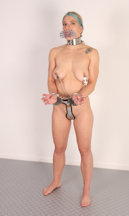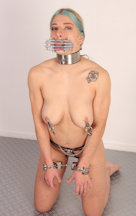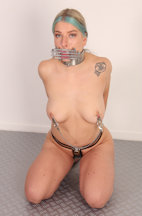 Nora is the next model to try nipple clamp weight lifting! It's not easy, but she is determined to set a new record! Our weights are: 250 grams, 500 grams, 1 kilo, and 2 kilos. Of course, various combinations can be made, like 250+500 or 1000+250 to take smaller steps. Nora has quite sensitive nipples so hanging big weights off them on clover clamps is a real ordeal for her. Still, she managed to get quite far in the nipple clamp weight lifting competition. Is it better than the other models who have tried? Watch and find out!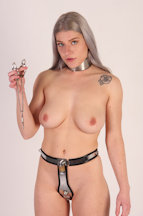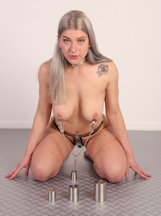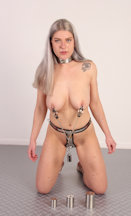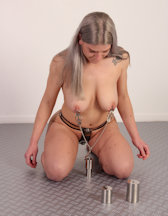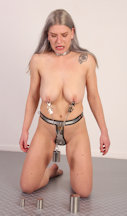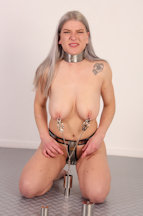 A new FoToRo machine! Incorporating the wonderful gag from HotSteelToys.com, I created a device that automates deep throat training. And as you know, I love automation! The lovely Nora Sparkle agreed to be my test subject for this first try. Her collar and wrists are locked to a steel pole, so she can't move. The big harness ring gag keeps her mouth open, to allow a smooth curved dildo to slide into her throat unobstructed. Nora started drooling even before I turned on the machine! Endless rivers of drool, there was nothing she could do as I played with the speed of the deep throat trainer. It is a formidable device, but Nora is a pro, she handled her test run like a champ! What a machine! Don't miss this exciting new training device, join this website to see this video clip, picture set, and 627 more updates for one low price!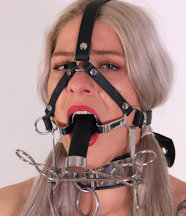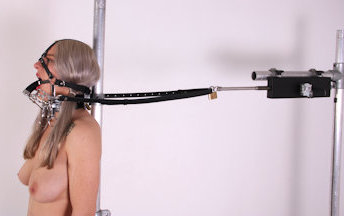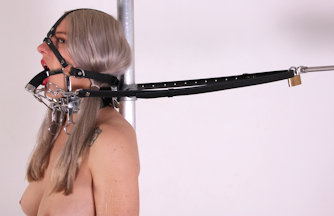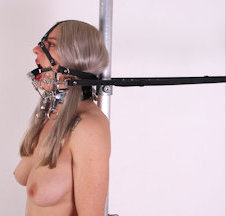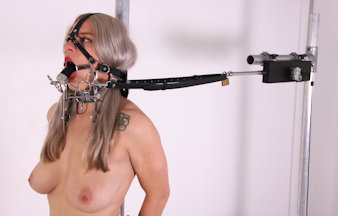 Please welcome Nora Sparkle to MetalBondage.com!! She is a local fun loving girl, a submissive, and always in for a new challenge! The first thing we made her try was the RigidSpreader Jo-2, because we know it's always fun to see girls try this unique contraption, rolling around on the floor, unable to escape. Nora is also locked in a heavy collar, which looks amazing on her! Of course, she rolled around too hard and she ended on her back like a turtle, completely helpless. This new girl-next-door, with her blonde hair, blue eyes, and large boobs could be our next big star! She wants to try EVERYTHING we have!
Nora is available for custom shoots! She would be happy to do whatever you have in mind for her! Email [email protected] to order your custom video!