All updates featuring
Thiccy Niccy
Huge permanent septum ring and boob cuffs… yes it is Thiccy Niccy, the ultimate submissive! She's back again! This time I put her on the One Bar Prison and left her standing there for a while. It is such a weird predicament! Wearing high heels, you can not escape the One Bar Prison. All you can do is stand there, impaled and helpless. Niccy is so much fun, she is one of the resident submissives at HuCows.com, having dedicated her life to being a good slave girl. She is always available for custom videos, but please note: her septum ring can not be removed.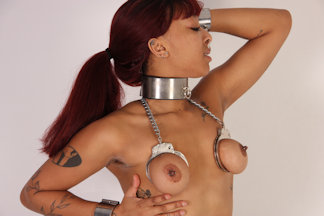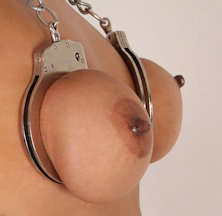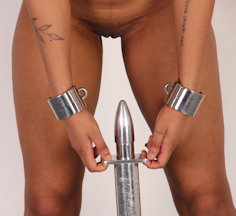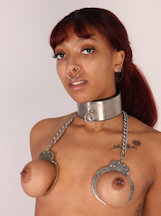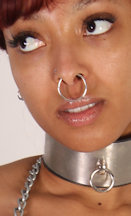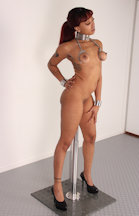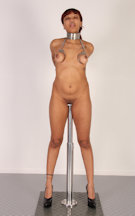 Thiccy Niccy is a resident at HuCows.com now, but we borrowed her for a few hours to test the Lips & Tongue Press again. Remember this evil device? It is so extreme, and pretty heavy, it was only tested by Ariel Anderssen before. It clamps both lips and the tongue and it weighs a lot. It causes massive amounts of drool straight away. Super submissive Niccy is the perfect test subject, as she will do anything she is told, even if it is very extreme. We lock her to a slave post, to have a good look at her drooling face. Adorned with this device and her awesome septum ring, this is a metal bondage lover's delight, don't miss this update!
Edit: due to many questions as where to get a Lips & Tongue Press, here is a link to purchase one.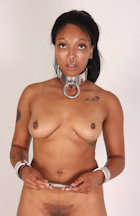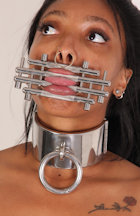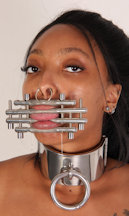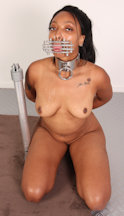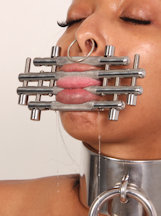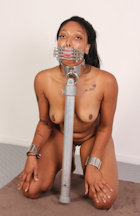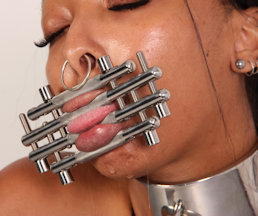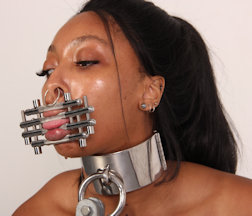 Thiccy Niccy is back for a new predicament! She is wearing the tallest heels in our studio, and her breasts are cuffed tightly. I chained those locked tits to the ceiling and cuffed her hands behind her. Now Niccy was balancing precariously on her high heels, if she would lose her balance it would be very painful. To make things worse, her pierced nipples got clamped with mean clover clamps, which didn't help her concentration. Niccy is a perfect sub, cuffable boobs, always in for a challenge, and very obedient! I just love playing with her!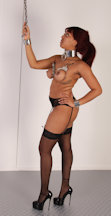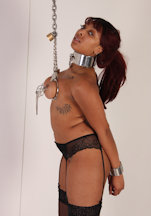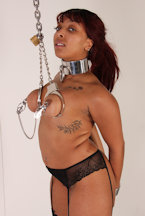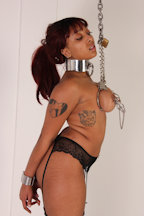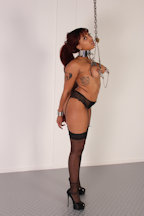 Thiccy Niccy is a real life submissive fitted with a permanent nose ring. We like her piercing a lot! It's so easy to lock her to a slave post, it only requires a small padlock, and there's nothing she can do about it. We lock Niccy's nose to a heavy attachment point on the metal pipe and tell her to wait. She is locked in heavy steel: collar, cuffs, and chained ankle cuffs. Her wrists are locked behind her back. It's nice to watch her, she can't get away from the pole, locked by her nose. Then we come in and lower the attachment point all the way to the floor. Niccy has to move down with the short chain. She is now in a real slave position, no way to get up! All slave girls should get a permanent nose ring!