All updates featuring
The Spider
Wow, 500 updates since May 2009! That is a long time of locking girls in steel! Let's celebrate with a very special update: Cobie wanted to try our Spider device and make it to the highest level! No girl has ever been bent further than level 3 (see this attempt by Stella Cox, or this attempt by Samantha Bentley) , but Cobie wanted to make it to level 5! The Spider device has 5 adjustment holes on the vertical bar, and at level 5 a girl is really bent very far with her legs and chest completely off the floor! Cobie is a tough one, and of course she made it, making her the first girl ever to reach level 5 on The Spider!! JOIN NOW to see this update and 499 other great sets of hot girls in cold steel!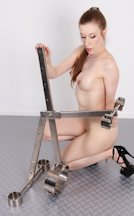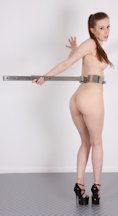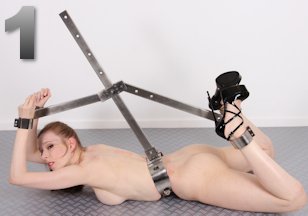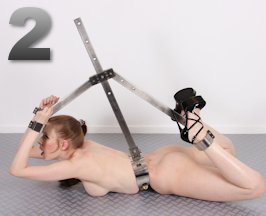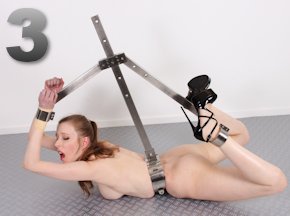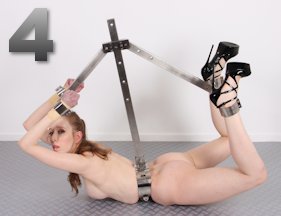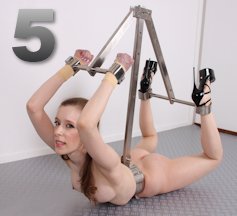 After introducing The Spider with Stella Cox, we kind of let it rest for a while. It is a hard device for models. Today, it's time to try it again, with the wonderful Samantha Bentley… who was a bit hesitant about trying this huge heavy contraption. There are five holes on our Spider. Each of the holes will bend a girl even more. Which hole will Samantha be able to do? We gradually increase her back bend until we reach her maximum strain. It's not easy! Don't miss the great video of Samantha Bentley suffering in this extreme steel device!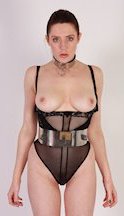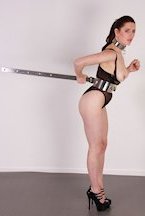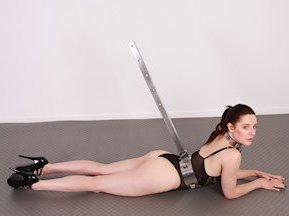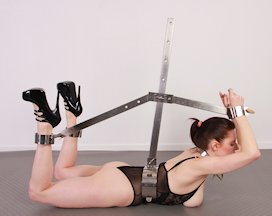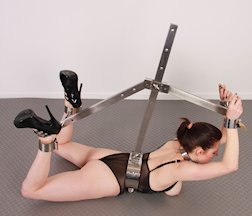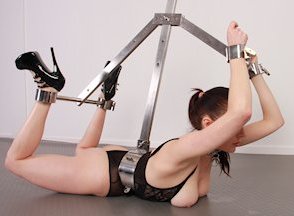 After a lot of testing and building, we can finally reveal our latest device: The Spider!! It is a very evil metal device, designed to make our models completely helpless. Stella Cox will demonstrate just how helpless the Spider can make her. First a waist band is locked on, with a rigid pole extending back. Stella then lies on her stomach, and the rest of the Spider device is attached. Her ankles and wrists are locked in the device above and behind her, so she is in a nice arched position. This is inescapable, and the beautiful thing is: we can arch her even more by pulling the Spider up and repositioning the pin on the vertical post. How much can we bend Stella? Just watch the video and see for yourself!